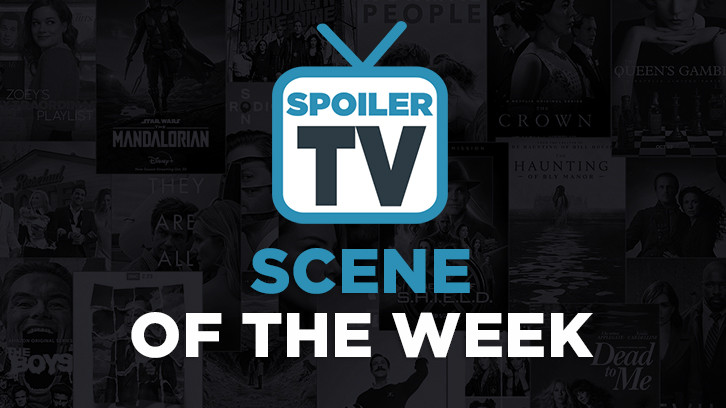 A weekly feature in which we're trying to find the most compelling, best acted, written, directed and just generally great, memorable scenes that we've seen in past seven days on TV.

9-1-1, "7.1", September 24, 2018, Actors: Ryan Guzman, Gavin McHugh, Oliver Stark and more, The Scenes: Eddie walks with his son to school & Buck tells his sister he's there for her
Beth: Eddie walks with his son to school. The episode had a bonkers Earthquake with so many crazy moments but before all that, we got to see this tender moment with our new character and his son. The love Eddie feels for his son is palpable and Christopher was so adorable asking his father how dogs see the world. I am already very invested in this father-son relationship after just one scene.
Dahne: Buck tells his sister, who is running from an abusive spouse, that he is there for her. I was worried about where Buck's story would go now that Abby left. Adding a sister keeps fleshing out his character and I'm very excited to see where this leads.

A MILLION LITTLE THINGS, "Pilot", September 26, 2018, Actors: Romany Malco, James Roday and more, The Scenes: Rome admits the truth to his friends & Rome almost kills himself
Justyna: This one took me by surprise. I didn't know much about the show before watching the pilot, so I thought that the opening scene was quite a powerful way to start the series. As life goes on around them, one man decides to take his own life and a friend of his is stopped from making the same decision at the very last minute. From that moment on, I was worried that Rome would hide his pain from his friends, especially in the wake of their tragedy. That's probably why I loved the part when Gary confronts Rome and Eddie and makes them realize how little they know about each other, causing everyone to admit a secret of their own. Gary's truth hits hard, he's struggling with the fact that his cancer might return at any moment and each visit at the doctor's office feels like a permission to breathe for a little while before the next checkup. His painful admission is met with a shocking reveal from Rome. His friends are speechless as they listen to him admit how hopeless he sometimes feels and how he imagines things would be better if he just stopped breathing... Rome is trying to hold back the tears and Gary almost immediately reaches out to embrace him. Rome also proves Gary wrong by saying he does know the color of his eyes ("your eyes are hazel, and they're magnificent"), because he does know him and pays attention to his friends. Absolutely love these two already. The scene ends with all three friends hugging one another in the middle of a hockey game. It was an emotional moment, wonderfully portrayed by the actors. Special shout-out to Romany Malco and James Roday. Definitely interested to see the next episode. Kudos!
DarkUFO: Rome is about to kill himself when he gets the call that his friend Jonathan has just killed himself.

AMERICAN HORROR STORY, "Forbidden Fruit", September 26, 2018, Actors: Sarah Paulson, Emma Roberts, Frances Conroy and more, The Scene: The witches return
Klutzy girl: The witches finally show up and in doing so, revive three characters - their "sisters" - who have just been killed. I've been looking forward to their arrival - Coven is one of my favorite seasons and these are some of my favorite characters - and was not disappointed, especially because it was so dramatic. And then Madison repeating her iconic meme of a line to Mallory was perfect.
DarkUFO: The Witches make a dramatic entrance.

BETTER CALL SAUL, "Coushatta", September 24, 2018, Actors: Bob Odenkirk and more, The Scene: Jimmy's answering phone stunt
Laura B: There were so many great scenes in this episode and honestly this is one of few episodes that has truly felt more like BCS this season, being a mostly fun episode (but that makes me wonder what horrible thing is around the corner?). I also love Jimmy's three little helpers and was so happy to see them turn up at least once this season in a pretty comedic scene. I'm always amazed at how the writers find such creative ways to use and spread their oddball plot devices, like the ways this cell phone con has pinged back and forth being good and bad for Jimmy over several episodes. Jimmy's made up characters are so hilarious! Just genius.

BODYGUARD, Episode 6, September 23, 2018, Actors: Richard Madden and more
The Scene: The bomb sequence
Milo: Bodyguard has been known for its tension from start to finish and this finale was no different. With David held hostage via a Dead Man's Switch, the extended scene played out incredibly well as we were unsure, right up until the last minute, about whether or not the bomb would go off. It served as a great climatic end to the excellent first season.

BULL, "The Ground Beneath Their Feet", September 24, 2018, Actors: Jaime Lee Kirchner and more
The Scene: Danny figures out that Cable is dead
Dahne: While I am truly sorry to see Cable go (she was such a great character), it was even more heartbreaking to see how Danny responded to her death. I foresee this being a huge game changer for all the remaining characters.

GREY'S ANATOMY, "With a Wonder and a Wild Desire" & "Broken Together", September 27, 2018, Actors: Jesse Williams, Justin Chambers and more, The Scenes: Nisha's death & Alex Karev is the interim chief
Marko: Jackson's breakdown after Nisha's death.
Mads: Jackson performs surgery in the hyperbaric chamber. Surgery on Grey's is always particularly nerve-wracking as we know the show has no qualms with killing patients and doctors alike on that operating table. So every time there is a high-stakes surgical procedure I find myself biting my nails and this week was no different. Jackson gets the chance to break in the hyperbaric chamber to excise a dangerous infection on their latest patient, Nisha. Unfortunately, he is unable to save her. It's tough on Jackson especially as he's already been struggling, going through a crisis of faith and several challenging developments in his life. Seeing him break down and beg for Maggie to open the door (though she can't until the air has depressurized) you can't help but feel sad for the guy.
Saloni: Alex Karev is the interim chief. What an excellent, comedic reveal. I thought in the end, Teddy would return for sure since Kim Raver is a regular. Oh well, excited to see what this means for Karev.

HOW TO GET AWAY WITH MURDER, "Your Funeral", September 27, 2018, Actors: Viola Davis and more
The Scenes: The ending & The class competes for a seat
Luana: The class competes for a seat.
Marko: The ending.

MANIAC, "Option C", September 21, 2018, Actors: Emma Stone, Jonah Hill, The Scene: The ending
Mads: The end of the season when Owen and Annie drive away from the hospital. Earlier on in the season Owen has a dream of him and Annie in a car driving away together while being chased. He says the dream made him happy. This comes to fruition at the end of the season after Annie breaks Owen out of the mental ward his family forced him into and asks him to accompany her on a road trip to Salt Lake City. They're chased by hospital orderlies. It was such a perfect and sweet send-off for these two characters. Especially with the addition of the dog too. Also picked by DarkUFO

MANIFEST, "Pilot", September 24, 2018, Actors: Melissa Roxburgh and more
The Scene: Michaela finds the girls (picked by Luana)

NEW AMSTERDAM, "Pilot", September 25, 2018, Actors: Ryan Eggold and more
The Scene: Max's speech to the staff (picked by Luana)

SINGLE PARENTS, "Pilot", September 26, 2018, Actors: Taran Killam, Leighton Meester and more, The Scene: The sing-along at the end
Mads: The whole gang sings "How Far I'll Go" from Moana. I just thought this scene was really cute and a nice way to close out the episode. It felt like a great statement on what this show is aiming to be: funny, heartwarming, and it doesn't take itself too seriously.
Dahne: There were several heartwarming moments in this new comedy, but this sing-along pulled the whole episode together and showed the depth of caring this made family has for each other.

THE GIFTED, "eMergence", September 25, 2018, Actors: Emma Dumont, Grace Byers and more, The Scenes: Opening Scene & Lorna gives birth
Laura B: Opening Scene. The introduction to Reeva Payge and her cutthroat takeover of The Inner Circle of The Hellfire Club, made for a strong opening scene in what was a pretty strong season premiere. The scene just really set the tone and impending contentious dangers that all the characters may face this season. It felt truly the way X-Men films tend to feel. I'm looking forward to seeing Reeva's long term storyline play out and what Andy and Polaris are going to do if things go sideways.
Jamie: Lorna gives birth. I loved this moment because it just shows how much untapped power Lorna has. She's so powerful and I hope we get to see her kick some ass this season.

THE GOOD DOCTOR, "Hello", September 24, 2018, Actors: Chuku Modu, Freddie Highmore, Antonia Thomas, The Scenes: Claire and Jared say goodbye & Jared and Shaun's final scene
Naomi: Claire and Jared say goodbye. Claire admitting she made a mistake and asking Jared to stay was very brave of her, but his very emphatic "No" was proof that he was ready to move on. It was so nice to see Claire truly open up to Jared even though it was much too late; watching him walk away was sad, but it was also really satisfying to see him leave for a great professional opportunity. Hate to see him leave the show. Also picked by Marko
AD: Jared and Shaun's final scene. This scene was a beautiful goodbye but also an appreciation of each other; for the time they spent working together.

THE GOOD PLACE, "Everything Is Bonzer!", September 27, 2018, Actors: Adam Scott, Kristen Bell and more, The Scene: The ending
JW: Another cliffhanger moment here as well - the final moments where Adam Scott's Bad Place "Trevor" returns to join the "Near Death Experience Club." After the fun he was in Season 1, it left me very excited to see the dynamic with Trevor added to the mix next week and I am hoping he sticks around for more than just an episode or two.
Saloni: The final moment when Trevor joins the group. Such an interesting twist! I fully thought Shawn would walk in. Adam Scott is so funny on this show. I'm interested to see for how long he stays and the chaos he creates.

THE RESIDENT, "00:42:30", September 24, 2018, Actors: Shaunette Renée Wilson, Bruce Greenwood and more, The Scenes: The twins are reunited & Bell's request
Justyna: I've watched a lot of TV shows and movies but one thing that I can never just watch are children in pain, hurt and crying. The story of these twins, one of them fighting for her life was a very emotional part of the episode for me. But its ending was the most beautiful thing I've seen in a while. The two newborns are reunited after an eventful day. The little boy has been crying since his sister was taken for the surgery and there's nothing his parents can do to calm him down. That's when Mina comes up with the idea to keep the two kids next to each other. The second this little boy reaches out and finds his twin by his side, he finally stops crying. He's no longer alone in this new world. The parents are moved to see their children together and finally okay. Such a small miracle but means everything. I loved that shot of two tiny hands finding each other. This one can't be described with just words, it has to be seen. Glad to have the show back for second season. Kudos for this beautiful scene!
Ellys: When Conrad Hawkins takes it upon himself to save a badly injured boy's life in the middle of a storm, he builds a makeshift ER for the trauma surgeon and draws the ire of Dr. Bell who is always looking for a reason to knock Hawkins down a peg or two. At first, Bell lashes out as expected, talking about how foolish the decision is. But when the trauma surgeon mentions how it's "almost impossible" to stop the bleeding, Bell can't help but move closer to take a look. He's a man who once lived and breathed surgery, who turned the weaknesses and breaks of the human body into medical masterpieces. Bell literally can't look away from the surgery taking place. "Could you use an extra set of hands?" His tone is wistful, a bit of awe and respect, a longing to take up the tools. Even though this is a doctor who has crossed lines and taken lives because of his ego, in this moment he's just slightly desperate and lost. Even Hawkins, perhaps his most consistent critic, can't help but be gentle in his dismissal, without a trace of the usual passive aggression he usually affords Bell. Greenwood plays a character who has done despicable things, told himself and other people lies that have cost others their lives. But here in just about a minute he is vulnerable and honest.

THIS IS US, "Nine Bucks", September 25, 2018, Actors: Milo Ventimiglia, Justin Hartley, Susan Kelechi Watson and more, The Scenes: Beth warns Kevin about Zoe & The flash-forward scene at the end & Jack and Rebecca's first date
Beth: Beth tells Kevin that she doesn't want him to get hurt by Zoe. I was certain that Beth wanted Kevin to back off to protect her cousin but to my surprise it was the exact opposite. Beth has always been a bit hard on Kevin and after this exchange I get it completely. She loves him and knows he is a good man who has had some issues in the past, that is why she is trying to protect him from heartbreak.
Klutzy girl: Beth warns Kevin about Zoe. This was not the way I expected the reveal to go - I figured Beth would want Kevin to stay away from Zoe so he didn't hurt her but they flipped it around - she doesn't want Zoe to hurt him. It was a nice twist of the situation and made the storyline so much better because the other way around would have been cliche. And the "I love you" from Beth to Kevin was pretty sweet. It was such a fantastic scene.
JW: The flash-forward scene at the end. Older Randal is once again with older Tess, telling her it's time to visit "her" - but this time we get to see Randal make a call to a disheveled looking older Toby, lying alone in bed at night...such a heart-tugging cliffhanger that left so many questions in typical This is Us fashion.
Saloni: Jack and Rebecca's first date. I honestly thought they'd get a fairytale, perfect first date where everything goes right. I'm glad it was realistic, unnerving, and still very sweet at the end. Milo and Mandy were really great in that scene!

WYNONNA EARP, "War Paint", September 28, 2018, Actors: Melanie Scrofano, Greg Lawson
The Scene: The final scene
Klutzy girl: The final scene where Wynonna asks Nedley if he's ready to go save their friends and he replies "Oh fuck yeah". It was a perfect end to the season, and I'm thrilled the finale aired at a later hour that allowed them to swear like this. I'm definitely looking forward to season four!