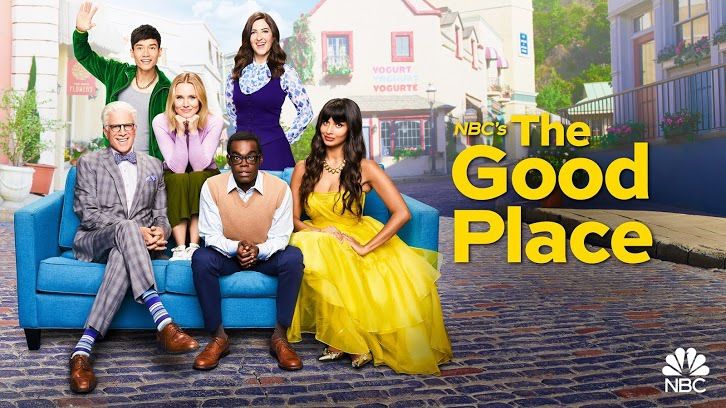 The third season of The Good Place kicks off following yet another game-changing reboot. We're not in Kansas any more though, and it appears as though Team Cockroach are in fact alive and back on Earth after some not so divine intervention. With the core four reinstated as their pre-Pilot selves, the show is once again asking the question of whether they can truly change.


In order to fill in the blanks with some of the ideas introduced in the season two finale, some old ground is covered once more, such as Michael and Eleanor in the bar and Chidi and Eleanor meeting for the 'first' time, but this is done as swiftly as possible in order to segue into the real meat of the episode.
With Australia being the central location for the premiere, expect to hear some very interesting accents from those non-natives. I'm looking at you, Ted Danson. Along with the new location, the show introduces a new, possible major player in Simone (played by Kirby Baptiste-Howell - again with the semi-questionable accents). Whether she'll turn out to be a friend or foe might be too soon to determine, but she will quickly become entangled with the entirety of Team Cockroach, one more so than the rest.
Even though we know these characters will meet up again, prepare for a sizeable in-show time jump for this to come to fruition. Along with the time jump, we're offered flashbacks of the core four throughout the two-part episode, and perhaps a somewhat tenuous and slightly unbelievable reasoning for their forthcoming reunion.
With the reunion set in motion, it seems like nothing could go wrong, but old adversaries are hot on the tails both on and off Earth, and it's not surprising that a spanner may be thrown in the works this early on in the season. Can you guess who or what may disrupt the perfect reunion?
The Good Place airs tonight at 8.00 on NBC. Are you looking forward to the new reboot? Let me know in the comments.
And until you watch the episode, here are a few of some of the funny lines in
'Everything Is Bonzer'
:
- "Okay, I've made my decision. I want to start crying."
- "Claustrophobic? Who would ever be scared of Santa Claus?"