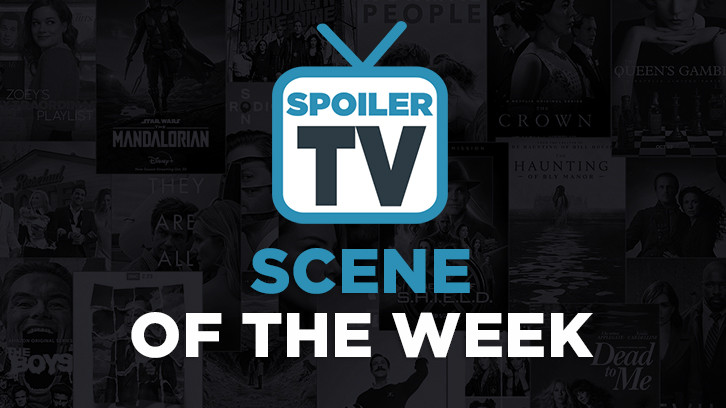 A weekly feature in which we're trying to find the most compelling, best acted, written, directed and just generally great, memorable scenes that we've seen in past seven days on TV.

BETTER CALL SAUL, "Piñata", September 10, 2018, Actors: Bob Odenkirk, Rhea Seehorn, The Scene: Kim tells Jimmy over lunch her new future plans
Laura B: This scene was so heartbreaking, because Kim obviously took initiative, because she saw Jimmy's artwork, which suggested that he hopes to one day still have a business with her and for whatever reason, Kim is scared and thinks forcing Jimmy along by dashing his only hope, is somehow going to be what he needs, but I think it's clear from both knowing where this is going and because of the way Jimmy reacted when he had to get up and stop to catch his breath in the doorway of the restaurant's kitchen, and with what he does at the end of the episode, that this was really kicking a dog when he is down and it is not going to produce good results. Seriously, Bob Odenkirk nearly made me cry in this scene.

CASTLE ROCK, "Romans", September 12, 2018, Actors: André Holland and more, The Scene: The final scene
Laura B: Henry visits the Kid. Although the episode sort of retconned what we think we know or perhaps did not fully explain the nature of Alt. Henry/The Boy, it was surprising to see Henry take on the role of Lacey, believing that The Boy is the devil and not helping get home, but instead taking him captive and resolving him once again to solitary confinement and allowing us to question who the real monster of the story is. Castle Rock is said to be anthology series, but not without some crossover, so I'm hopeful that either this specific mythology and/or some of these characters will be revisited again at some point, since there are loose ends and this cast was fantastic! Also picked by DarkUFO

ELEMENTARY, "Fit to be Tied", September 10, 2018, Actors: Desmond Harrington, Lucy Liu, The Scene: Michael attacks Joan
Justyna: This attack took me by surprise. Despite Michael's actions, I honestly didn't expect him to go after Joan. Not like that anyway. The entire sequence was really well done. Just the right setting, music and powerful performances by the actors. The scene is scary, brutal, intense, even claustrophobic at times. Michael beats Joan and then chases after her. She can't get out of the house but she manages to find a place to hide. Unfortunately his mind is already set on murder and the only way she can survive is by fighting back. And she does, she's clever and uses the right opportunity to hurt him enough, so he runs away and she can wait for help. Watson truly steals the hour in this scene and her strength and will to survive can't be underestimated. What comes next is a response to this terrifying moment. Her friends standing by her side while she's recuperating in hospital. "Sherlock, if you say sorry, I'm going to break one of your ribs." The entire hour was wonderfully done, so there's a few moments which could be highlighted in the article. Even the ending with the reveal that Michael's dead and that Joan (??) is the prime suspect. Another surprise in this great episode. Though it may be a small chance, I'd love to think this is exactly the right scenario to plan Moriarty's return. Regardless, this has been one of the best seasons of the show so far. Can't wait to see the finale.

FEAR THE WALKING DEAD, "Blackjack", September 9, 2018, Actors: Colman Domingo, Garret Dillahunt
The Scene: John and Strand attempt to cross the river in the "boat" (picked by DarkUFO)

IRON FIST, "A Duel of Iron", September 7, 2018, Actors: Finn Jones, Jessica Henwick, Tom Pelphrey and more, The Scene: The ending
Justyna: This has been quite a journey. I'm so glad I caught up with the show just in time to include it in the article. Over the course of season two there were many memorable moments worth mentioning, however when it comes to its second part, I decided to highlight the last few minutes of the finale. The promise for the future. Though it's disappointing to see Danny and Colleen part ways, as I've always believed they were at their best whenever they stood together, their ending leaves a lot of hope for what comes next, so I'm excited to continue with their journey. While Colleen uses the Iron Fist to protect New York, Danny and Ward leave to search for the answers about the past. I love the relationship between these two in the second season. Their heart to heart in episode five is easily one of my favorite moments of the show so far. Can't wait to see more of this duo. But the ending isn't just about their search. We can also see that Danny Rand not only got his Iron Fist back, his power now rests in both of his hands. I'd love to see how he got there and I'm glad to know how much he's grown during the series. I can honestly say Danny's one of my favorites, a kind and brave hero looking for the best way to protect people and understand his place in the world. The final shot with Danny, his two glowing fists and the guns certainly leaves quite an impression. Can't wait to see the next chapter of the story. Kudos to cast & crew for their great work.

IT'S ALWAYS SUNNY IN PHILADELPHIA, "The Gang Escapes", September 12, 2018, Actors: Charlie Day, Glenn Howerton, Rob McElhenney, Danny DeVito, The Scene: Charlie, Dennis, Frank and Mac try to out-man each other
Mads: Charlie, Dennis, Frank and Mac end up wasting their entire time in the escape room because they're trying to out-"man" each other. The scene towards the end when all the guys are sitting at the table drinking scotch, and smoking pipes was so marvelously Sunny. The guys are so obsessed with maintaining their masculinity that they actually mess up the entire escape room and can't even solve the first clue until the very end because they refused to work together. Anytime the gang is all together in one place it's hilarious and this episode essentially serves as a bottle episode with hijinks galore. That scene perfectly tied everything together and their panic when they realized putting the key in the lock and its absurd simplicity was only the FIRST clue and now they've run out of time to fulfill the 20-30 others on the list. The episode as a whole is a great deconstruction of toxic masculinity and this scene was the perfect clincher.

KILLJOYS, "The Kids Are Alright", September 14, 2018, Actors: Kelly McCormack, Atticus Mitchell
The Scene: Zeph and Pip say goodbye
Luana: I've grown to love these two and their goodbye was absolutely gut-wrenching.

MAYANS MC, "Escorpión/Dzec", September 11, 2018, Actors: J. D. Pardo, Sarah Bolger, Edward James Olmos, The Scenes: EZ talks to Felipe & Emily pleads with EZ to help find her son
Beth: EZ tells Felipe how much he missed Angel and about Emily's son. This scene brought the emotion, from EZ telling his Pop how much he loves and missed Angel to letting his pop know that Emily's son was missing, you could tell how much this deal with the DEA has affected him. Under other circumstances, EZ could be all in on being there for his brother and Emily, but he must remember the deal he made and how it informs every step he takes. His pop is also a part of this, and you could feel that it kills EZ that the 3 people he loves most are being drawn in by the deal he made. It is an impossible situation for both father and son and I could feel every ounce of that as they both let their guard down for a moment to discuss it.
Mads: Emily pleads with EZ to help find her son. There was a really touching scene between Emily and EZ at the end of the episode where Emily begs EZ to help find her son. She's clearly losing faith in her husband, and I don't blame her after that chilling conversation with his family about just sacrificing their son and having another one. You can tell that even though EZ and Emily are not together anymore they still have a deep affection for one another. I can't wait to see more of these two together.

TAKE TWO, "One to the Heart", September 13, 2018, Actors: Rachel Bilson, Eddie Cibrian
The Scene: Eddie and Sam sleep together (picked by Luana)

THE PURGE, "Take What's Yours", September 11, 2018, Actors: Gabriel Chavarria and more, The Scene: Miguel is forced to run through a twisted gauntlet
Mads: I loved this scene because it was like a twisted, high-octane, haunted house. Poor Miguel, this guy has had it pretty rough so far and we're only two episodes in. He gets kidnapped by some crazy people who don't accept volunteers of course, "only live catches" and is forced to make it out alive. However, unbeknownst to his kidnappers, Miguel is a Marine and that military training certainly comes in handy. And hey, at least he wins a new car by the end of it.

THE SINNER, "Part VII", September 12, 2018, Actors: Hannah Gross, Elisha Henig, The Scene: Marin and Julian talk on the bus
Laura B: In a twisty and rather tragic turn of events, viewers learn that this all started because Marin came back for Julian, but it seems clear like so many of the characters this season that Marin, nor Julian, are really equipped with being able to do things the right way, as Marin only gets so far, and Julian, in this scene, bonds with Marin, but also then discovers the more tragic folly in his actions towards Bess and Adam and will forever have to live with it. With that being said, we don't know exactly what happened at Five Nations and if Julian was forced to play a role or how witnessing whatever happened to Marin will effect him after everything else he has been through, but I can't wait to find out how this all plays out on the final episode next week! Also picked by DarkUFO

WYNONNA EARP, "Undo It", September 14, 2018, Actors: Melanie Scrofano and more
The Scene: Wynonna realizes saving Doc wasn't real
Luana: So heartbreaking, such an amazing job by Melanie Scrofano.