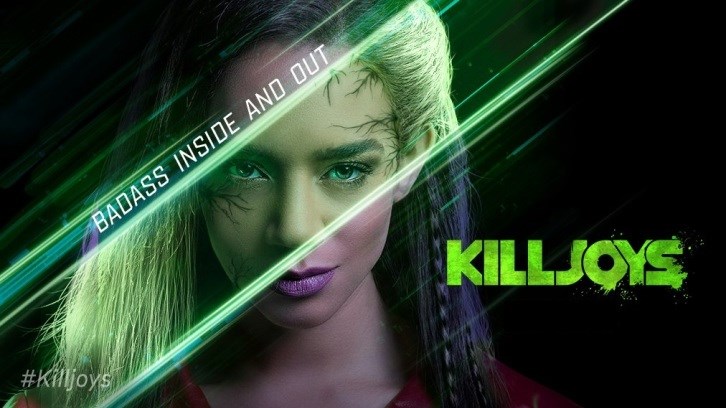 Killjoys
, "It Takes a Pillage" was written by Derek Robertson and was directed by Stephanie Morgenstern, whose only other credit for directing is
X Company
. Robertson moves up from story editor and coordinator. One of my favorite Canadian actors returns – Ron Lea guest stars as Marris Jacobi.
Johnny (Aaron Ashmore) pays a visit home – just in time for a little bad weather. D'av (Luke Macfarlane) gets a big dose of annoying teenager – and not the warmest welcome from his Dad. D'av and his Dad have very different memories of the past. D'av misses it completely when his Dad tells him something important – will you? D'av finds a reason to be really proud of Jack (Jaeden Noel).
John learns something unique about Jack. John runs into an old friend – who is very friendly. Look for a nice reference to Pawter. D'av finally tells Johnny the truth about why he left.
Zeph (Kelly McCormack) is excited to share her findings with Dutch (Hannah John-Kamen), but Dutch isn't as happy about them as Zeph is. Zeph detects a problem and has to help Dutch solve it remotely. Dutch does something naughty. Zeph gives Dutch some good advice.
Jack confides in Johnny. Dutch and D'av talk.
Don't forget to tune in on Friday to Syfy at 10/9c!
As always, lots of great dialogue to tease!
What are you gonna do? Ground us?
Storm got you spooked?
Ever the smartass.
Yeah. Go nuts.
Is safe always this boring?
So…best family reunion ever?
Fine. Don't tell me.
He is the beginning of everything.
We all do and say crazy things.
Ok. Bad timing.
We need to get you drinking more.
That's how you become a man.
I always have time for looking sexy.
Still no.
Do you really want to be talking about boys right now?
How you toss your salad is between you and Pip.