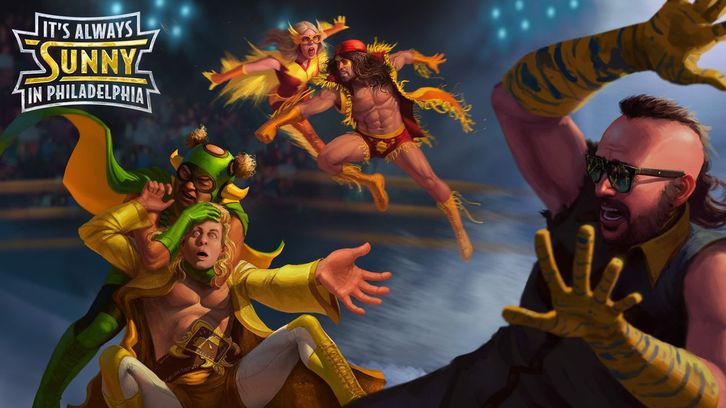 We're back, baby, and the gang's all here. Well, sort of. For most of the episode, we get a fill-in for Dennis. Two, actually. Yet together, somehow they still can't quite fill that hole. If you recall, we last left off at Paddy's Pub with Dennis deciding to grow up and leave the bar to be a mature, functioning, stable adult and father. Did the gang get inspired by his sudden maturity and follow his footsteps into becoming adults? Nope. And that's the way we like it.

Dennis' write off in the last season's finale was clearly meant for the long haul, so the first thing dealt with here is how the gang and the show would deal with a show without Dennis. Their way of dealing with his loss is to bring in as many things as possible to remind us of him, including a Dennis sex doll and Mindy Kaling. Yes, that Mindy Kaling, who essentially plays a Dennis-light character. Now, dealing with the loss of a main character is always hard to navigate. You're trying to figure out how to replace an essential ingredient. Sometimes you use extra of the other ingredients or try a substitute, but it's never the same. It's like trying to be milk when you're actually skim milk. And as a wise mustached-man once said, skim milk is water that's lying about being milk, and no one wants fake milk. Instead, I think it's better to try to do something new than try to make something the way it was when it can't ever be that way again. As Mac says in the episode, you can't keep doing the same things you used to do and expect it to be the same when it's not. You have to move on. With that said, knowing what we know at the end of the episode, none of what I just said actually matters.
This post-Dennis world starts off with Mindy Kaling guest starring. I thought that merging The Office and The Mindy Project with Sunny would feel weird, but Mindy actually fit in pretty well. She plays a new hire in the bar that has taken over as the resident schemer and the rest of the gang follow her like moths to a flame. They've attached themselves to her as they attached themselves to Dennis, as she's the one who is coming up with the plans to make the bar better as Dennis used to. But there is a difference between her and Dennis. Dennis really was just interested in manipulating the gang, while she actually tries to encourage them to be better. Her scheme involves shutting down a rival pub by invoking what we consider Trump-like tactics, which somehow involves screwing with both Liberals and Republicans. I like that the show is not taking the side of either Liberals or Republicans, but they're taking the middle ground and finding the faults in both sides and pointing them out. I think it's important for shows to remain unbiased in that way and see the world from an objective point of it. The only problem with this plan is that nothing really happens with it, which I would have preferred to see them carry out with this scheme, but they don't. It gets dropped when Mindy leaves.
Outside of Mindy, the rest of the episode really deals with how the gang is dealing with losing Dennis. Outside of latching onto Mindy, they also latch on to a Dennis sex doll Mac buys. Mac probably has the biggest issue with Dennis leaving. Not only did he spend the time Dennis has been gone getting really, really ripped (by the way, the lengths that Rob Mcelhenney goes to for the show is both amazing and scary), but now he's gotten this doll to fill his Dennis-sized hole, which it does in every way possible. EVERY WAY. Mac has clearly gone off the deep end without Dennis, and I think Charlie says it best when he says Mac is doing this for attention like he does most things. And with Dennis gone, he's channeling his neediness into the rest of the gang more than ever and ends up stirring up their own Dennis-related pathologies as well.
Because what really sets everyone off about Dennis being gone is the way this doll affects them. Imagining him as the real Dennis, all they can do is imagine how he would judge and criticize them and everything they do. It even spreads outside of the gang to The Waitress after Charlie dumps the doll on her to get her off of his back. Charlie, continuing off from his growing weariness of The Waitress after he finally hooked up with her, is still with her but is tired of her clinginess. When he gives her the doll as someone to talk to instead of him, she ends up hooking up with "Dennis" instead and dumping Charlie. Which kind of makes sense if you think about her former obsession with Dennis, but still, girl, that's a little far.
By the end of the episode, recognizing how better off their self-esteem would be without him there, everyone is ready to let go of Dennis just in time for him to come back! As soon as he appears, the gang regresses to their minion-like selves ready to follow him anywhere despite how he treats them. When Mindy tries to point this out to them, they still take Dennis's side and let him shoo her away. Despite their issues with Dennis, or because of their issues with him, they decide to accept him back into the gang. Until the episode ends with Dennis beginning to criticize them all and their self-esteem goes down again.
Honestly, as glad as I am to see Glenn, I think it would have been really interesting to see the show completely without Dennis and see how the gang would really deal with that long-term. See how the gang shifts in their roles as the followers without a clear leader. Of course, I wouldn't want that for too long, because Dennis is still an important aspect to the show, but maybe they will play around with that later. And as far as season premieres go, I did enjoy the episode, and I enjoyed Mindy Kaling, although I wish she could have been allowed to be fleshed out more than she was. And I believe Glenn is going to be back for the majority of the episodes, so I'm glad at least we'll get another season of the entire gang and their antics. Overall, 13 seasons in, the show is still as strong as ever.
Fellow Sunny fans, what were your thoughts on the premiere?