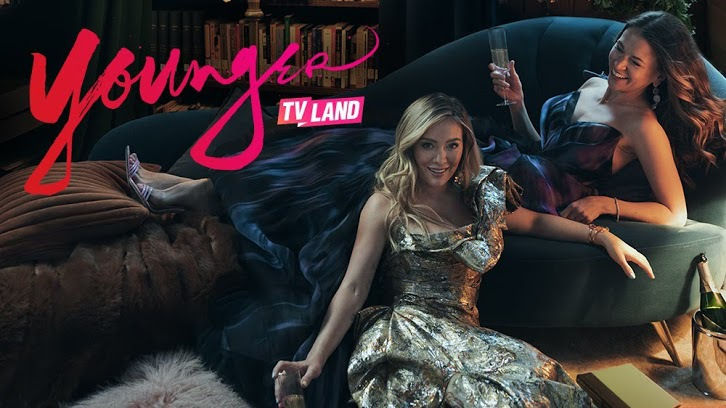 Younger covered some major ground this week. Someone really important in Liza's life was let in on her secret, Diana stood up for herself and it put her relationship on the line, Josh learned a painful secret that may just help him to move on and Liza decided that hiding is not what is best for her. Let's discuss!

I was always honest

One could argue that Josh was the MVP of this episode. He reopened a more mature and aesthetically pleasing
Inkburg
after signing his ten year lease. When he thanked Liza, it felt so bittersweet because we as the audience know the hard truth that she has decided to pursue a relationship with Charles was coming in hot to destroy him. Signing the lease really seems to have grounded Josh and although his support system was strong in the form of Lauren, Kelsey and yes, Liza, one could argue that when he found out about Charles and Liza, it may make him question ever listening to her. It is not the fact that she has moved on, it is the fact that she continues to accept a less honest life to do so. Josh's speech to her at the end cut deep for all aspects of Liza's life, and seeing those words really affect her was heartbreaking yet important. The symbolism of him covering his Liza dragon was very significant because he had kept those markers of past relationships but could not keep that one. Hopefully, this does not completely ruin the dynamic of those two, because they had really gotten to a wonderful place, and it was lovely to see him supporting Caitlin and Liza at that brunch.
We accept the love we think we deserve
Caitlin showing up this week with her much older professor, turned lover turned Liza's world upside down and made her see that she is accepting less than she deserves by hiding with Charles. The truth is, that as I watch each episode progress, I feel very uncomfortable watching them sneak around. Yes, in private they are on the same level, but Liza saw herself though the lens of her daughter doing the same, and she didn't like what she saw. Seeing Caitlin accept that she must hide a relationship at her own expense was a bitter pill to swallow as a mom. So why was she willing to live that for herself when she is trying to set an example for Caitlin? The simple answer to that is that she wasn't and put the brakes on the budding relationship until it could be truly authentic. It is understandable why Charles wants to continue to hide, but that is not the love Liza knows she deserves. This is such a big shift and seems impossible to overcome unless Liza leaves or Charles steps down. We have two episodes left to see where this is heading.
Diana vs. Ma
Oh man, did Diana have a week! She and Enzo are moving along swimmingly except for one big intrusion.... his ma. Finding out Enzo was the youngest in his family made it much more clear why his Italian 'smother' is so opposed to a woman like Diana being with her baby. She really did everything that she could to rid herself of Diana this episode and it almost worked. Diana really did put in an effort with her by accepting the invitation to brunch and even bringing a dish (thanks Maggie... wish I could try that lasagna!) but none of that was ever going to be good enough for ma. When Diana finally broke and told her that no woman stands a chance with Enzo because of her, it was deeply satisfying. In speaking up for herself, Enzo had to choose what to do and he chose the best option by deciding to move to Manhattan. This relationship may just go the distance.
Some odds and Ends:
*Caitlin's reaction to Liza's secret was exactly what I expected. They should have let her shade her mom a bit more about posing as a 27 year old. Also, let's hope that after Greg kicked her out of his friend's wedding, she is done hiding and kicks his pretentious butt to the curb.
*As someone who saw
Working Girl
as a kid, it was hilarious to see Diana channeling her inner Tess on the Staten Island Ferry.
*Is it just me or does Liza have a sort of 'I don't want him, but don't want anyone else to have him' attitude with Josh this episode? She cut that tattoo artist Skye some serious daggers when she was admiring his tattoo work.
*Where is Zane? Two episodes now and no explanation.
We are nearing the finale and things are heating up for Liza, will she decide to leave Empirical for love perhaps? Or is the Charles relationship doomed because of the lies? Were you satisfied with how Caitlin learned Liza's whole secret? And who is next?