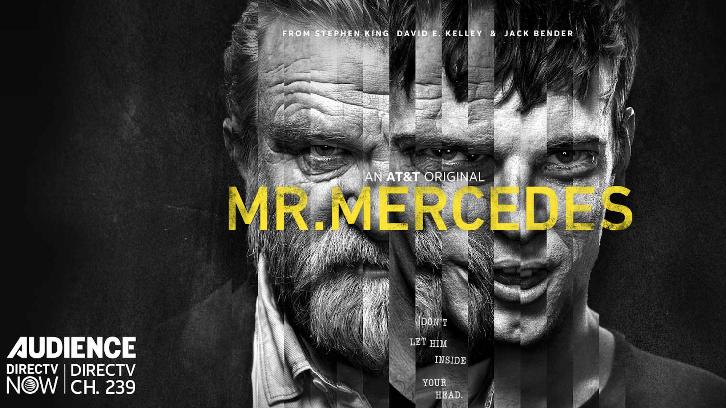 Mr. Mercedes's ten episode season 2 premieres on August 22 on the ATT Audience network. Starring Brendan Gleeson, Holland Taylor, Nancy Travis, Scott Lawrence, Harry Treadaway, Jack Huston and Tessa Ferrer.

Written by David E. Kelley, Dennis Lehane and directed by Jack Bender. It is based on Stephen King's Bill Hodges trilogy - Mr. Mercedes, Finders Keepers and End Of Watch.

Most of our favorite and not so favorite faces are returning for season two. The fabulous Holland Taylor as teacher and neighbor Ida Silver, Brendan Gleeson as tortured, rumpled, retired police detective turned private dick/repo man Bill Hodges.

Our bad guy, Brady Hartsfield, has survived the beating to his skull, but finds himself in a persistent vegetative state. Bill's former partner and all-around nice guy Pete Dixon and Donna (Bill's ex-wife) and Bill's assistant and sweet, surrogate daughter Holly, running Finders Keepers, are all back for round two.

We are also introduced to power couple Dr. Felix and Cora Babineau; Brady's neurologist and his driven and determined drug company rep. wife.

We pick up where we left off in the season 1 finale. Bill and Brady have both survived and are rushed to the hospital in the same ambulance. Dr. Felix saves Brady's life, but that's about it.

Bill is left with months of rehab in his future after the heart attack and making sure everyday that Brady won't be waking up. He's convinced that Brady will find his way back. Brady is definitely in Bill's head...

We are also left to deal with an unexpected, tragic death of a major character in episode 1 and it is stunningly sad.

The performances are wonderful and I especially enjoyed the introduction of Dr. Felix and Cora; whose employer is developing an experimental drug for neurological disorders. Their story is going to drive the show in all sorts of interesting and devastating directions.

Could the doctor and his wife be the undoing of the peace that Brady's continuous, unconscious state has brought to the community and especially to Bill?

Some choices just can't be undone.

Favorite quote: "There's nothing wrong with a little darkness..."

Great show, awesome cast, writing and directing. I've only seen the first two episodes, can't wait for more...