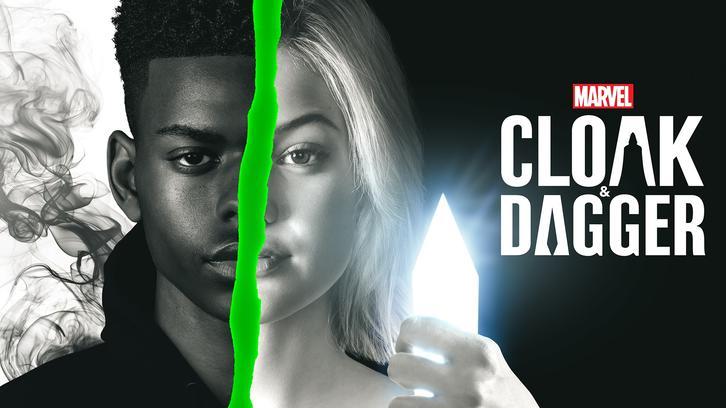 After the exciting previous outing, in this week`s episode, Cloak & Dagger was all about damage control. With all the revelations our protagonists hadn`t much time to recover and made some new desperate choices.

The most positive surprise of this week`s episode was the focus on Delgado, the School Counselor, and Priest. His lecture about Heroes and their origins was really profound and did the same thing the show constantly does. Challenging our views on who is a hero and how heroes are born. The way his monologue worked into what was going on with O`Reilly, Tandy and Tyrone was very well edited and created a great flow. His scenes with Tyrone were exceptional as Aubrey Johnson delivered his best performance yet. That boy was on a mission to break my heart and I think he eventually succeeded in it.


What else can I say about Tyrone`s story this week? Gosh, it was heartbreaking from start to end. The cold reaction from his parents after the precinct scene, the scenes with Delgado, the confrontation with Tandy and his finally his scene with his mother. Gloria Reuben finally got the screen time and material she can work with and captivate us with her emotions. The incorporation of Police brutality towards African-American with all the fears and facts were simply triggering. Tyrone`s confession that he is nothing without his quest was the drop that tipped the glass and left no eye dry. Connors intending to set up Tyrone for Brigid`s boyfriend wasn`t something I expected but set up a thrilling final hour.
While Tyrone was spiraling out of the inability to emotionally resonate with his parents, Tandy was spiraling out of the inability to change her past. Her whole life she idolized her father and everything she did this week was to clean his name and finally get some piece. Finding out that he was anything but the man she thought he was must have been a fall from the heaven to the darkest pits of hell. Olivia Holt just carries this great screen presence and is so captivating with her attitude and with each emotional response. Her starting to steal other people`s hope looked like an addiction which took over her whole body. Tyrone dropping in when she was about to dry out Liam`s hope was a very fitting move. Tandy struggled in taking Liam`s hope and in this moment of need her soul screamed out to him and they reconnected.
Their face off in the school was a pure popcorn moment. The writers really know these characters well and their truth-bombs just feel so right and necessary in each moment. Their personal broke-ness just fits perfectly with each other and even though they are mostly pushing against each other they feel the connection and need for the other to be close. Liam scamming Tandy was an unexpected twist (she tiny little bit it though), I was super surprised to see Greg`s assassin back at Melissa`s. I can`t wait to see Tandy hit it up against her.
Brigit getting drunk and afterward beaten by Connors was just terrible. It was weird watching the cops hold her back and then letting him beat her to pieces. Overall I am excited to see Emily Lahana rise to her comic book canon and be even more kicker a-s than she already was. Driven by this pain she will prevail.
Seeing the Hess family is quite the charm and I hope they stick around in season 2. Also, Mina`s final scene was a foreshadow that the accident that happened 8 years ago can happen again and set up many season 2 storylines.
As for story progress we didn`t get much this week, but we got character development and insight which is just as precious in my eyes. Tomorrow airs the final episode of Cloak & Dagger`s first season and be sure to stop by right after the episode to discuss it here at STV. In the meantime, stop by the comment section and share your thoughts on the penultimate episode of the season.