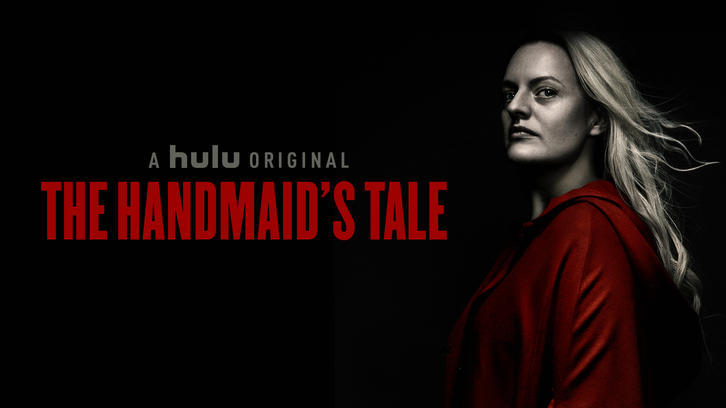 The Handmaid's Tale
comes to the end of season two with "The Word" is directed by Mike Barker with the teleplay from Bruce Miller. Elizabeth Moss and Alexis Bledel are fantastic. Many characters have a bad day, including Aunt Lydia (Ann Dowd).
June (Elisabeth Moss) and Rita (Amanda Brugel) share a moment over packing up Eden's (Sydney Sweeney) belongings. June brings Serena (Yvonne Strahovski) something from Eden's things. Eden's father (David Tompa) comes to pick up her belongings. Serena is much nicer than Fred (Joseph Fiennes).
June challenges both Serena and Fred. It doesn't go well. Rita and June find something to laugh about. Rita surprises June. June and Nick (Max Minghella) share a very sweet moment.
Serena and Naomi (Ever Carradine) discover a common purpose.
There's a very brief, but important, flashback to June with Hannah and Luke (O-T Fagbenle).
Look for an ironic use of "It's All Too Beautiful." Emily (Alexis Bledel) gets a pleasant surprise. Janine (Madeline Brewer) thinks June is too negative.
Fred is not happy with Serena, and Serena is too bold for her own good. Fred makes June an offer.
Emily acts without thinking and is happy about it for about a minute…
Commander Lawrence (Bradley Whitford) has excellent taste in music.
And that's all you get. The ending will probably have you yelling at your television – but I'm not telling you how! This final episode for season two drops on
Wednesday, July 11
….
Here are a few dialogue teases….
Where's Rita?
Have a nice life.
All we leave behind is the uniform.
Your girlfriend is a badass.
Am I complaining all the time? No. I'm not.
This is all she leaves behind. There won't be a marker anywhere.
She wasn't strong enough.
William Basil, actually. A Canadian Minister.
Wow. Brave.
We had a difficult day.
We all have our role to play.
I'm not going to do that with you.
Oh Tequila. I miss it most of all!
You are the misery of all men.
Praise be. – I'll even tell you this was Rita – and you'll like it!