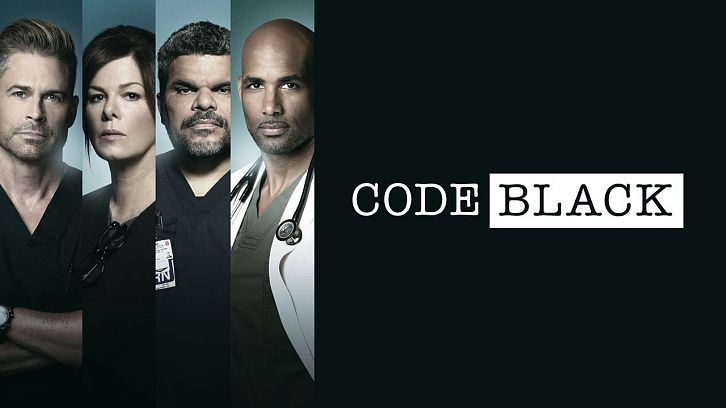 I literally cannot remember having seen Leanne any happier than at the beginning of this episode. She is outright drunk with excitement over the fact that Ariel's adoption hearing has finally been scheduled. Fun fact: excited Leanne apparently gets a little handsy. She did not only hug Dr. Campbell but also got all cozy with Dr. Guthrie. The lighthearted mood soon disappears, though, when Rox gets hit by a drunk driver while on a call. Ethan and Dr. Kean are on scene with her and render first aid before she gets admitted to Angels with severe injuries. Their colleagues' accident effects all the staff members at the hospital but no one more than Ethan. He was horrible to Rox in last week's episode, he pushed her away, hurt her and eventually made her quit riding the rig with him. Ethan is worried out of his mind and feels guilty. Additionally, he is hit by the realization that he is in love with Rox. No surprise there for the viewers.
When it turns out that Rox has a neurological injury and needs an interventional neurosurgeon, which they do not have at Angels, Ethan wants to fly her to the best doctor available who happens to work at a hospital in San Diego. Campbell thinks it is too much of a risk to transport her and once again threatens Willis to dismiss him from the case. As her next of kin, Rox's aunt makes it clear that she wants Ethan in charge of her niece's case. The woman trusts him completely, not only because he seems to be a more than competent doctor but especially because she knows that he loves her little girl. For a moment Ethan is dumbfounded by her words but he has no time to deal with any of it at this moment. He has to get Rox to San Diego.
In the meantime, two young men were submitted to the hospital who look completely identical but do not seem to know each other. Turns out they are twin brothers that were separated at birth. The sad part about this reunion is that one of the brothers had been given up for adoption while the other was raised by his birthmother. One of the brothers has a genetic condition and therefore needs a liver transplant. The other brother insists on donating part of his liver despite the fact that he is not supposed to have surgery due to his weak heart. They have only just met, yet they are willing to risk their lives for one another. Because they are family.
Another patient that we already know from last week's episode is Dominic, the little boy that is supposedly Dr. Leighton's son. The kid's heart condition is worse than the doctors' initially thought and therefore surgery is necessary. Campbell wants Angus to assist in the OR but the younger doctor excuses himself as he might be related to the boy. This is when Savetti blurts out that he knows for a fact that Leighton is not actually the kid's father. Behind everyone's back Mario went ahead and checked Angus' blood type against Dominic's. It turned out it is impossible for them to be father and son. When confronted with the truth, the boy's mother admits that she merely suspected he was the boy's father, she never knew for sure. Her reaction made me roll my eyes pretty hard. I get that she was worried about her son and needed a doctor who takes her seriously but was that really the way to go? I honestly doubt making the doctor believe he is the kid's father is the only option to get him to care enough to thoroughly examine the boy.
What was a particular interesting part of the episode for me personally, were the scenes about the drunk driver that hit Rox. The man crashed his car at some point after the hit and run and consequently gets admitted to Angels with grave injuries. Only when the police arrive do the doctors actually find out that he is the person who hit Rox. Jesse, Leanne and Elliot are immediately able to put their personal feelings aside, they give the man the same care they would give any other person. Because, as Dr. Guthrie put it in last week's episode: "We don't judge our patients, we provide them with medical care." The police have an entirely different attitude toward the situation and insist on drawing the driver's blood to prove his intoxication. Jesse makes it clear to them that right now is not the time for this and reminds them that, legally, they are not even allowed to get his blood without a warrant or the man's approval (there seems to be a
factual mistake
here because in California a warrant for a blood test is not actually required when a person is arrested for a DUI). As the patient is unconscious and therefore unable to give consent, Jesse has no intention whatsoever to let the cops anywhere near him. The officers, however, do not back off and end up arresting the nurse for obstruction of justice. Dr. Rorish keeps treating the man while they handcuff Jesse and lock him into the police car.
The moment the patient is stable Leanne puts on her kickass boots and gives the police officers a resounding piece of her mind. What eventually gets Jesse out of police custody is not Leanne but his unprecedented ability to convince people to do the right thing.
Police Officer:
Look, we're just trying to do the right thing.
Jesse:
Yeah, I know. But it don't look right from back here.
When the patient dies Jesse feels guilty for not being there. His personal prime directive is not to ever leave a patient behind but in this case, he was forced to. It was not his fault but he feels partly responsible anyway. This storyline about the drunk driver portrayed an ethical dilemma a lot of ER doctors and first responders have to face on a regular basis. The way it was dealt with was very realistic, very humane. It was clarified that this topic is neither black nor white, it lies somewhere in that huge grey area in-between.
I am only realizing now, as this review is about to come to an end, that I neglected to mention that there were two more patients submitted to Angels' in this episode: Two members of a band – who are also a romantic couple – were robbed of their gear and got hurt in the process. However, their case was sort of overshadowed by everything else going on. I could not really get myself to care enough about them to go back and watch their scenes again. Their story was not able to really get me engaged. I would have preferred to see more of Ethan and Rox instead, or even better, more of Leanne.
The ending of this episode broke my heart. After her eventful, stressful shift at the hospital Leanne finally gets home. Her good mood has returned, she is smiling. She cannot wait to tell Ariel about the adoption hearing. When she realizes that the young girl is gone her heart sinks and so did mine. Ariel ran off. She took all her clothes and left her phone as well as her candy striper outfit behind. I had a really hard time keeping the tears at bay when I saw the hurt and the worry on Leanne's face. Fabulous acting Marcia Gay Harden!
There was no resolution for Leanne and Ariel nor for Ethan and Rox in this episode, leaving the viewers a little frustrated but also with lots of anticipation for the next, the second to last, episode. I am still hoping that Netflix or Amazon, or any other Network really, will swoop in and save the show but with every passing day this seems less and less likely. What a shame!
What do you gals and guys think of this episode? What was your favorite moment? Why did Ariel run off? Do you like the prospect of Ethan and Rox becoming an item?