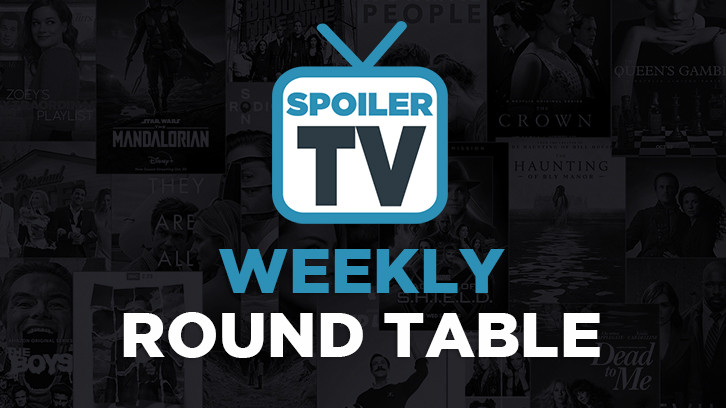 Hello and Welcome to a new edition of your favorite Round Table at SpoilerTV! This week we cover a lot of news again and I`m (MK) joined by a great bunch of STV team members. Along with me (MK) featured in this WRT are Shal (KG), Ellys (EC), Milo (MI), Yon (SJ), Jamie (JC) and Laura B (DL). You just have to sit back enjoy the read and join the discussion in the comment section down below.


1. ABC extended contracts for the cast of "Steps" (one of their rejected Pilots), along with False Profits the shows are in contention for a series order. Is all year development something that should be considered? Filling gaps throughout the season and not only during May Upfronts?
KG:
100% yes! There's barely anything on in the summer, and year-round development would be really nice. And hopefully, viewers would give more shows a chance.
EC:
Developing new shows year-round would give studios access to a bigger pool of talent. For example, actors and actresses who find themselves being laid off due to cancellations, early season deaths, status changes, and other events. Genre shows that don't benefit from rushed pilots forced to compete with mainstream fare could also be developed in this "offseason", where there's more freedom to make creative adjustments.
MI:
Would love to see more shows at different times of the year so absolutely, all year development is a must as Summer is often overlooked by networks. It also means that shows don't have to rush their pilots as much.
SJ:
In theory I'd say yes. It is quite ridiculous that US television revolves around fall TV and there's near enough nothing on during the summer. Having said that though, of recent years my summer TV watching has been spent catching up on fall TV and taking in the odd summer show like Wynonna Earp, and if there was all round year development, I'd never been able to catch up on stuff. I do think it is a good idea to extend cast contracts though. Pilot season is basically bursting to the brim these days, and the deciding factors that go into a show being picked up are changing. Extending contracts and redeveloping ideas is a great way to keep something that has massive potential on the table. Granted whenever I think of Steps my cheesy 90's faves are the first thing that comes to mind, but I was really surprised that False Profits didn't make it through pilot season and hopefully ABC will be able to make something work.
JC:
Yes please, I went from an average of 40 shows a week during the regular season to currently 7 (this week). We need more summer shows, especially from the major networks. I actually tend to pick up new summer shows much faster because I already know I'll have no problem keeping up. While during the regular season I have to carefully way my options. In the past, this leads to me starting a show only to drop it after 3 episodes, not because I disliked it, but because I had no time to watch it.
2. Shows are about to resume production and casting news is about to start dropping in. Which new character excited to potentially meet during the fall season? And which actors do you want to get roles during the fall season?
MK:
I`m expecting for Grey`s to go for some "bigger" names. To fill the holes they left last season and to try and boost the numbers a bit. Also constantly wondering if CBS is going to pay up to see one of the Original Charmed ones appear on the CW version.
As for actors I need on my screen, I hope Sarah Drew and Daniel Gillies get to appear on one of my shows during Fall season, it is what I deserve to be honest.
KG:
I'm excited to meet Batwoman during the annual Arrowverse crossover! She sounds really intriguing from what I've read about her, and am hoping this leads to her own show.
I'd love to see Brett Dalton in something new this fall, along with Aaron Stanford, Jessica Capshaw, Bridget Regan, Emily Deschanel, Holly Marie Combs, Angela Kinsey, Charisma Carpenter, and J. August Richards.
EC:
It used to be enough for me that a show's story was interesting. Now, I'm realizing that I need characters I truly care about. There's no way I would have made it through Westworld season 2 if I hadn't emotionally bonded with the characters in season 1. If an actor or actress has played someone I cared about before, I will certainly want to watch their new role. That's why I even gave The Resident a shot, because Emily VanCamp was starring, and I'm glad I did. The show is great. This fall, Josh Dallas is the only reason I'm trying Manifest, The Rookie for Melissa O'Neill, and Christina Moses was the initial draw for A Million Little Things. I also hope to see Abigail Spencer and Lana Parrilla cast in multi-episode roles this TV season.
MI:
The obvious answer here is the CW's take on Batwoman. I'm not watching any of the Arrowverse shows apart from Legends of Tomorrow at the moment but I always make a point to tune in for the crossovers as they up their game for those, or at least have so far. Hopefully, this is another example of that happening here.
SJ:
The obvious answer is, of course, Batwoman hitting the Arrow-verse. Sure her being introduced is a blatant rating ploy to a Universe which has near enough no original ideas left & has been stagnating for years, so the big question is whether they can pull this off and of course who is cast. Outside of that my casting wish list is for Crystal Reed to be in something I actually watch, waiting with baited breath to see if Grand Hotel announces any interesting guest stars, and what other casting changes Supergirl can come up with in an attempt to entice viewers in.
JC:
Now that Designated Survivor has been canceled I'm really hoping Maggie Q will pop up somewhere in a kick-a*s role. I also hope to see Tatiana Maslany somewhere soon.
DL:
As I don't watch a lot of Network TV anymore, I feel my opinions here would be limited, but I am watching Manifest & Whiskey Cavalier for actors and actresses I like. Anyone that I could think of to turn up somewhere, I would probably prefer cable or streaming series at this point. Tatiana Maslany, Vera Farmiga, Nestor Carbonell, Lana Parrilla, Jennifer Morrison, Katee Sackoff, Michael Ealy I would love to see get really good roles!
3. Xbox game "Halo" gets a TV adaptation at Showtime. Which video game do you think deserves a slot in #PeakTV?
MK:
I`ll probably answer this question with one and the same answer all the time, Mortal Kombat and Pokemon. But those two would high budget production and the script would need to be top notch. For now, I am excited to see how the
Street Fighter
version will look and maybe it will be a stepping stone for a future Mortal Kombat game.
As for Pokemon, I think Pokemon Go showed how big this franchise is and it really needs to get a real action TV version.
KG:
Super Mario, maybe? LOL,, I'm sure Netflix would be able to come up with something interesting.
EC:
Video games often feature fascinating world building and storylines, but I don't think that's enough to turn most of them into TV shows.
MI:
Video games often have a rich world to draw on - the good ones at least, with plenty of depth and lore. I could see an Assassin's Creed style show working fairly easily, and it could have plenty of potential - while not a direct time travel game, it does leave open for some exploration of past timelines and the present day. It could be a serialized or procedural approach depending on the budget, and it'd be interesting to see how it would happen. I could see a Horizon: Zero Dawn series working as well due to the sheer depth of the world - but the budget for the machines and set-pieces required would have to be north of Game of Thrones level.
SJ:
Not necessarily one that deserves a shot, but if anyone ever decided to make a Football Manager TV show I would be there just for the amusement of it. Also wouldn't mind a Sims show, again just for the laughs.
DL:
I would love a Nino Kuni animated TV series! It's completely unlikely I will ever see this come to fruition, since many of Studio Ghibli's animators have moved onto Studio Ponic and that Hayao Miyazaki is working on his last film, which is talking it's time to be completed. Mass Effect is another that comes to mind. I know there is allegedly a movie being made, but I think it work better as a TV series. I also remember hearing that Legends of Zelda TV series is in the works--If they could find a way to expand and create more characters, I could see it being a fun adventure quest live-action series.
4. Early GLOW Season 2 impressions have many conflicting issues with Bash`s story. While he expressed some signs of attraction to the opposite gender people slander that he "married" Rhonda? Do the People disregard the B in LGBTQ+? And do you think Bi-characters are not properly counted as LGBTQ+ representation?
MK:
As a straight person I can`t pitch much into this topic, but it seems like the B often isn`t considered as a worthy enough representation and that feels quite annoying at times. It certainly doesn`t help that as Ellys says in the comment below that it always is a girl swinging sides, it is an awful trope (ever since Marissa on The O.C.). Male Bi-sexual characters are rare and barely represented on TV.
EC:
Still watching GLOW season 2, but just based on other TV shows, bisexual characters are typically handled one way. They're almost always females who start off dating guys but then date a female and almost always date females going forward. I feel like there's this weird complex about bisexuality like TV writers don't want to switch back and forth between genders. Part of this I would say is how they handle them from the beginning. These characters almost never start out as bisexual. They tend to start out appearing "straight" but then realize they are bisexual later on and it's as if having them date the opposite gender again would be seen as negating their diversity or backtracking on it somehow.
SJ:
GLOW is a show that is very much on my to watch list and not one I have actually had the pleasure of watching yet, but the biphobia is very much real in the TV industry. As much as I praise Coronation Street for what they've done with Rana's storyline, I do find it extremely offensive that other characters label her as gay despite the fact she was married to a man & though Rana doesn't really label herself she has previously denied being gay or bi and just floats around the whole 'I don't have feelings for girls per say just one girl in particular'. Wynonna Earp did the same kinda thing with Waverly, more or less erasing her relationship with Champ and labeling her as gay when she's actually bi. It's honestly why I'm glad we have celebs such as Stephanie Beatriz who will state that just because she's marrying a guy doesn't change the fact that she is bisexual and is attracted to men and women. I think that because audiences globally are still so conservative, Networks know that gay people are just about accepted and don't really want to push the boundaries with bisexual characters which I do think is wrong, but it's also quite a complicated issue because biphobia is unfortunately quite rampant in the community as well.
JC:
I don't watch this show so I'm just going to speak in general. Yes, people do disregard the B, and not just straight people. Biphobia is a real thing, and it happens a lot when a character is in a relationship with either someone of the opposite sex, in which case they call that character straight, or with someone of the same sex, in which they say that character is gay. But being bi doesn't just vanish when you enter a relationship, it's not some temporary status. It also rarely gets said out loud on TV. I've been catching up on Mistresses where they said: "when you were a lesbian" to a bisexual character that had previously dated a woman but was currently dating a man. That's why the representation in the form of Callie on Grey's Anatomy and Rosa on Brooklyn Nine-Nine are so important.
DL:
I haven't yet watched Glow, but I do think there is a problem with viewers not always considering the "B" and what that might mean in serious relationships. In the same breath though, I do think there are people out there that are experimenting and/or are going through something psychological, and/or do things just to intentionally hurt other people (I have dated a few people like this) and that there is room for some speculation in the Bi arena, but I do think that many bi characters have been unfairly criticized by viewers.
That is a wrap guys! Ur turn now, come and join the discussion down below. Till next week. . .