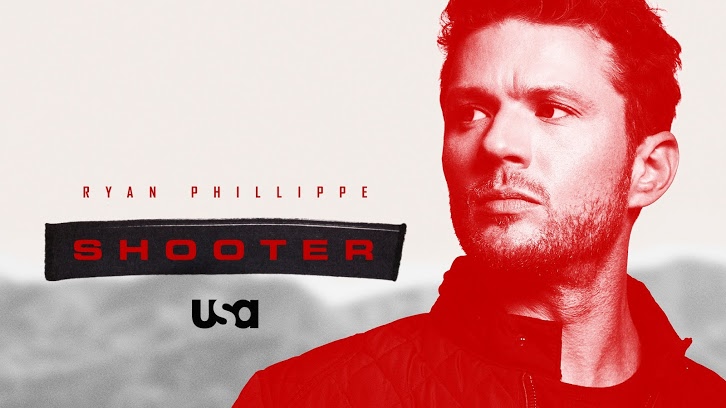 Another great episode in the books for Shooter. Despite the misleads, reveals, and action in this episode, we were able to get a little more levity than usual thanks to the decision to put Harris Downey in Bob Lee's protection. Hopefully tonight's episode will give us some more fun times with Harris, and some more scary times with our wonderful new guest star bringing life to Red Bama Sr. But, before we look forward, let's take a quick look back to prepare for tonight.

Character Catch-Up

Bob Lee: He did it. He finally beat Solotov. However, he also learned that Atlas was likely involved in his father's death and began a new journey to learn more. He clearly doesn't know how to sit still. His journey led him to Bama Cattle Co. and Red Bama Jr., which in turn led to an attempted assassination of Bob Lee disguised as a gas station robbery. He's a smart cookie, though, and he put a stop to that pretty quickly.

Julie: After being forced to team up with Isaac to find Bob Lee, Julie was ready to return to normal life with her husband back home. She has not been a fan of his new crusade at all, but she does support him, especially when she finds out Bob Lee is on to something.

Isaac and Memphis: Agent Memphis (just Nadine now) has teamed with Isaac to take down Atlas, turning into a darker version of herself than we're used to. She knows the only real way to take them down is to play by their rules, which Isaac has the proper skill set for. They've already killed Hayes, so what's next? They brought Harris along for the ride as well, but he really wasn't feeling it.


Debriefing
While attempting to get some information from his father's heavily redacted files, Bob Lee gets a visit from Team Swagger, plus Harris Downey, aka probably my new favorite. He's pretty useless in the beginning of the conversation as he stands in the background feebly attempting to do some damage to a punching bag, but that changes when Bob Lee mentions Bama Cattle. Harris mentions that Red Bama Sr. is an important player in the Department of Agriculture, where our new, unknown friend Carlita Cruise happens to work. Isaac and Nadine leave Harris with Bob Lee to keep him out of harm's way (what? Have you met Bob Lee?) and head out to find Carlita, only to find that she's been waiting for them. She wants to take down Atlas as well, mainly because she's on their kill list due to their unfortunate two up/two down policy. If anyone is made, the two people below them in rank and the two people above them are taken out. That feels like a rude policy to me, but if offers plenty of room for advancement for the next five people. Carlita then takes them to bunker so they can discuss her plans for Atlas's demise. They need find the cleaners in the organization and take them out, which could be a difficult task. Carlita is willing to use herself as bait to lure one out, though, so we don't need to worry about Nadine dying. We also don't get to watch Isaac die either, but you take the wins with the losses. As it happens, they both ended up being the bait anyways. As they chase a "cleaner" who is chasing Carlita, they are unknowingly being chased by the real cleaner who Carlita intercepts after she shakes her chaser. While our duo takes out the fake cleaner and steals his sat phone, Carlita attempts to gain the location of a man named Russo before killing the real cleaner and vanishing without the information. Shortly after, Isaac and Nadine realize what has happened and return to Carlita's bunker to decide their next move. While there, Nadine discovers Carlita's super-secret sat phone password generation key (that's a mouthful) and, while unsatisfied with their consolation prize, at least are left with something moderately useful.



While we watch flashbacks of Earl Swagger getting recruited during the Vietnam War and training for something called the Phoenix Program (which the internet tells me was actually a thing!), Bob Lee apparently decides that the best way to keep Harris safe is to take him on a fun adventure. You know, the thing Bob Lee always does, and a prime reason why you shouldn't leave anybody with him you want to keep safe. Harris even tries to sit out this adventure in the Swagger family panic room, but Bob Lee forces him along anyways. Poor Harris. While they wait outside a bar for the guard that helped Poole escape, Harris tries to bond over their shared history of dead fathers, but Bob Lee is not about it. Than man comes out of the bar, a little too drunk for how early in the day it is. I'm not judging. I'm totally game for private day drinking, but, after refusing to answer any of Swagger's questions, the guard decides to take part in some day drinking and driving, which I cannot condone. They follow him to a Bama Cattle slaughterhouse where Harris is shocked to see Red Bama Sr. himself heading in to meet with the guard. They then have a quick chat about Harris's reluctance about guns as he states, "I don't want to hold the power of somebody's life in my hands." Bob Lee informs him that a gun is not required for that, which we then see exemplified in Bama Sr.'s actions. While the guard argues with and threatens Bama Jr., Bama Sr. approaches from behind with knife and stabs the guard right in the neck/shoulder. So much for that lead. When Bob Lee sees a worker come out to move the guard's car, Bob Lee packs up, knowing that the guard is dead. He then has to explain to Harris what happened and that he figured this was likely, leaving Harris appalled that Bob Lee did nothing to stop it. We also get a fun fact: Harris was an English Lit major and Poly-Sci. Who knew?


Their next stop is to a lunch the Bama boys are having to ask them a few questions directly. They are both fairly calm and claim to have no idea about any of Bob Lee's accusations, but Bama Sr.'s cool demeanor is shaken a bit when Bob Lee introduces Harris Downey by name. It's nice that you got his attention, Bob Lee, but now you certainly ensured that Harris is a higher priority target than he was before. This isn't how you keep someone safe. Bob Lee and Harris leave before anything can get too ugly and head off to their next stop to see Colby, a man Earl trained with. Bob Lee tries to introduce himself, but Colby beats him to the punch and says his name for him. The first thing we hear Colby say when they get inside is, "I always figured if Bob Lee Swagger showed up at my door, trouble would be right behind." Man, he really does know Bob Lee. The only real information they get is that Earl was asking some pretty important questions after the war, two weeks before he was killed. Coincidence? Never. Sure enough, Colby's trouble theory is then proven as a car pulls up ready to open fire on Colby's cabin. Colby is struck down in the fight and uses his dying breaths to have Harris take the Army shadowbox off the mantle and give directions to a nearby trapdoor. While Bob Lee lays down some cover fire so Harris can get to the car, we hear a command for Harris to be taken alive, which is interesting. Bob Lee takes down one of the men and Harris's fight or flight instincts kick in when he gets cornered at the car, ending in a gun struggle that sees Harris shooting the man on top of him. Bob Lee returns to a blood-covered Harris to inform him that he's just as wanted as Bob Lee is. Later, while Bama Sr. threatens Bama Jr. for his actions, Bob Lee commends Harris for his. They have a nice little moment that quickly shifts when Bob Lee discovers a Phoenix patch in the Colby's shadowbox; the same patch that was buried with his father. Harris then remembers that Hayes used to meet with a bunch of Phoenix guys on a regular basis, which confuses Bob Lee because Phoenix ended after the war did. Or so he was told. Harris wonders if they perhaps changed their name to Atlas and Bob Lee is shaken. If that's what happened, that would make Earl Swagger a founding member of Atlas. Oh no!

Outcome
I'm quickly learning that this season is a lot better when you give it your full attention. Most shows I'm able to watch casually while doing other things and still manage to catch everything and enjoy it. I've watched each episode this season twice, once casually and once focused. Without fail, I've gotten through the casual viewings thinking, "Yeah, I guess that was ok." However, when I take the time to view it with all of my focus as intended, everything gets better! This episode Harris went from "Why is he here?" to "Where has he been all this time?", and I also didn't fully grasp the Earl Swagger/Atlas connection on my first viewing. I guess what I'm saying is I need to make sure I'm always focusing because this show is great, and the season is starting to get really good!
Let's talk a bit about Harris first. I loved him this week. He's had a fun moment or two in the past, but, for the most part, he was always just kind of there. Taking a man who didn't want any part in an adventure and pairing him up with Bob Lee was a ton of fun. To me, he's the voice of the normal person who isn't used to all of this. Not the voice of us, though. We see this every week. We're solidified Bob Lee Swaggers at this point. We're totally on Bob Lee's side when he wants to say "Dude, people gotta die for this end, get over it." But Harris Downey is a normal human, and getting over it isn't really an option at the moment. But the man can hold his own, can't he? Sure, he struggled with the man a bit before being able to kill him, but it was his first time, give him a break. This was easily my favorite part of the episode, especially the moment when a blood-covered Harris says, "Can we go to the cops now?" Great delivery, 10/10 would order again. I'm excited to see what he gets up to as the season goes on. If he dies, it'll hurt me pretty bad.
Now, let's talk about a crime. I believe Julie Swagger had exactly one scene this episode, if you can really call it a scene. Yes, I know we had plenty of other things to deal with, and I'm not at all suggesting we cut out any of our
amazing Gerald McRaney (of recent
This is Us
fame, along with a host of wonderful past performances), but a little more Julie time somewhere would have been appreciated. I will say, though, she gave an entire episode's worth of subtext to her few lines. From that brief scene, I was able to get "I love you, I support you, I know you have to do this, I don't want you to do this, just stop it" along with my personal favorite "What crazy stuff are you mixed up in now that has Isaac once again in my home when he's actually garbage and should be somewhere far away from here?" It was all there, verbatim, in her eyes. I saw it. Honestly, out of everything that's happened, what I'm most excited for in the next episode is to hopefully see more Julie scenes.
What did you think of the episode? What are you most excited for next week? Can you really tell me Harris Downey did nothing for you this episode? I'm sure someone can, and it'll make me sad. But, I'll get over it one day. Sound off in the comments below!