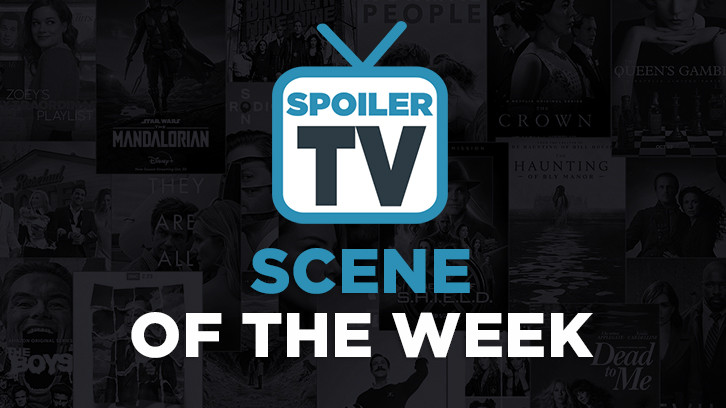 A weekly feature in which we're trying to find the most compelling, best acted, written, directed and just generally great, memorable scenes that we've seen in past seven days on TV.

12 MONKEYS, "One Minute More", June 29, 2018, Actors: Aaron Stanford, Brooke Williams, Amanda Schull and more, The Scene: The reveal about Cole's mother
Justyna: Over the years this has been such a powerful and incredible story with emotional exchanges, mind-blowing twists and breathtaking acting performances. And the entire sequence at the airport had it all. At the same moment the characters and the viewers realize the truth and what has to be done to save time itself. James and Cassie are faced with the terrible choice between killing billions of people with the plague or let everyone die when Titan's true power is activated. Meanwhile, Jones, Jennifer and Adler make another, more personal and painful discovery. We learn that the weapon meant to destroy Olivia was actually a way to erase James Cole from existence. His life from the start is an anomaly with his mother being Hannah, a time traveller herself. With everything happening at once it takes a minute for the reality to sink in. James can finally see his mother for who she is, while simultaneously forced to watch her die when she jumps in front of him to save his life. What's even more powerful is the fact that she's known exactly what would happen and still made that choice... To focus on the mother reveal itself, this was something I genuinely didn't see coming, yet it made all the sense in the world. James was always Katarina's grandson, and being a child of a time traveller he made the machine work in the first place. He's also the one who helped save Hannah as a little girl. That great episode was all I could think of when this reveal happened. I absolutely love how carefully constructed, even if at times confusing and complicated, this world has turned out to be. The stories planned from the beginning are the ones I end up enjoying the most. It takes true talent and effort to execute such an amazing vision and I'm grateful to be watching this beautiful story. Beautiful, yet completely heartbreaking. It's the emotions that will last in our memory for sure. Hannah being Cole's mother is a perfect choice and Brooke Williams did such an incredible job with this reveal and Hannah's sacrifice. James' shock and heartbreak is wonderfully played by Aaron Stanford, who is the reason why I decided to watch the show in the first place. And finally, there's Amanda Schull and her fantastic performance as Cassie who watches Hannah's goodbye with Cole and realizes she has to be the one to release the plague, to save the ones she loves and she lets go of the vial in her hand. Such an emotional moment. There are so many different layers on display here, the sacrifice, the choices, the truth. The depth that can't be quite described with words. Kudos to the entire cast & crew!
Klutzy girl: The reveal that Hannah is Cole's mother. My mind is still blown, and it was such an amazing twist. I'm having a hard time wrapping my head around the fact that Jones is his grandmother! It was so perfect, and such an emotional reveal.
Laura B: Although a part of me is having a knee jerk reaction to this reveal, because of all the misdirection that now makes Olivia seem so unimportant, I can't deny how wonderfully unexpected this plot twist is and how much it does for the previous narrative where Cole and Katarina are concerned. I'm looking forward to rewatching this series sometime soon with fresh eyes with this new insight.
Ellys: When Cole both "meets" and says goodbye to his mother in the airport. The setup for this scene was sprinkled throughout the show, and the payoff did not disappoint.
Nirat: "It's okay. This was my choice. This was all I could do. Protect you one last time." During Episode 4.07 I was thinking that perhaps Hannah was Cole's mother. Only because Jones sent her back to the past on an important mission, which was revealed to be so that she could live a life, to see what she was protecting, to see why everything had been done throughout the series, to see it was for humanity. I loved seeing Hannah see how distant people had become and it's true today, with everything technology has given to us we lose track of who was really there, who was there standing beside us all along. I adored the parallel and the way this cut with the isolation and loneliness Emma, Olivia's daughter felt. The voiceovers and editing were just superb. Then later my assumption died as it was revealed that Cole's mother was someone else, Marion aka Emma, Olivia aka The Witness' daughter. I was fully intrigued by this and Emma's want to carve her own path was great, her creation of personas to feel like she was someone, to not feel like a purpose was inspired. The writers added depth to her even if she ultimately died and I wasn't expecting that. I think the misdirection of Emma being Cole's mother with it leading to Hannah being his actual mother was a truly jaw-dropping moment. I've often seen times when people overhype a reveal and this was not it. The love, care and sheer emotion in Brooke Williams' performance as she explains how this was an act of free to the "proudest to be your mother" moment took my breath away. This show has countless outstanding acting moments and this is one of them. Jones had numerous flawless pieces of dialogue in Episode 4.04, "but is as it's meant to be, mothers before their children" and my god, this was devastating. Even writing this piece I have tears in my eyes. 12 Monkeys has always been the most creative, inspired and cleverly written sci-fi show I've seen in a long time but more than that it was an examination of human beings, their spirits, the lengths in which they would go to survive and love and triumph and this episode proved it immensely. The way in which Hannah wrote her letter to Cole and the way in which it was edited and scored during this episode crossed with flashbacks to the love story of Cole's father and her to the devastating reality that she could never have this life was powerful. Hannah's voiceover of her letter was spoken with such genuine heart, everything she uttered had meaning. I appreciated it so much. There have been so many times where the 12 Monkeys writers have weaved a story of time travel so intricately it blows my mind. So often I find time travel shows can never measure the strength of this show and not once has my mind been changed. To see how everything is connected in this divine plan from Terry Matalas and his team is extraordinary. Few writers can ever accomplish such a feat. I find so often shows disregard the effects of time travel, how much of a balanced ecosystem it is, you can't change one thing without a ripple effect and too often I've found many lessen the effects of a change carried out but seeing Cassie unleashing the virus as a precursor to time travel was such a phenomenal revelation, Amanda Schull's performance during this was heartbreaking. The flashback of the plague's effects on humanity, the way the vial falls out of her hand reluctantly, just escaping the grasp of her fingers and the sheer ruin etched on her face was remarkable, and that coupled with that haunting score (the music on this show has always been something else, nothing quite like television, something truly cinematic) evoked such sorrow. I love that consequences on this show have always been gut-punching, it's what I've always found to be noteworthy television. If you don't come away feeling something, what's the point? Something that makes you feel emotional, that's what I find is worth my time. The beautifully edited together letter unfolding to the quiet and lovely moment with Hannah, Cole and Jones was everything I never knew I needed. It's a damn shame this show only lasted 4 seasons, the depth in such few seasons outshine so many shows. I'm so grateful to have been here from the start until the end.

COLONY, "The Big Empty", June 27, 2018, Actors: Josh Holloway, Peter Jacobson, The Scene: Will lets loose on Snyder
Laura B: This inevitable showdown was surprisingly more disturbing than one might have thought considering how other similar scenes in the series tend to stay on the PG-14 side of things, but the more extended scene of watching Will hold Snyder's head under the murky toilet water was premium cable worthy kind of disturbing, while once again proving that Colony is willing to go to more serious places and has become a much better show than it has ever been.

DIETLAND, "Plum Tuckered", June 25, 2018, Actors: Joy Nash, Julianna Margulies and more, The Scenes: Kitty and Plum talk in Kitty's office & Plum's date leaves their dinner
Claire: The scene in which Plum has to deal with the humiliation of a date leaving their dinner while she was in the ladies room. Joy Nash covered every emotion beautifully in this scene from joy to pride to shame. And all in the matter of a few minutes.
Giulia: Kitty and Plum talking in Kitty's office, where she tells her what she had to do to get where she is now.

GLOW, "Perverts Are People, Too", June 29, 2018, Actors: Alison Brie, Betty Gilpin
The Scene: Debbie & Ruth`s fight
Marko: You can find friendship breaking stories all over peak TV but rarely there are so well written and executed like Debbie and Ruth. The continuous downfall of their friendship and the tension between them was painful and amazing to watch. Them facing each other at their personal low points was powerfully written and impressively acted out.

NASHVILLE, "The House That Built Me", June 28, 2018, Actors: Charles Esten, Ronny Cox, The Scene: Deacon and his father talk
Sam: Charles Esten really shone brightly in this scene as Deacon confronts his repentant father about his abusive treatment. Deacon has a lot of anger and pain he's barely holding back when he talks to his father, and the way those feelings switch to guilt and sadness and regrets when he parallels himself to his father and the way he became a drunk just like his him, is heart-wrenching. He's obviously mad and sad not just about how his father behaved but that in some respects he ended up becoming like him, but his father of all people tells him he's not, he's a better man than him.

SALVATION, "Fall Out", June 25, 2018, Actors: Santiago Cabrera and more
The Scene: Darius' first speech as the new Vice President (picked by Eve)

SHADES OF BLUE, "The Hollow Crown", June 24, 2018, Actors: Ray Liotta and more
The Scene: Woz gets the power back (picked by Luana)

TAKE TWO, "Smoking Gun", June 28, 2018, Actors: Eddie Cibrian, Rachel Bilson
The Scene: Eddie stands up for Sam in court
Klutzy girl: They haven't even known each other for very long, and I love that he was willing to go to bat for her so soon - it was sweet.

THE 100, "How We Get to Peace", June 26, 2018, Actors: Bob Morley, Marie Avgeropoulos, The Scene: Bellamy's choice
Justyna: Bellamy Blake has done a lot of terrible things in his life, he was forced to make a lot of hard and painful choices. Yet this one feels so different than anything he's done in the past. He's spent his life taking care of his sister, even if it meant hurting other people. "My sister, my responsibility' has been his mantra, his words, his life. But this time, he had to put other people in front of his little sister, trying to learn from his mistakes and look for another way to achieve peace instead of starting another war. So to protect others, starting from Clarke who found herself in immediate danger, Bellamy chooses to poison Octavia. He makes sure to try one more time to change her mind and when he realizes he can't reach her anymore, he does the unthinkable and betrays the one he loves the most. As hard as it is to watch, it feels like a character development for someone haunted by his past. It's a proof that he's willing to sacrifice what he loves to do better and hopefully there's still a chance for peace after all. Bob Morley and Marie Avgeropoulos did a wonderful job in this scene. The part when Octavia asks for Bellamy's help and he stays still is especially powerful image. I'm very interested to see what happens next. Kudos!
Marko: Bellamy poisons Octavia. A true game changer. The whole episode was a major push and pull for Bellamy and it was obvious on Bellamy's face that it was literally breaking him into pieces.
Diana: In the final scene of the episode, Bellamy meets with Octavia telling her he can't let Clarke die. Octavia seems to realize her brother has feelings for Clarke (platonic, romantic, we don't know that yet). Bellamy makes his choice to poison his sister in order to negotiate with Diyoza in peace and let Clarke live. His final words really break my heart: "My sister, my responsibility". Bellamy has do to it for himself. Like he promised years ago, when they were young, he has to deal with her. Even if that means betray his own blood. Very symbolic scene.
Beth: Bellamy decides it is his responsibility to take out Octavia. This scene was in the making since the Blake siblings were reunited. One of them had to make this move and Bellamy called on the mantra he's lived by when it comes to Octavia, 'My sister, my responsibility', to be the one who struck first. She pushed him far enough by condemning Clarke, and he had waited long enough to try to broker peace without her interference. I loved this move to push the story forward and I have to mention, Bob and Marie were fantastic.

THE AFFAIR, "402", June 24, 2018, Actors: Joshua Jackson, Catalina Sandino Moreno, The Scene: Cole and Luisa fight
Luana: They both killed it in this scene and not only it shows how Alison is always there in the middle but, more importantly, it touched upon an important subject as is the vulnerability of Luisa's situation, and how she depends on people's mood or relationship to Cole so she won't be kicked out of the country, that kind of anxiety can be too heavy a burden for someone, and it clearly shows what it's doing to her.

THE BOLD TYPE, "OMG", June 26, 2018, Actors: Aisha Dee, Nikohl Boosheri
The Scene: Adena opens up to Kat
Luana: This was a small scene but it puts a face on how the current state of things can affect people in every single aspect of their life. It makes a simple couple's fight so real and heartbreaking.

THE EXPANSE, "Abaddon's Gate", June 27, 2018, Actors: Wes Chatham, Elizabeth Mitchell, The Scene: Anna lectures Amos
Kollin: Anna lectures Amos on the burden of hate and the fallacies of being human - how we hate what we don't understand. Amos, a natural born killer who just happens to be on the "good" side, never had anyone outside of Naomi to guide him, and in this one of three scenes together with Anna, we see how much of an effect her wisdom and her human-ness has on him. The scene is capped off with Amos declaring to Anna that he would never let anyone hurt her, which was just such a spine-tingling moment.

THE HANDMAID'S TALE, "Holly", June 27, 2018, Actors: Elisabeth Moss, Joseph Fiennes, Yvonne Strahovski, Oprah Winfrey, The Scenes: June listens to Fred and Serena argue & June listens to the car radio
Beth: June listens to Fred and Serena argue and contemplates shooting them. Wow, this scene was the definition of intense. Two of the most deplorable characters were arguing over who was the most at fault with this whole situation and they didn't know they had the audience of the person they were discussing, such a great writing move. I ran the gambit of wanting June to pull the trigger and realizing it just was not the right move for her if she did.
Claire: It's tough to pick just one scene. But the look on June's face when she's in the car contemplating her escape is one of pure joy! When she hears the voice on the car radio from Free Alaska (Oprah) offering a sliver of hope and a little Springsteen, you can only imagine how long it's been since June has heard a true voice of hope and civility.

WESTWORLD, "The Passenger", June 24, 2018, Actors: Thandie Newton, Jeffrey Wright, Tessa Thompson, Simon Quarterman and more, The Scenes: Maeve's sacrifice & Lee's sacrifice & Dolores reveals herself to be Hale & The Man in Black reveal at the end & Bernard steps out into the real world
Justyna: There are so many moments worth to highlight in the article. It's impossible to cover them all with a finale as wonderfully done as this one. The entire sequence in the Forge, especially "the moment that defines James Delos' life" was such a powerful study of a human nature, while on the other hand we see the sacrifices of the hosts and a single human - Lee Sizemore. A proof that the story's not over yet, not all the questions are answered, not all the people truly captured in the system. It's one of those sacrifices I wanted to mention the most - Maeve holding back an army to make sure her daughter gets to the Valley Beyond. I loved that we get to see the little girl finally remember Maeve and her promise. It makes the goodbye even more meaningful with Maeve's final words: "You carry my heart with you." The image of her holding back all the people is breathtaking. Also it was wonderful to see Akecheta trying to come back for her after he makes sure her daughter's safe behind "the door". Yet so heartbreaking to watch Maeve fall and then Akecheta getting shot and almost missing his chance to get to the Valley. The stories of these two were especially memorable for me, so their shared moment meant a lot. And finally the Door closes, but Maeve dies with a smile on her face knowing she got to save her daughter. Her sacrifice lets others escape and shows once again why she's one of the best characters on the show. I don't believe this to be the end of her story, so I look forward to what comes next. Kudos to the entire cast & crew for their amazing work on this series!
DarkUFO: Maeve sees her daughter, Anna, make it to the Valley Beyond.
Milo: Dolores reveals herself to be Hale: This was an epic sequence that showed the extent of Westworld's mind-screwery that really worked, coming to light with an unpredictable twist that put Dolores in a much better position to wreak havoc and infiltrate the world at large. The whole set-up reminded me an awful lot of the whole Magneto/Professor X conflict in X-Men - with Dolores sharing the extremist similarities to Magneto whilst Bernard opts for the Professor X approach. It was a great way to take Season 3 beyond the park and into new horizons - and ended Season 2 on a memorable note.
Diana: The man in Black is a host. This is a huge plot twist and Ed Harris' performance was as always sublime (like Anthony Hopkins every time he comes to the scene). We come to realize that William/the Man is Black's purpose has been finding the true nature underneath himself. He felt so part of Ford's game show to forget he's a host.
Kollin: In a final act of sacrifice, Maeve puts herself in the line of fire to make sure her daughter makes it to the Valley Beyond. As Maeve dies, she watches her daughter escape to freedom in what was such a bittersweet scene.
Laura B: Lee Sacrifices himself for Maeve. Simon Quarterman's Lee Sizemore has come such a long way from a snickering mouthy coward, to embracing the fantasy he had envisioned for himself through the creation of Hector by being a man that truly cared for Maeve. Watching him stand in the road and reciting his own speech, as he was shot presumably dead, was so moving and endearing, in fact he gives Dolores' and Ford's belief system in the failures of humanity a run for their money! Quite an accomplishment for character development of a character that does not appear in every episode!
Claire: The end scene where Bernard walks out of the garden and into the world. The voice-over made me feel that the garden was symbolic of The Garden Of Eden and Bernard is the hero with a new beginning.

YOUNGER, "The Talented Mr. Ridley", June 26, 2018, Actors: Sutton Foster, Peter Hermann
The Scene: Charles and Liza bury the hatchet
Marko: Peter Hermann is killing it this season of Younger. The dose of pain and cruelty he added to Charles created an award-worthy performance. And while solo his scenes are amazing with the addition of Sutton Foster into this one it exhaled it to new levels.