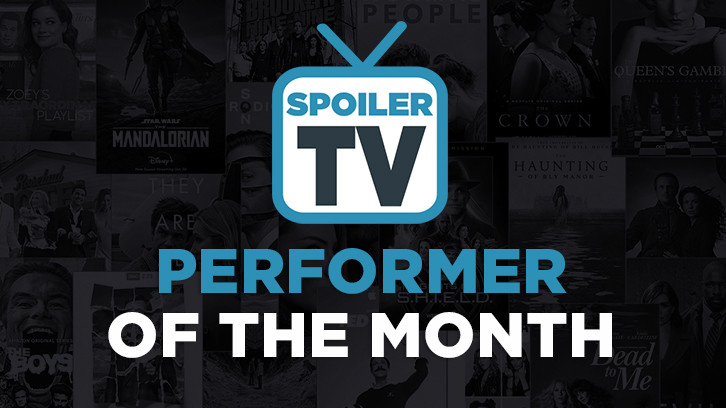 Results:

The two June Performer of The Month winners have at least one thing in common, their characters went to the darkest imaginable places but kept finding and fighting themselves a way back to the light.


On the reader's side, this month's winner is Bob Morley for his performance in
The 100
's
How We Get To Peace
(5x09). He led the vote right up until this afternoon. As the below note indicates there was a disqualification that left him ultimately being declared the winner. As already said Bob Morley's Bellamy Blake had a rough patch over his 5 season arc on
The 100
and Bob always made sure he brought his "A" game while portraying the 101st Delinquent. In the ninth episode of Season 5, Bob once again took care of business and his TV sister Octavia Blake delivering an emotionally captivating performance and changing the curse of the season for 180 degrees.
*
Editor's Note: As you will see in the below results, Lauren German was the clear winner. Unfortunately, it slipped through the cracks that this was actually a May episode she was nominated for. The race between her and Bob Morley was close all the way through. In fact, he led right up until early this afternoon. Had there been another performer close to them in the top running I would have rerun the poll. Since that wasn't the case, with Lauren German's disqualification the decision has been made to give this month's title to Bob Morley. Since this contest is based on performances in a particular month it is only fair to past and future winners to give the win to the top vote-getter from an actual June performance. It sucks, I know, and I wish I had caught it sooner, but this stuff happens. On a positive note, Lucifer was saved by Netflix so you will have not 1, but 2 opportunities to get her a win in 2019 and I am looking forward to writing an article for her then.
On the staff side, Elisabeth Moss was the clear winner from the get-go and the whole STV team is standing behind her impeccable performance in
The Last Ceremony
, episode 10 of
The Handmaid`s Tale
second season. Elizabeth Moss convinced with a complex and compelling performance, where her June played a high-level strategic game, got humiliated and raped but prevailed just so she could see her daughter one more time. Never underestimate the power of a mother. The intensity and pure outpouring of emotions Elizabeth Moss delivered convinced the STV team to give her our vote and make her performance for the character June our choice for Performer of the month June (pun intended).
*
*This month's winner announcements are written by Marko Pekic.
The winner articles for Bob Morley and Elisabeth Moss will be out later this month. Until then please feel free to use the comments section to discuss them and their incredible competition.
Original Post:
Thank you to everyone who turned out to place your nominations. Because of all of you, we have a very strong list of nominees. It will be interesting to see who will prevail and come away with the title this month.
Now it's time to determine who will be our June Readers' Choice Performer of the Month. The results will remain hidden for the duration of voting. The results of this poll and the Staff voting will be revealed after the poll closes.
2017 Staff's Choice Performer of the Year: Tatiana Maslany
2017 Readers' Choice Performer of the Year: Sam Heughan
January Winners:
Readers' Choice: Camilla Luddington (Jo Wilson) - Grey's Anatomy
Staff Choice: Justina Machado (Penelope Alvarez) - One Day At A Time
February Winners:
Readers' Choice: Tala Ashe (Zari Tomaz) - Legends of Tomorrow
Staff Choice: Mandy Moore (Rebecca Pearson) - This Is Us
March Winners:
Readers' Choice: Sarah Drew (April Kepner) - Grey's Anatomy
Staff Choice: Iain De Caestecker (Leo Fitz) - Agents of SHIELD
April Winners:
Readers' Choice: Abigail Spencer (Lucy Preston) - Timeless
Staff Choice: Sandra Oh (Eve Polastri) - Killing Eve
May Winners:
Readers' Choice: Tom Ellis (Lucifer Morningstar) - Lucifer
Staff Choice: Keri Russell (Elizabeth Jennings) - The Americans

Please remember that a performer can only win once in 2018. After that win, they will be ineligible to win again in 2018, but they will secure a spot in our year-end Performer of the Year contest.
Now comes the hard part where you can
only vote for 1 performer
. The poll will be live until
Wednesday, July 11th at 6 pm ET
. After you vote be sure to make a pitch in the comments section for what the performer you voted for most deserves to win.