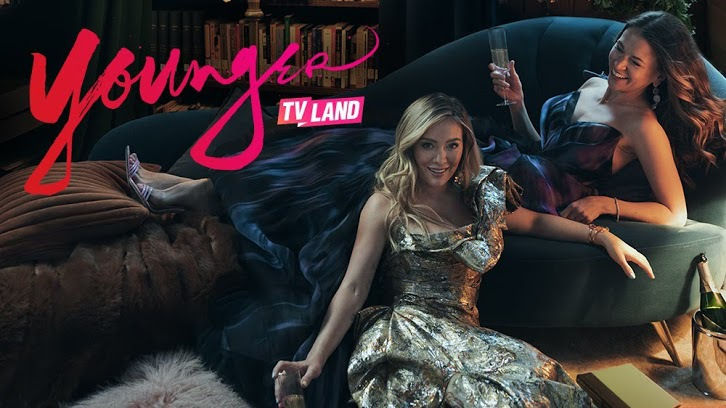 Welcome back Younger fans... Well this season premiere hit the ground running, didn't it? Let us discuss those last moments and everything in between


He knows

Let's just start with the biggest jaw dropper!! Charles knows, I repeat Charles knows about Liza. Most shows would have let those two get nice and cozy and be at the cusp of a relationship before pulling the rug from under them in the closing minutes of the season finale. Not Younger though! The writers boldly chose to have Charles learn about Liza and her closet full of secrets in the most unexpected way, and honestly I find this brilliant.
If you need a brief recap as to how it happened, Edward L.L Moore was facing a truckload of trouble for finally being called on his disgusting behavior which I will discuss in a few, when he and his team did some digging to discredit the women who had come forward to accuse him. In those files, they blew the lid off Liza's ruse and a stunned Charles was staring at the file of a woman he thought he knew.
Charles has always been the upstanding and honorable man of this show. He refuses to get dirty when it comes to his business and now he must decide what he is going to do with Liza both personally and professionally. She has fraudulently presented herself as one person when she is in fact a another and oh yeah, another one of his employees knew this and hid it from him, can you say HR nightmare? On the personal side, he has developed feelings for her, and pushed them down because he thought it would be inappropriate given she is his employee and also many years his junior. In that regard, I wonder if some part of Charles will be happy with this information because Liza is indeed on his level when it comes to life experience and age. What will Charles do? I honestly can't wait to find out, but this is now another woman he had grown close to that has betrayed him and I feel for the guy.
Younger takes on #MeToo
I binged and fell in love with this show recently and watching L.L. Moore behave the way he did towards Liza made me double cringe, because in the age of outing the many men who have harassed and made women feel uncomfortable, this felt more like a punchline of a dirty old man and not a serious issue.
In this episode Moore was FINALLY exposed for his treatment of women and I cheered. Liza was called into Charles' office and awkwardly thought he was addressing some of the tender moments they have shared, instead he wanted to know if Moore's behavior had made her uncomfortable. They had a big launch for his new prequel
Pam Pam
series planned for NY Comic Con, but because of these accusations on a blog about his gross exchanges with women, it was in jeopardy . This scene was so timely because we then saw Diana and Zane bust in and pressure Liza into saying it wasn't that bad when he made sexual comments towards her and touched her in ways that made her skin crawl. I mean I love Diana and get that she came up in publishing when men would probably place their hands on her backside and she had to politely remove them and never speak of it again, but she sort of bullied Liza here into saying it was fine. On top of that, Charles then told her Moore had requested her to don the Pam Pam costume once again for his big reveal at Comic Con, to which she agreed. I also have to say it made sense that Liza brushed off these things because in her initial run in the publishing world, these things were probably accepted as well.
Liza finally decided that no book and no launch was worth letting this go on when she met with her fellow Pam Pams and they all had a story to tell of Moore harassing and belittling them. The moment Charles found out, I knew he'd do the right thing and boy did he ever! Moore being exposed was a relief and so satisfying. But, I know we aren't done with him or his shenanigans yet given what I discussed earlier.
WTF
Finally my girl Kelsey was on fire this ep!! The way she called out Charles for using the
Empirical
label on
Marriage Vacation
instead of
Millennial
was great. That is the thing about Kelsey and why Charles gave her the imprint, she believes in herself and her job and that makes her a character to believe in and cheer for. Seeing the Millennial logo on the new image of
Marriage Vacation
in Times Square taking the place of Moore's campaign, was so satisfying especially when Charles said they would halt the first run of books and reprint them with Millennial.
With Zane she was also a boss. He once again tries to get her on his team professionally and personally, but she is not having any of that. I loved when he made a comment about her skirt that she shot back with 'I can see the outline of your weiner in those pants' and cooly walked away. I am sure these two will mix business with pleasure many times this season but the power struggle of two alphas is always great to watch and makes for good television.
Some other notes:
*Josh was sadly missing tonight but we saw him making his Instagram footprint with his new wife Claire. Why do I feel like he will come back miserable? This cannot work as a way to get over Liza and I stand by that.
*Maggie was also missing and I find that criminal because I would have loved her input on Moore
*Liza skirted around exposure again when Caitlin's roomate's father ran into Liza whilst she was getting Diana lunch. He also happened to be the attorney who spoke at Empirical's sexual harassment training. Liza once again averted that disaster by hiding in the bathroom and telling Charles and Diana she had some Diarrhea.... Anything to keep the ruse up I guess.
So what did you think? What will Charles do? Did Younger handle #MeToo properly? What will Josh be like when he gets back? Sound off in the comments!