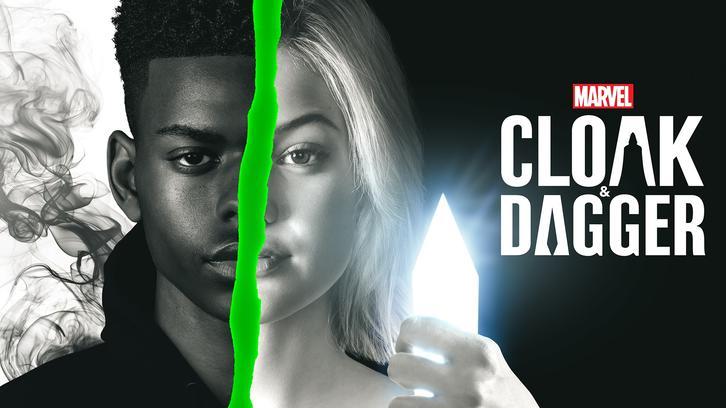 Cloak and Dagger is sure to be one of the hottest hits of the summer and it's so great seeing the positive response from all the viewers out there who found the two-hour premiere to be an exciting look into what's to come. As you know the need of the first two hours had started to weave a complicated web for Tyrone and Tandy that left me especially eager to watch what happens next. Luckily, we got a chance to check out episode 3, Stained Glass and get to give you a hint of what comes next.

Title: Stained Class
Air Date : 6/14/18


I'll try and keep this as spoiler free as possible while attempting to give you some insight on what comes next. That slow burn pace? It's not going anywhere. This episode definitely seems to be focused on really diving deeper into the characters of Tandy and Tyrone and what motivates them. Yet, for what it gives as far as a glimpse into why these two need each other, it still remains very vague about a lot of things. Visually, the episode is still stunning, utilizing some of the background and lighting to help influence the viewer into relating to the character. But don't expect the show to spoon feed you answers or exposition, things are going to continue to unravel but right now it's unclear as to how.
I do have an answer to the question most of you want to know. Does the Detective say more than one word? Yes, yes she does. No but really, Emma Lahana (Kira from PR: Dino Thunder to me always) gets to do a lot more this week and honestly, I was surprised but how things wrap with the attack from the last episode by the end of episode 3 even though I'm sure it's not over by a long shot. There's one moment in particular where Tandy's mom surprises me with some of maternal instinct that I loved, and it's great to see that not just Tandy and Tyrone have these complex layers.
A big chunk of this episode actually gives viewers something they are probably hankering for which is Tandy and Tyrone time. From the car crash to…well… I can't spoil it too much. But I will say at one point, there's an implied horrific moment that Tandy witness of Tyrone's that as an African American male was quite uncomfortable. There's a lot happening this week, some of it doesn't quite make sense right away but it is very intriguing all the same. Acting wise, there are few moments where Joseph comes off a bit weak for the material, but Holt still continues to shine. (Ba-dum-tiss)
Here are some quick takes:
Voodoo and quite a bit of it.
Loops. Circles. Outcomes.
What is this? The Chicago franchise? Why so much corruptions?
I wish I could also be so nonchalant about someone almost shooting me.
That's it for this week! I'd day more, but gotta avoid those spoilers!Be sure to check back here after the episode airs for a full spoilerific review and poll!
What are your thoughts on the show so far? Any thoughts on the quick takes? Sound off below!