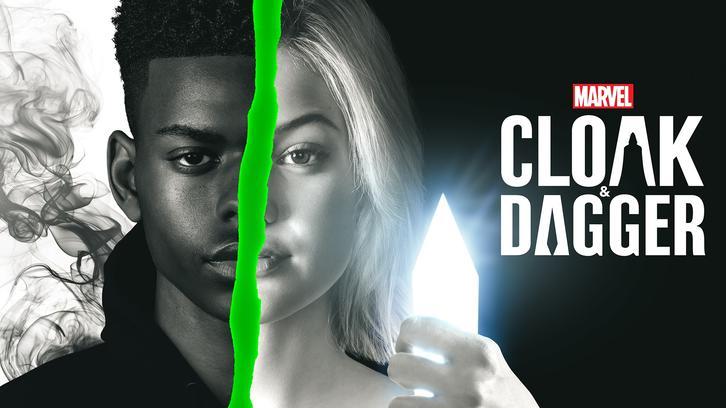 I've seen some rumblings in some groups that I frequent that allude to Cloak & Dagger being boring and that a whole episode can go by and almost nothing happens. I'd like to argue that a lot happens, it's probably just know what those viewers want. Cloak & Dagger isn't an action show right now, sure it features some powers, but that doesn't mean it should automatically equate to action packed. What Cloak & Dagger season one is striving to achieve is to be a show about these characters, so while some may feel a whole episode goes by and nothing happens, I feel the opposite. A lot of character stuff happens in these hours that is so expertly intertwined with the powers stuff and to me that is what makes this show a stand out. So for those looking for more action from episode 5, Princeton Offense, depending on how you look at it, you get plenty.

Title: Princeton Offense
Airdate: 6/28/2018


Remember that I'm attempting to keep these previews as insightful as possible, but as spoiler free as possible as well, which leaves me with not a lot to work with. There's basketball, powers, kisses, and drugs in this episode and thankfully it's not all at once. Tyrone's growth in this one is a bit more subtle than what Tandy achieves this week and I think that is an accurate reflection of the personality we've come to know of him so far; quiet, observant and subtle a stark contrast to Tandy. Tyrone is still trying to get a grasp on how is Fear Touch and teleportation works, so right now it manifests in the most inconvenient time. What's great is how Tandy pushes him in order to help control his abilities, and how he cautions her to control herself while using hers, because we again see how they are the two sides of the same coin. Tyrone ends up making a decision in a crucial moment, thanks to the unlikeness of his abilities that show us again what kind of person he is. (And not just us)
Tyrone does set Detective O'Reilly on the tails of Connors and we get to see just how dedicated to her job she is. Though, that's not the biggest part of the Connors web to be explored this episode as the last five minutes contain a juicy reveal for Tyrone and his brother's death. O'Reilly is nowhere near the reveal but she is the cause of it and it'll be interesting to see how this frames Tyrone's actions going forward.
Tandy, now having a hold on her powers, is going down deeper the Roxxon rabbit hole. Tandy's adventures this week involve really trying to put the pieces together regarding her father's death and if that means using her hopey-touch powers to do so, then so be it. There's actually some really great Tandy-Tyrone bonding happening this week as well, as she shows up at St. Sebastian's because it's closer than Starbucks. As mentioned before, Tandy actually pushes Tyrone to let go so he can use his powers to get out of a tough spot and I definitely cackled at how easy it was for her. In case you're wondering, this happens while Tandy is posing as a high-class call girl of sorts at a major Roxxon attended event. (Good times)
Here are some Quick Takes:
Is giving away your letterman jacket really still a thing?
I love how this show doesn't shy away from sex, or allusions to it. Specifically in one of Tandy's hope glances.
Tyrone is almost too good it's aggravating. He probably puts himself in a bad spot to do one good thing.
I mean did no one see that body fly over the railing? The drinks must be strong.
That's it for this week! I'd say more, but gotta avoid those spoilers! Be sure to check back here after the episode airs for a full spoilerific review and poll!
What are your thoughts on the show so far? Any thoughts on the quick takes? Sound off below!