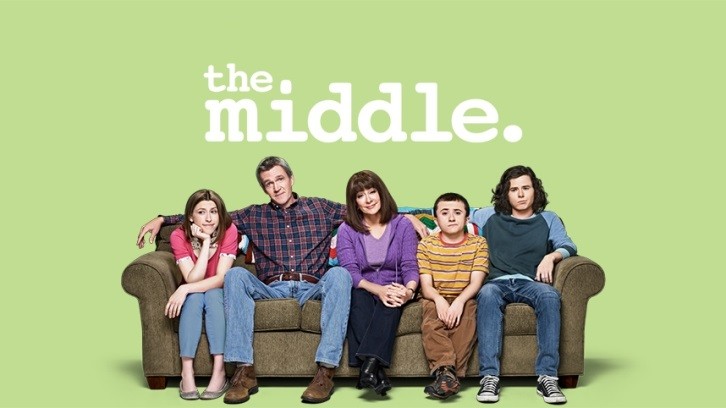 This episode was a little different than usual because The Hecks have a new family group text! Frankie decides to use this to update everyone on the bathroom situation. This was hilarious especially Mike's reaction. He just wants off the group text. I can relate.

The texting continues throughout the episode and sets up the two stories: Axl getting a job interview and Mother's Day. At the beginning of the episode Axl tells Mike that someone he knows told him about a job opening at a sports store. He has an interview, but it's in Denver. Mike thinks it's a good idea for him to go, but he shouldn't tell Frankie. She would just freak out. It's a quick trip, and Mike will cover for him if she notices.

Frankie runs into Axl in the middle of the night, and Axl lies and says he's going to work out. He also learns that Frankie's been using ice cream sandwiches to cool down. Eww. As Mike complains about Sue's constant texting, she says that at least their daughter likes to text unlike Axl. She hasn't even seen Axl the last few days. Mike tries to cover for him and says that Axl's working out again. Mike isn't exactly the best liar and ends up insulting Frankie by saying she should go to Curves more.


Axl finally comes home from Denver, and he's exhausted from driving 14 hours. He just wants to sleep. Unfortunately Frankie is in his closet since it's cool. He has to lie and says he's going back to the gym. Poor Axl.
Sue realizes that they forgot Mother's Day, and she texts Axl and Brick about getting a gift. While trying to think of something, Brick discovers the val-u pack coupons. He loves all the fonts, and the "gutsy" spelling of "thru." It was hilarious how excited he got. Sue thinks this is ridiculous until she finds a trivia contest on one of the coupons. The grand prize is a trip to the Royal Wedding! Sue knows that her mom would love that.
Their trivia name is "Heck Yeah", and they're pretty good at answering the questions. Brick knows the answers, and Sue is quick at hitting the buzzer. They win, but they have to go to trivia another night before they win the London trip. They're not happy about this, and Brick decides he needs a stronger drink. He requests a Shirley Temple! This is On the second night of trivia Team "Heck Yeah" is in the lead until the very end. Sue takes a bathroom break, and Brick doesn't know the answer to the question about a Taylor Swift song. He texts Sue, and she runs out at the last second and answers correctly. They win! Except they are disqualified because Brick used his phone.
On Mother's Day the kids and Mike tell Frankie about the failed trivia night, and how they lost the London trip (I thought that was kind of mean. They could have just not told her.) Then they said that they thought they could get the toilet to work. That failed, too. They give her an empty box which sets Frankie off. But then they tell her what her real gift is: watching the Royal Wedding together as a family. They promise to not make fun of the wedding, and Mike even makes flashcards to learn everyone who will be at the wedding.
The Hecks follow through with their promises, and they have a good time watching the wedding. Frankie is wearing a crown, and I loved her Meghan and Harry blanket! Mike decides to go get an Ale (because it is afternoon in London now), and he notices something is up with Axl. He got the job in Denver.
I have a feeling Frankie is not going to react well to Axl's job. The idea of having her son move to Denver will probably freak her out. I wonder if he'll take the job or not. It would be sad to see the Hecks break up, but it would be good for Axl to have a good job. And it's realistic for family members and friends to move far away. It's sad, but it's life.
Do you think Axl will take the job? Did you enjoy the trivia and group texting? What did you think about their Mother's Day Gift?Discuss below!