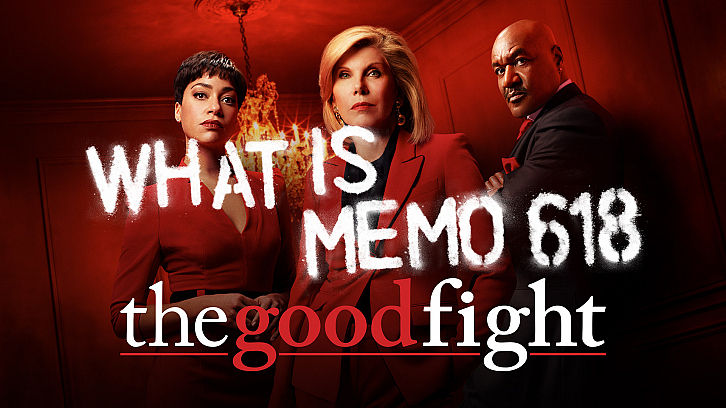 The day I've been dreading is here; the season finale of The Good Fight. Waiting for season three to come out will put me in more pain than Lucca's labor put her in. This was another excellent season. Even though it had its ups and downs and I've had some issues with certain storylines *cough* Diane on drugs *cough*, The Good Fight remains one of the most well-acted and well-told series out there right now and this finale certainly showed it.


It's finally baby time for Lucca. In court, she suddenly crumbles from contractions. She's two weeks early, which is highly inconvenient for her. She has to reschedule appointments, withdraw from a committee meeting, and deal with Francesca because Colin is in D.C.

What's happening with Diane while Lucca goes into labor? Well, Kurt is going under an FBI background check and the two FBI agents have to question Diane. It's fairly painless until she's questioned about who has stayed at her place within the last six months. Diane mentions Maia stayed with her for a little bit, which gives them pause, and Diane notices. But she doesn't think that's a problem; her problem is her one night stand with Tully, which she didn't tell them about. She's concerned enough about that that she hires Liz (with a borrowed dollar) for a legal consultation. Per Liz's instruction, she calls the FBI agents back and mentions his stayover amongst several other benign stayovers to bury it.

Adrian and Julius go to this committee meeting in Lucca's stead to discuss the Kill All Lawyers initiative. This committee has been granted a budget of 10 million dollars to solve this issue, which they now need to discuss. When Adrian and Julius are introduced to the committee, who were referred to as the best and the brightest of both Republicans and Democrats, they find that they are really, really not. Either that or Warren, the guy that put together this committee, has a low bar.
Diane gets a call back from the FBI agents who want to meet again to talk about Tully. They know he's made threats against the president. Her association with him implicates Diane, so Liz pulls Diane out of this meeting. But, they are stopped by Patrick, who gives them a subpoena to appear before a grand jury about Tully's threats.
Earlier, Diane received a mysterious note from someone that warned Diane she was in trouble and offered to help. Thinking this is related to that note, she does as the note asked and goes to meet with this person. It's in an underground parking garage, because of course. It is super Deep Throat-y, by way of both the secret informant and the porn movie. Yep, the person who sent her the note is a blonde pornstar, AKA The Good Fight's version of Stormy Daniels. She warns Diane that she needs to follow the women if she wants to get out of trouble.
At the committee meeting, it's a fellowship of morons. None of them have any sense at all that goes towards any kind of practical or logical solution. Adrian wants to use this money to buyback illegal guns and get them off the street, but none of them take to it. They would prefer an I Heart Lawyers campaign ad with a jingle. But, Adrian and Julius must work with them because they are all they have. They just need to convince one of them to vote with them.
At the grand jury hearing, Liz and Diane discuss what happened. Jay shows up and Diane asks him to look into Patrick's background and sexual history. On her way into the room, she runs into Tully. Tully's not ashamed of anything he's said or done and revealed everything, and now Diane has to deal with the fallout. She's questioned about Tully's threats. She passes them off as a joke, but Patrick reveals he has a recording of her conversation with Tully when she found the gun in his bag. It's very incriminating. She confronts Tully about recording their conversation, but Tully says it wasn't him, that she was probably bugged. She takes out her SIM card and throws it away.
Jay found the skeleton in Patrick's closet; Patrick's assistant. It looks like he's been taking care of her and accommodating her with a raise and an apartment in Chicago, which wouldn't be an issue if he wasn't her boss and if he wasn't married with three kids. Diane wants proof so she can blackmail him. Liz is not in favor of that for obvious reasons.
The FBI agents talk to Kurt twice. The first time it's just them, where they reveal to him Diane's relationship with Tully. The second time they bring in Patrick. They question him about Diane's loyalty to the country and if she's a threat to it. Patrick tells him she's going to be indicted, pissing Kurt off so much he actually curses.
Adrian and Julius try to convince one of the committee members, a drama teacher, to vote with them. It looks like he will, which he tells Warren. So, Warren responds by adding another person to their committee; Kira, an NRA woman. The NRA woman is very charming and manipulative. She gets the rest of the committee on her side by using beautiful women in bikinis, cool-looking guns, and bulletproof shields.
Back at the hospital, an African American woman shows up who Francesca confuses for Lucca's mother. She's actually the doctor, and Lucca's actual mother is Judith Light! Francesca and Judith Light have a nasty conversation that ends up with them taking their jackets off and ready to put up their dukes. It's awesome.
Diane arrives home to talk to Kurt about what happened. They can't actually talk because Diane is afraid they're being bugged, so the way they communicate is first by typing on a computer and then by using their bodies. In bed, she tries to tell him about Tully, but Kurt says she doesn't have to. They're starting anew. Phew, I was worried Kurt was going to make a thing of it.
Diane faces the grand jury again. They have another recording of her threatening to take her Smith and Wesson to the streets. She stops answering questions and wants her lawyer. So, Liz talks to Ruth, telling Ruth her theory that there is a leak within the Democratic Committee and they gave the tape to Patrick. Ruth already knows all about that, though, because she is the one that gave the tape to Patrick. They're throwing Diane under the bus because they think their association with her looks bad after this Tully incident.
Colin finally makes it just in time for Lucca to give birth. Everyone is loud and arguing. In contrast, the partners are sitting quietly in their conference room, waiting to hear about Lucca. During this, they get news about Patrick's mistress. Jay found out she's not his mistress, he was just getting her away from Trump to break up their rumored affair. They get a call from Colin who announces Lucca gave birth to a healthy baby boy that looks like a mixture of Don King and Carl Marx. They celebrate.
At their last meeting, Kira's idea has gone through, but none of them want to actually write the proposal, so Adrian volunteers. They really are dumb. Especially because no one took minutes of their meetings, so no one outside of the room actually knows what transpired. Brilliant. Adrian can write it however he wants to and no one can prove it isn't what they decided on.
In a quiet moment with their son, Lucca tells Colin she doesn't want to move to D.C., but he encourages her to give it a try. Later, Lucca and her mom talk about her relationship with Colin and whether she's really happy with him or not. Lucca doesn't directly answer. She turns it around on her mom, asking if she and her dad are getting a divorce. She doesn't directly answer either. I don't know what this means for her and Colin, but in the end, they show her being happy just to have Maia and Marissa as her friends.
So, Diane decides to go ahead with the story of Patrick having an affair with his assistant even though it isn't true. She's done trying to play fair. She uses Adrian to leak the photo to a committee member, who in turn leaks it to the press. This means Patrick is going to be fired, thereby taken off the case against Diane and Tully. Diane decides that it's time for her to fight back against those who are out to get her. As they leave for a staff meeting, a news report comes on saying that a reporter was shot down. A note was left on his body saying Kill All Reporters, suggesting Kill All Lawyers is over and now the focus is on reporters. The last thing we see is a clip of Donald Trump suggesting a storm is coming for reporters. Next season's storyline, perhaps?
And so concludes season two of The Good Fight. What did you all think of the finale and the overall season?
The Good Discussion
Which finale was better, this one or the first season's? I liked that the first season concluded the mystery of who was behind the Rindell Ponzi scheme and ended on a nail-biting cliffhanger; Maia getting arrested. This one had fewer cliffhangers and was more about wrapping up the character's storylines, which I'm always grateful for as a viewer. I liked season two a little more because it's clear that the show has hit its stride and I feel confident that season three will be just as strong.
Also, this season had The Good Fight lawyers getting dirty pretty often in order to win their cases. Are you okay with the characters' behavior this season? And do you think Adrian, Liz, and Diane are right in saying that sometimes it's more important to follow your conscience than the law?
Finally, I have to say my favorite thing in this episode was all the swearing in Lucca's hospital room. Everyone blurting out obscenities to comfort Lucca was endlessly funny.