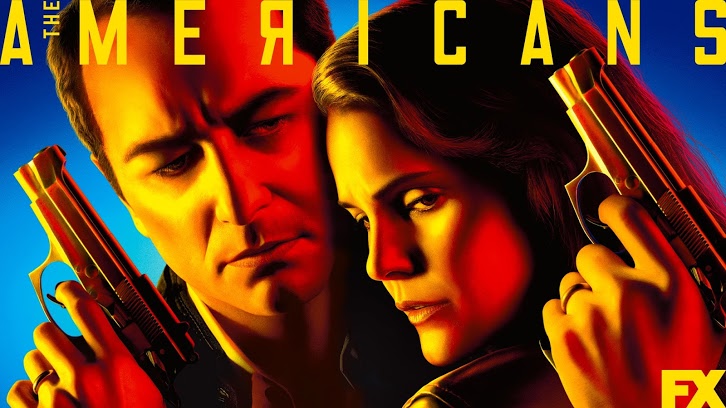 "Jennings, Elizabeth" is as teasing a penultimate episode as you could ask for. The final pieces fall into place at the exact moment the screen cuts to black, and we have another week to wait.

It takes a surprisingly long time for the hour to kick into high gear, opting to maintain its typically slow pace for as long as possible. There are some major moments packed with intensity — Oleg's arrest, Stan calling Pastor Tim, Elizabeth saving Nestorenko's life — but not until the FBI chase Philip does the episode become the sort of heart-pounding drama we're used to at this stage of a season. It's brilliant and at the same time horrifying.

For too long now, Philip and Elizabeth have ridden their luck. This job is hard, and to have done it for all these years without getting caught is impressive. But the sand was always trickling out of the hourglass. This moment was always coming for them. Now that it's here, everything goes out of the window. Elizabeth betraying her country and the consequences that come with that are insignificant compared to what would happen if the FBI caught them. Philip may enjoy living in the United States and he may too have ruined the Centre's plan to capture Kimmy, but getting caught is still the worst possible outcome.


It would be hasty to suggest Elizabeth could use a second cyanide pill for both her and Philip, both because they still have a chance to escape and because of how it would affect Paige and Henry. Regardless of where the finale takes things, neither of the kids are coming out of this well. They'll either be left alone — through the Jennings death or incarceration — or will be forced to go to Mother Russia to flee the FBI. Their entire life is built upon the foundation of a lie. Sure, everything that's happened since has been real; their parents very clearly love them. But Henry uncovering the truth at the exact moment he's pulled 5000 miles across the world to a country he's never seen? That's the stuff of nightmares, the sort of thing that will haunt him forever. The sort of thing that will make him hate them.

Perhaps, as Paige suggested, it's better that he got as far as way from his parents as possible.

The fight that she has with Elizabeth is chilling. It's the final, most horrific — well, aside from telling Paige that Elizabeth and Philip assassinate people — secret laid bare for Paige. Facing the reality that Soviet spies do use sex as a weapon changes the way she views this job. For Elizabeth, sex was meaningless. But her daughter was raised differently. She was raised better.

Keri Russell is at her absolute best here. Her range for rage is second-to-none, and it shows. Elizabeth loves Paige, but when her methods and her past are questioned, she'll defend that to the death. Claudia's faith was always well-placed, because before now nothing was too big a line to cross. Russell is magnificent as the patriotism and justification rises to the surface; an argument only marginally less explosive than the one they had two seasons ago over Paige not going to church.

Even after this, the stakes are surely too high for Paige to have the same reaction to the idea of leaving as with two years ago. She knows enough, she's old enough, and you'd like to think she's committed enough to see that this is the only option.

Stan's inability to see through the Jennings lies have finally come to an end. He mentions Nikolai Timoshev, the man Philip and Elizabeth kidnapped in the pilot (and whom Philip later murdered). To recap, Timoshev trained Elizabeth but eventually defected, and Stan was involved with dealing with him. The car used to take him was the same as the one Philip and Elizabeth had in their garage, leading to Stan breaking in and searching for evidence of their involvement.


That, as he says here, was as far as it went.

Over the years, there have been signs that he could have linked back to that moment — the sting operation in the first season finale, William's dying words — that have taken him all this time to do. In some ways, it's frustrating. Stan has always been portrayed as a good agent in terms of his investigative abilities, but not since that initial suspicion has he thought again to wonder about the couple across the street. That, of course, is largely the point and, just like Breaking Bad's Hank, Stan is left to regret his naivety.

Even though he knows the truth, he as yet cannot convince Aderholt into believing the unthinkable. He has one more opportunity to definitively prove the truth, and that's through the testimony of Father Andre or — even less likely — from the surveillance photos. Given that Oleg wouldn't talk, it's difficult to see Father Andre selling them out.

If that doesn't work, then that leaves just one option: capture the Jennings. It's a dream that has proven impossible thus far. But, for the first time ever, he has the advantage. He knows their secret — and, crucially, they don't know that he does. The FBI know the KGB's operating methods. It's hard to imagine a scenario here where Philip and Elizabeth don't make a mistake. Going to their garage would be the end. Going to a safe house would be the end. Leaning on their contacts is a risk, because it's impossible to discern which of them the Bureau know about.

Philip and Elizabeth are in the situation they never wanted to be in. The odds are stacked so heavily against them that absolutely anything can happen. They can do only one thing to survive.

Run.

Notes:

• I'm wondering how Henry finds out the truth, because he's got to discover the truth, right? The worst possible way would be for Stan to tell him, but then it wouldn't be surprising for The Americans to double down on the heartbreak of two weeks ago.

• Wolfe is still working for the FBI, but with Aderholt seemingly running counterintelligence, he's presumably moved up to a higher position. Typical Webster munchkin.

• Elizabeth has flashbacks to a time during her training where she encountered a dead police officer and an injured horse and civilian, and left them there to die. "We do not want you to lose who you are," she's told.

• Is anyone ready for the finale? Because I'm not.

What did everyone think of "Jennings, Elizabeth"? What are you expecting from the finale? Leave your thoughts in the comments below!