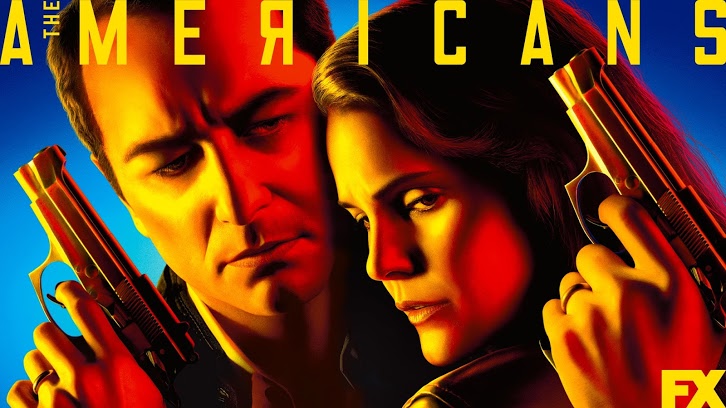 And so it begins.

From the moment Oleg recruited Philip earlier this season, we knew there would come a point he turned against Elizabeth. Well, this is it. This, right here, is where the series is sliced open with a carving knife.

On one side is Elizabeth, who looks like she's beginning to have doubts about her active operations. She attempts to kill Gennadi once and is interrupted, and Keri Russell's face plummets when, having broken into Gennadi's apartment, she realises Sofia is there too. Even as she waits, hoping to escape without killing them, there's a brief moment where time seems to slow as we await the inevitable, every one of Gennadi's final seconds felt. Sofia must die too, and it's only Ilia being asleep that saves his life.

On the other side is Philip. He's smart and in the know; it's easy to figure out what happened between Elizabeth going to work and Stan telling him about the two dead Russians. This is a very different situation to Emmett and Leanne's death back in season two — "Comrades", that year's premiere in which the pair were killed, was also directed by "The Great Patriotic War" director Thomas Schlamme — but it's impossible to avoid parallels. Here, Philip clearly recognises that Sofia and Gennadi posed a problem, but it is understandably uncomfortable for him to accept truly doing something. So when he astutely realises Elizabeth's "work" was to kill the pair and leave a seven-year-old as an orphan, he can't allow any more death.

One question remains relevant throughout this season: how much is too much? This is surely it.


The Jennings have been drifting apart so far this season and it's even more depressing that their ultimate division, as this will probably be, comes at the end of an episode in which they rekindled their love. Philip rarely ever looks happy during sex — shown again when he and Kimmy have sex later in the hour — but his upbeat mood after he and Elizabeth are together is telling. Their distance has been largely down to her. Now, he has obliterated their relationship, and probably their lives.

On some level, it's hard to argue with his decision. Kimmy's choice of men is questionable, pining for the double-her-age Jim Baxter, but her father's role within the government doesn't mean she should go to a Bulgarian prison. But any sympathy Elizabeth might have once had no longer exists, and she'll lose no sleep over the imprisonment of an innocent mid-20s girl.

Philip has never been as brutal as his wife but has generally stood by her decisions. This is a bridge too far. "There has to be another way," he says, opposing the plan despite her suggestion that this will be the end of his last active mission. "She's just a kid," he continues.

"Not anymore," she replies.

Kimmy isn't the only one who isn't a kid anymore. She and Paige are similar ages — a concept which makes Philip's big relationship step with Kimmy even weirder — and her growth has been rapid. Last week, we saw her sleep with Brian, the Congressional intern she was interested in, and here she moves to a local bar where a bunch of horny twentysomethings have a drunken night of passion in their minds — if not their next day memories.

These men, categorised men in physiology only, don't have the capacity to accept her legitimate criticisms and learn the hard way that trying to rough up a trainee Soviet spy ends worse than a night of throwing back gin and tonics. But while it's a triumphant moment for Paige, who overcomes real danger on her own for the first time, it's also a moment of great failure. Failure not in utilising her new skills but in making use of them at all. It leads to a fight — both physical and verbal — that's like a firework display, exploding quickly and loudly as Paige's repressed anger is unleashed on her equally furious mother. While Paige's training has given her strength that makes her parents proud, it has also given her the confidence to get into it with them. In season four, she stood and took it as Elizabeth unleashed vitriol upon her for skipping one Bible Study session; there's not a chance she would do that now.


It's relieving that the fight doesn't damage the mother-daughter relationship, and the pair later drink with Claudia, discussing boys. But in between, Philip shows Paige the truth: Elizabeth isn't even close to being on her ass. If she was, Paige might have quit long before now, because his brief sparring session results in an awakening. Not only is the suggestion that he's "not into what me and mom do" utterly ludicrous but her belief that she could legitimately hurt her father in this scenario is naivety at its finest. To be fair, he's been out of the game so long that he hasn't yet had the chance to show her just how he's succeeded in the United States for over two decades.

His assessment of her? "Not bad," a comment perhaps too complimentary given how easily he kept her at bay. The old man's still got it. He just doesn't want it.

And when he can win a fight with his daughter without breaking a sweat but can turn to only a last resort to save a girl the same age, who can blame him?

Notes:

• Stan going for a beer at Philip's house "like the old days" suggests just how much Sofia and Gennadi's murder has gotten to him, either from not experiencing it regularly anymore or from the guilt of him dying on the Bureau's watch. His carelessness in visiting them led to their demise — not that he knows it — and even amid the positivity of his relatively new job and wife, these deaths clearly get to him.

• Sticking with Stan, he suggests to Renee that she join the FBI not as an agent but in another role. Despite Gabriel saying last season that she isn't a spy, it's harder to believe when the show continues to bring up this potential change of careers.

• Erica really isn't going to survive until the summit, is she? It's a shame, not just for Elizabeth's mission but for her creativity, which is not so much flowing as it is dripping through a pinhole leak. Given her only other success at doing something new is finding fresh ways to murder somebody, that element of her life will be an oddly big loss.

• Tatiana is back! And she is not happy with Oleg. This was an episode of fights and these two were no different, Tatiana berating her former flame with claims that he told the Americans of her operation. "I was so stupid to trust you," she tells him before returning to the Rezidentura and informing the Center that Oleg (and his father) are not loyal and must be gotten rid of, as of Oleg needed another reason to worry.

What did everyone think of "The Great Patriotic War"? Leave your thoughts in the comments!