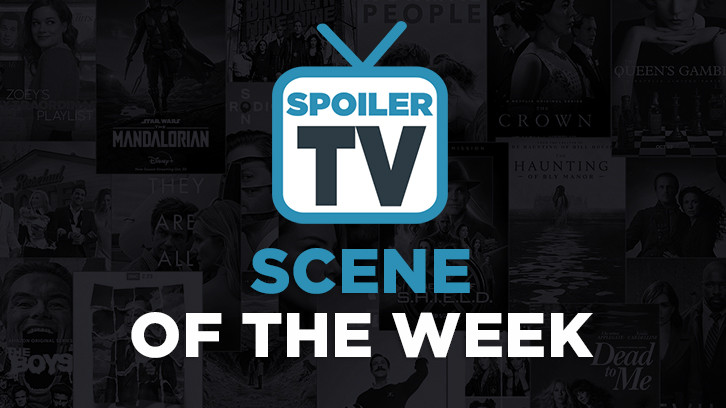 A weekly feature in which we're trying to find the most compelling, best acted, written, directed and just generally great, memorable scenes that we've seen in past seven days on TV.

BLACK-ISH, "Blue Valentime", May 1, 2018, Actors: Anthony Anderson, Tracee Ellis Ross and more
The Scenes: Dre and Bow decide to take some time & Dre remembers a conversation he had with Ruby
Luana: Dre and Bow decide to take some time. This whole episode was brilliant and heartbreaking, but that last moment when they decided to give up was intense.
Marine: Dre remembers a conversation he had with Ruby about marriage when he was a kid.

BLINDSPOT, "Let It Go", May 4, 2018, Actors: Sullivan Stapleton, Bill Nye, Ashley Johnson and more
The Scene: Kurt and Reade discover Patterson's dad is Bill Nye
Klutzy girl: Their subsequent shock and Kurt fanboying over him was hilarious.

BROOKLYN NINE-NINE, "Bachelor/ette Party", April 29, 2018, Actors: Melissa Fumero, Stephanie Beatriz and more, The Scene: Amy's friends back her up
Laura M: Rosa and the rest of Amy's bachelorettes back her up when a small part of her wedding is threatened. The loyalty on display here was amazing. Rosa and Amy have such a wonderful dynamic, as do Rosa and Gina, and even Kylie is being integrated nicely with everyone. They only slightly judge Amy for being prudish and then cheer her on as she bends the rules like crazy for one night. Like true friends do.

CODE BLACK, "Better Angels", May 2, 2018, Actors: Marcia Gay Harden, Luis Guzmán and more, The Scene: Opening Scene
Jimmy: The 2.5 minute sing and dance style cover of "Angel Of Small Death & The Codeine Scene" by Hozier at the start of this week's episode of Code Black was really cool. The soundtrack was fantastic and the cast really scrub up nicely and have great rhythm! It was also very well filmed and directed. There were skeptics before the episode aired who thought this was a bad move for the series, but in reality it was one of the finest moments this series has produced.

ELEMENTARY, "An Infinite Capacity for Taking Pains", April 30, 2018, Actors: Jonny Lee Miller, Lucy Liu, The Scene: Sherlock's breakdown
Justyna: I didn't realize how much I missed the show until I finished watching this premiere. Yes, the case of the week format can often feel repetitive, but the character moments, especially those involving Sherlock's struggles are always wonderfully written and acted. There were many scenes worth highlighting in the article, like Holmes admitting to Joan what's wrong with him, but it's Sherlock's breakdown that made the biggest impression on me. The moment starts slowly, quietly, with Holmes standing in a room and wondering why he entered it. The simple realization of this small memory loss then hits him more painfully with every sentence spoken to Watson. It's an ordinary thing, to let a thought get away and lose focus for a second, but it's not something that happens to Sherlock Holmes. His mind is his strength and now it feels like he's losing pieces of himself. He admits that when waiting for his diagnosis, he was rather hoping for a quick death instead of something that could permanently damage his cognitive abilities. He becomes afraid that he's on the brink of losing the thing that matters to him more than most - his work. And without his work, he might not be able to stay sober, which will only worsen the state of his brain. The way Sherlock says it all, trying to stay unmoved, to keep his voice from breaking, not to cry or fall in despair, yet clearly breaking down on the inside. Jonny Lee Miller once again proves to be a true scene-stealer and though it's hard to watch Sherlock struggle, I can't wait to see what the actors and the writers will do next with this story. Kudos!

FEAR THE WALKING DEAD, "Good Out Here", April 29, 2018, Actors: Frank Dillane and more
The Scene: Nick's death scene (picked by DarkUFO)

FOR THE PEOPLE, "Have You Met Leonard Knox?", May 1, 2018, Actors: Susannah Flood, Regé-Jean Page, The Scene: Kate and Leonard talk at the end
Luana: Kate tells him she knows why he cared. Even in the small moments these two are fire, such great chemistry.

GREY'S ANATOMY, "Fight for Your Mind", May 3, 2018, Actors: Justin Chambers, Ellen Pompeo and more, The Scenes: Alex confronts his mother & Meredith changes the name of the procedure to "Grey-Cerone Method"
Jessica: Alex wonders why his mother is doing better now. While Justin Chambers delivered a particularly strong performance this episode, the scene with Alex at the batting cages really got me. While he's happy his mother is doing better, he can't understand why it has to be now, when there's no one who needs her to be a responsible mother. He wonders why she couldn't have been doing better when he and his siblings were children, when they needed her, so instead Alex had to step up and raise his brother and sister. And to twist the knife even further, Alex's mother doesn't even feel like she can't divert from her carefully planned schedule and spend any time with her son. Besides giving audiences a better understanding of Alex's upbringing, viewers really get a glimpse of how much he had to take on as a kid and just how much it still hurts. We really get to see the lasting effects of growing up with a schizophrenic mother, an alcoholic father and taking care of his siblings.
Sam: This was a scene that felt like a long time coming because we've known about her for 14 seasons but never got to see her and her and Alex together until now. It seemed to be as much of a shock for Alex as it was for us to see her because she's doing better than she ever has and Alex has mixed feelings about that. On the one hand, it's great that she's doing better, but Alex is so upset that she wasn't this way when he needed her to be when he and his siblings were growing up. Moreso, she doesn't even tell Alex that she's better and when he shows up she pushes him away. A lot of pent-up frustration, anger and pain is let loose by Alex in this episode and Justin Chambers does a great job playing it.
Diana: Alex confronts his mother and realizes he can't have a perfect family, but he's ok with her being fine. Sweet Alex Karev.
Marko: Meredith announces that the Grey Method will now be called Grey-Cerone Method. Meredith doing the right thing just made me once more proud of our girl. She had many highs and lows this season but always kept the right and honest direction. The writers delivering this type of development in season 14 is truly remarkable.

iZOMBIE, "Mac-Liv-Moore", April 30, 2018, Actors: Rose McIver, Robert Buckley and more, The Scene: Liv raps at Major
Samantha: Rap brain may just be one of my favorite brains. It gave us a lot of funny moments that left me once again wondering, how on earth does this cast actually manage to film scenes? Because I'd just be spending all of my time laughing. This is probably the first episode since Mama's death where Liv and Major have attempted a conversation with each other. Granted she was on rap brain which inspired Liv to rap her feelings at Major, over standing by and letting Mama die. He of course didn't take it well, his two training officers were just watching on highly amused, and Peyton brought the argument to a whole by declaring that they both love each other and have been through worse so they'll get through this. Comedic moments that propel the plot forward is iZombie at its finest.

KILLING EVE, "Sorry Baby", April 29, 2018, Actors: Sandra Oh and more
The Scene: Eve goes through her returned suitcase
DJRiter: A puzzled Eve begins going through her returned suitcase to find new, expensive clothing inside but is really rattled when she finds the "Sorry, Baby!" note from Villanelle inside. Sandra Oh perfectly captures Eve's panic, even lashing out at her husband to get out. He thinks it's because of him but in reality, Eve's suddenly terrified for him.

LAST MAN ON EARTH, "Barbara Ann", April 29, 2018, Actors: Will Forte, Jason Sudeikis
The Scene: Tandy comforts Mike
Saloni: Tandy comforts Mike after seemingly discovering an empty desert where Mike hoped people would be. It was a sweet, tender moment, not something you often get to see with Tandy.

LEGION, "Chapter 13", May 1, 2018, Actors: Dan Stevens, Aubrey Plaza, The Scene: David learns how Lenny gets her new body
Laura B: We already knew Aubrey Plaza is wonderful in this role, but it's her desperation and wanting to be free (and those new eyes) that made her so compelling, despite that David learns how Lenny (as she is now) came to be, even though she does not. The flashback scenes themselves were also harrowing. There has to be credit given to Katie Aselton & Jemaine Clement in that Ghostbuster/Body-snatcher/Excorist-like scene (it stood with me all week), and of course, David's reaction to it.
Milo: In a Rashomon-esque episode where we saw multiple characters interrogate Lenny before we eventually got to find out the truth about how her body was made, there were several scenes that could have been a highlight but for me, but this was a big reveal that really worked, providing an incredibly good ending to an excellent episode that was a fantastic showcase for just how good Aubrey Plaza can be. I was half tempted to nominate the scene where The Velvet Underground & Nico's Heroin plays as I love the band and that song - but this one stole it for me.

MODERN FAMILY, "Mother!", May 2, 2018, Actors: Eric Stonestreet, Jesse Tyler Ferguson and more, The Scene: Cam and Mitch cook wearing nothing but aprons
Shirleena: Cam and Mitch are in the kitchen cooking with nothing but an apron. Then Mitch's mother walks into their kitchen and they scream and DeDee tells them to put on some pants so they can hug. Mitch and Cam walk out of the kitchen with their butt touching. Mitch mentions why didn't they just back out, Cam replies, they already committed to that.

ONCE UPON A TIME, "Is This Henry Mills?", May 4, 2018, Actors: Andrew J. West, Alison Fernandez and more, The Scene: Henry tells Lucy he is Dad
Marko: Henry talks to Henry and says Lucy he is Dad. Even though the Regina-Henry scenes were powerful, this scene with all the small flashbacks was simply brilliant. Andrew J. West proved to be a perfect cast with an amazing acting range. The moment he said Lucy "It's not Henry, it's Dad" - goosebump from head to toe.

SIREN, "Dead in the Water", May 3, 2018, Actors: Brian Anthony Wilson and more, The Scene: Xander's father is killed
Samantha: Siren stepped things up yet again this week, with another thrilling episode that had a particularly heartbreaking moment as Xander's father was killed by the merman. His death wasn't exactly shocking since he was given more screen time this week than in the previous 6 episodes, but that didn't make it any less devastating. He really didn't deserve to die, and especially not in the way that he did and it'll be interesting to see if his death changes Ben's views on mermaids and how losing his father affects Xander.

STAR, "Let the Good Times Roll", May 2, 2018, Actors: Brittany O'Grady, Keke Palmer
The Scene: Simone encourages Gigi to tell her story
Luana: A lot of shows are touching on this relevant subject, but this scene between these two women that don't even know each other that well and yet find solace in each other was perfect.

SUPERGIRL, "Of Two Minds", May 30, 2018, Actor: Odette Annable, The Scene: Reign threatens Ruby
DJRiter: Sam's third encounter with Reign in what Lena has described as the dark valley, parallel universe. After a terrified Sam rejects Reign's offer of power, Reign takes Sam by the throat and strikes at the heart of Sam's fear, she threatens to kill Ruby. Odette Annable has been an outstanding cast edition to this season of Supergirl. In this scene she is acting with herself, showing her amazing talent by using her voice, body language, etc. to convincingly make us believe it's a scene between two different actresses. Kudos to her for her work with this storyline!

SUPERNATURAL, "Beat the Devil", May 3, 2018, Actors: Jared Padalecki, Mark Pellegrino, The Scene: Lucifer brings Sam back
Justyna: Back in season five, Lucifer was portrayed as the ultimate evil, the most terrifying and powerful monster the Winchesters had to face. In the next years, though, his story evolved and his many sides were revealed, for better or worse. In this hour, it seems that he found a great balance between these two images. And the moment when he brings Sam back to life and offers him a deal is a wonderful example of that. Speaking of Sam, his death in the middle of the hour genuinely caught me by surprise. It felt so unexpected and random that it was hard to believe it actually happened, especially with everyone's reactions to losing their loved one. The best part was definitely the quick return and the entire conversation between Sam and Lucifer. The story shared by these two is unlike any other. Sam is absolutely terrified of him, yet still remains strong and ready to fight him. Jared Padalecki did such a fantastic job in this scene (and the episode). The interactions between him and Mark Pellegrino might just be one of the show's best. During the moment, Lucifer offers to keep Sam alive as long as he takes him to his son, Jack, and lets everyone know he's alive thanks to Lucifer. Such a tense, well written and wonderfully acted moment. Kudos!

SUPERSTORE, "Town Hall", May 3, 2018, Actors: America Ferrera, Ben Feldman
The Scene: Amy and Jonah have sex
Klutzy girl: I love that this was their fresh start, and that he loves her so much he didn't even care that she's pregnant with someone else's baby. Them getting caught up in the moment was great.

THE 100, "Red Queen", May 1, 2018, Actors: Marie Avgeropoulos, Isaiah Washington, Henry Ian Cusick and more, The Scenes: Jaha's death & The rise of the Red Queen
Justyna: Since the powerful and wonderfully acted rise of the Red Queen is already covered in the article below, let me highlight another memorable moment of the week - the death of Thelonious Jaha. There has been many scenes in the past where I expected Jaha's story to be over, yet this one took me by surprise. Most of the time, he's been very interesting character, no matter which side he was currently supporting. Whether he was in conflict with the rest of the main characters or acted as the leader, or worked to guide and counsel those in charge, he always put his people first. Jaha wasn't necessarily someone easy to like, but he was at least respected by most. In the end, his final words and hope to join his wife and his son (Wells!) were beautifully moving. He asked Octavia to take care of a little boy named Ethan after he's gone and he said goodbye to two of his oldest friends. It was an unexpected farewell, and all the actors did a wonderful job in the moment. Jaha got to save his people one last time before his death and made the ending even more impactful and emotional. Kudos to cast & crew for this great episode.
Marko: Octavia creates Wonkru. Masterful performance from Marie. She grew into such a fighter and incredible leader. Her evolution was crowned with her becoming the Red Queen, Leader of Wonkru.
Jamie: Octavia makes the grounders choose between Wonkru or being the enemy of Wonkru. One of the most badass moments this show has ever had. Nice to see Octavia finally in charge.
Marine: Octavia takes a stand for Wonkru and fights her way through opponents, imposing herself as their leader. Also picked by Diana

THE AMERICANS, "Rififi", May 2, 2018, Actors: Keri Russell, Matthew Rhys, The Scenes: The opening scene & Philip calls Elizabeth
Saloni: The opening scene with Philip and Elizabeth's fight, when he informs her he won't go through with the Kimmy mission and has already warned her. Elizabeth angrily retorts that he just wanted to sleep with her the entire time. It was gut-wrenching, especially because all these years Philip specifically tried his best to avoid having to sleep with her. Keri Russell and Matthew Rhys are phenomenal.
DarkUFO: Philip's phone call to Elizabeth to tell her to come home. Also picked by Laura B

THE FLASH, "Therefore She Is", May 1, 2018, Actors: Kim Engelbrecht, Neil Sandilands
The Scene: Marlize leaves DeVoe
Naomi: After finally realizing that her husband has been erased by the power hungry nature of The Thinker, Marlize tells him that she is leaving. When he tries to threaten her, she scoffs- reminding him that without her he is nothing.

THE GOLDBERGS, "The Opportunity of a Lifetime", May 2, 2018, Actors: Wendi McLendon-Covey, Troy Gentile, The Scene: Beverly tries to persuade Barry not to pitch
Samantha: Beverly tries (and fails) at persuading Barry not to pitch. This scene was funny for a few reasons. 1) Barry thinking Beverly had called him a 'dumb bitch' when she actually murmured 'don't pitch', then mixing up piranhas and pariah, and of course the role reversal of Murray & Beverly. He is usually the more grounded parent, constantly telling the kids their dreams are unrealistic whilst Beverly is the one spurring them on, but this week he got so caught up in one of the kids actually doing something he likes that he had the Beverly goggles on. And of course Beverly proclaiming that 'I have failed as a mother' is her thing, and Barry using that against her.

THE ORIGINALS, "Ne Me Quitte Pas", May 2, 2018, Actors: Joseph Morgan, Daniel Gillies, The Scene: Elijah abandons Klaus
Jessica: Elijah reveals he knows who he is and rejects Klaus. There were plenty of standout moments to choose from in this Elijah-centric episode, from Elijah's pain of trying to remember who he is and the confusion of finding out he craves blood, but Daniel Gilles' heartbreaking admission that Elijah's fully aware of who he is and that he wants nothing to do with Klaus and his family is my favorite. For more than four seasons, Elijah has been the one person who has never given up on trying to save Klaus. When everyone else has turned their back on the hybrid, Elijah has never once stopped loving and fighting for his brother, so it only made Elijah's rejection of his brother all the more painful. From what Elijah has pieced together, he knows that Elijah has spent a thousand years trying to save Klaus from himself, and this new Elijah can't imagine a more miserable existence. In fact, he's glad that his memory was erased because he believes he's finally found happiness for the first time in his life. And watching every word Elijah uttered cut a little deeper was just so heartwrenching and painful, and awful, but I just couldn't bring myself to look away. I was spellbound.
Milo: This was a fantastic Elijah-centric episode as we explored his new identity and persona on his own away from the rest of the cast. Seeing the two square off and Elijah act so confidently about sending Klaus away forever was powerful to watch, as was Klaus' phone call where he revealed that he hasn't been able to find him yet despite encountering him seconds before.

THE TERROR, "Horrible from Supper", May 30, 2018, Actors: Adam Nagaitis, Ronan Raftery
The Scene: Hickey kills Lt. Irving (picked by DarkUFO)

WESTWORLD, "Reunion", April 29, 2018, Actors: James Marsden, Ed Harris, Giancarlo Esposito and more, The Scenes: The Man in Black and Lawrence come across the new El Lazo & Teddy finds out the truth
Milo: Teddy finds out the truth about who he is. This was a good scene for me. There were plenty of awesome moments in this episode but I liked how Dolores revealed to him about who he is, in a really effective moment for the character that potentially could have further ramifications for him going down the line. It was about time he found out.
Laura B: It was such a delightful surprise to see the often villainous Giancarlo Esposito show up apart of the new The Door narrative, making for a far more precocious version of El Lazo than Lawrence, which in turn matches the maturity of The Man in Black now on the search for a weapon, same as Dolores. It's unclear if this was just a cameo, but I would surely be delighted if the character would turn up again, as having Esposito, even as a recurring character, could only be an asset for such rich dialogue Westworld often spouts and with a cast that is already amazing.