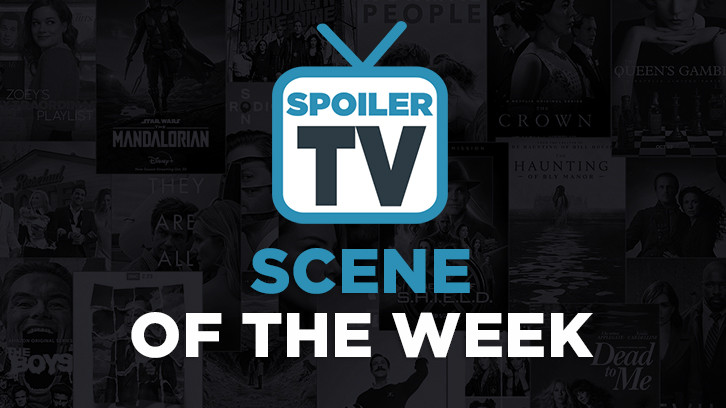 A weekly feature in which we're trying to find the most compelling, best acted, written, directed and just generally great, memorable scenes that we've seen in past seven days on TV.

BROOKLYN NINE-NINE, "Jake & Amy", May 20, 2018, Actors: Andy Samberg, Melissa Fumero, Andre Braugher and more, The Scene: Jake and Amy's wedding
Justyna: First of all, this has been such an incredible season. One of the best of the show, if not the very best. It was great to see it end on such a wonderful note, especially knowing that we're getting another one with all these fantastic characters. Jake and Amy's story was always a joy to follow, their proposal was one of my favorite scenes of last year, so it seems fitting that their wedding would also be a highlight for SOTW article. Everything about this ceremony was beautifully done. Despite the last minute preparations Charles and the squad did their best to make this wedding pretty much perfect. Of course Holt officiates Jake and Amy's wedding. The "I love you" exchange was absolutely sweet. He's just the right person to be there with these two. The vows are also heartfelt and honest. Jake speaks about their crazy story and Amy says that as long as they're together they can handle anything. There's even a butt compliment which moves Jake to tears. Just a lovely proof that these two are perfect for each other. The setting is magical, the actors' performances are spot on and it's just a heartwarming moment of celebration. There's even a robot at the wedding! Kudos to entire cast & crew for all their great work on the show. Can't wait for season 6!
Laura M: Holt, while officiating their wedding, tells Jake and Amy he is proud of them and he loves them. And then they both say it back to him. It's a once in a lifetime moment for these powerhouse actors, and surely a beat that Jake and Amy will be reminiscing about on their honeymoon. I could not be happier that this isn't the last time I will be mentioning B99 on SOTW. But it is the last until 2019. I will miss it dearly. No other show could've pulled off such an incredible season. Nine-Nine! Also picked by Diana
Milo: An event five seasons in the making, Brooklyn Nine-Nine capped off one of its strongest seasons (and its last on Fox!) in style with a fantastic wedding that – albeit, didn't happen as expected due to a bomb threat, but was made all the more rewarding when it finally did.
Beth: Holt officiates Jake and Amy's wedding. I loved how this came together and it was the perfect 99 wedding. The best part for me was when Jake teared up and told Amy she was his dream girl when she complimented his butt!
Marko: The Wedding. Everything about this wedding scene was perfect. The vows, the "real" tears in the audience. The show was building up to this moment for a long time and it paid off in too many ways.
Jamie: Jake & Amy's wedding. They've come so far. They're one of the healthiest couples I've ever seen and the wedding brought tears to my eyes. So glad this isn't the last we'll see of them.

FOR THE PEOPLE, "This is What I Wanted to Say", May 22, 2018, Actors: Susannah Flood, Regé-Jean Page, The Scene: Kate says Leonard she will miss him
Marko: Susannah Flood rocked this boat since the show premiered back in March and she continued this week in crafting a complex and intriguing character worthy of exploring. The emotional breakdown delivered in this scene felt honest and got me stuck with all the feels.

LEGION, "Chapter 16", May 22, 2018, Actors: Dan Stevens, Rachel Keller and more, The Scene: Syd and David search for Farouk's Body
Laura B: Beautifully shot sequence in an episode that was a bit overdone and in a story that is dragging a bit at this point, but my favorite thing was the fact that desert has some kind of time displacement/temporal distortion pocket, making it very difficult for David and Syd to find The Shadow King's body, since it's moving through space time! The temporal effect gave Syd a really nice way to talk and reflect, as they see versions of their own skeletons and this just ties everything from Syd cave woman birth scene in the Syd-centric episode, to the parallel universe dynamic shown in episode 2.06, and ultimately future-Syd all together.
Milo: In a visually creative scene that felt straight out of a comic book, we got to see the race between Syd, David, The Shadow King and Oliver unfold in the desert in a beautifully shot sequence with stunning visuals that really impressed.

ROSEANNE, "Knee Deep", May 22, 2018, Actors: Sara Gilbert and more, The Scene: The end scene
Claire: The end scene where a state of emergency has been declared due to a deluge and ensuing flooding. The family is overjoyed that this will bring enough work for Dan's construction business and Roseanne will be able to get her knee surgery. But of course the president has declared this in a tweet and Darlene notices that there's a problem with it. She asks: "the president spelled Illinois wrong, does it still count?" Just hilarious.

SPLITTING UP TOGETHER, "Heat Wave", May 22, 2018, Actors: Jenna Fischer, Oliver Hudson and more, The Scene: The "Pina Colada Song" sing-along/group dance
Beth: Everyone dances and sings to Pina Colada. This scene was hilarious because there were Martin and Lena's friends/family discussing how confused they were about how nice they are to each other and they just abruptly stop talking and join in when the chorus of the song comes on! I laughed and laughed and rewound it about 5 times.
Klutzy girl: Lena and Martin's relationship has quickly become one of my favorite aspects of the show, and I absolutely loved this scene, despite the fact that the song's about a couple cheating on each other with each other. They were so happy, and I couldn't stop laughing when their friends and her father joined in. Martin and Lena clearly still love each other, and maybe they're better off divorced but can still make this relationship work.

SUPERGIRL, "The Fanatical", May 21, 2018, Actors: Mehcad Brooks, Chyler Leigh and more, The Scenes: James Olsen's story from his childhood & Alex reassures Ruby and vows to protect her
Justyna: It's been quite a while since we've seen Guardian and more focus on James Olsen in general, but this has been an excellent return for both. Mehcad Brooks did a wonderful job in the episode, but especially in this scene where James tells Lena a story of the first time he got arrested. The fact that he was only 7 years old and didn't do anything wrong is shocking to Lena (and many viewers) but as Olsen painfully admits it's not surprising for most of black people who very often share similar experiences. It's such an important reference to real life events and a defining moment for one of the show's heroes. James' monologue leads to the confession about just how much Guardian means to him. And the fact he gets to be anonymous is what allows him to be seen and judged by his actions, not by the color of his skin. It's just a powerful reveal, yet it feels so familiar in a lot of aspects, making it all the more emotional to watch. The entire story is wonderfully done and it might be the best episode for James yet. Hopefully we'll get to see more of Guardian in the near future. Kudos to cast & crew for all their great work!
DJRiter: Alex reassures Ruby and vows to protect her – If there is one thing that has been consistent in all three seasons of Supergirl, it's the fact that Alex Danvers is a fierce protector. She at times has fought against insurmountable odds to protect those she cares about. In a simple, quiet scene with young actress Emma Tremblay, Chyler Leigh (who is the queen of these simple yet powerful moments) as Alex Danvers comforts and reassures Ruby, who after seeing one of M'rynn's episodes, wonders if J'onn worries what happens to his father will happen to him. This is one of the first times Ruby opens up to Alex who quickly makes the connection that Ruby is worried that what happened to her mom might happen to her, as anyone would. She gently, but honestly, tells the girl she doesn't know, but that very smart people who love her and her mom are working on it. She also vows that she will fight to protect Ruby as long as she lives. It's nice to see the writers and the show, once again display this softer, compassionate side to everyone's favorite bad-ass DEO agent. Showing Alex, the protector, is a return to the one of the traits that make her such a rich, rounded character. It's one of her best qualities.

THE 100, "Shifting Sands", May 22, 2018, Actors: Eliza Taylor, Bob Morley, Tasya Teles and more
The Scene: The ending
Diana: As Bellamy and Echo reunite, Clarke sees them kissing in shock (?). I suspect she's a bit upset, she couldn't see this coming. Also, a bit jealous too. I hope this will be discussed later because Bellarke needs to be canon.

THE AMERICANS, "Jennings, Elizabeth", May 23, 2018, Actors: Keri Russell, Matthew Rhys, Holly Taylor, Margo Martindale and more, The Scenes: Philip realizes he's being watched & Elizabeth tells Claudia that she has sabotaged her plans & Elizabeth and Paige's argument
Saloni: Philip realizes he's being watched, goes on the run, and escapes the trailing FBI agents. Firstly, this entire episode was just brilliant, lots of great scenes to pick. I went with this one because it kind of crept up on me, I wasn't expecting it but it was brilliantly executed. From the second Philip figured out he's being watched, they set up this scene well, building momentum. I was thrilled to see he got away because I was sure he'll be caught and the downfall will begin. It also set up the series finale well because I don't think he'll be seeing the interior of the Jennings home again.
DarkUFO: Elizabeth tells Claudia that she has sabotaged her plans.
Bradley: Elizabeth and Paige's argument.

THE EXPANSE, "Delta-V", May 23, 2018, Actors: Wes Chatham, Terry Chen
The Scene: Amos calls Prax his best friend
Kollin: The oft-emotionally distant Amos calls Prax his "best friend in the whole wide world." Only actor Wes Chatham can deliver a line like that so convincingly, and the fact Amos rarely expresses such sentimentalities, made this moment so sweet and heartwarming. The feels are real.

THE FLASH, "We Are the Flash", May 22, 2018, Actors: Grant Gustin, Carlos Valdes, Tom Cavanagh, Hartley Sawyer and more, The Scenes: Nora helps Barry destroy the last satellite & Barry and Ralph find each other & Harry says goodbye to Cisco
Naomi: An unknown speedster turns back time and gives a sonic punch to assist Barry in saving lives. That unknown speedster turns out to be his daughter Nora from the future. The reversal imagery and Nora's purple lightning streaking alongside Barry's yellow lightning was extremely cool; it also gave us a taste of a father/daughter team-up- hoping there's more to come next season!
Beth: Barry and Ralph find each other. This scene made me want to cry. The look on both their faces when they saw one another was so touching. I loved when Ralph said 'I missed you too, Barry', truly a beautiful moment for me.
Jaz: Harry uses the last of his intelligence to say goodbye to Cisco.

THE HANDMAID'S TALE, "First Blood", May 23, 2018, Actors: Tattiawna Jones, Joseph Fiennes and more, The Scene: The Bombing
Claire: The ending scene where Ofglen runs into the opening of the Rachel and Leah center and sets off explosives attached to her body. Just the pure artistry of Ofglen running down the aisle toward commander Waterford, in slow motion, and having her last act, though violent, be a courageous act of defiance was so uplifting. Though unable to actually speak because her tongue was cut out, this handmaid spoke volumes.
Jamie: Talk about a jaw dropping moment. The handmaids' actions of rebellion have always been on a smaller scale so I did not see that coming.

THE MIDDLE, "A Heck of a Ride", May 22, 2018, Actors: Charlie McDermott, Eden Sher, Atticus Shaffer and more, The Scenes: Axl, Sue and Brick's conversation in the car & Sue and Sean admit they're in love with each other & Mike gives Axl grandpa Big Mike's watch
Saloni: Axl, Sue and Brick's conversation in the car. I can't believe this is the last time I'll be picking a scene from "The Middle." This particular scene was a gut punch, reminding me it's the series finale. I loved Sue explaining why she likes being the middle child. I loved Axl admitting saying goodbye to Sue is the hardest for him. I loved Brick's explanation of how Axl was like his arm and that he'd miss him. This scene and the writing gave the actors and their characters a chance to shine. A fitting tribute.
Marko: A beautiful scene with soooo many feelings. The Heck kids are the quirkiest kids we'll see anytime soon and I will love their awkwardness forever.
Klutzy girl: Sue and Sean finally admit they're in love with each other. As annoyed as I still am they dragged this out until the finale, the scene was absolutely perfect. She's his soulmate and walking sunshine! I'm so happy they're endgame.
Claire: Mike gives Axl grandpa big Mike's watch that Axl used to admire as a child. Mike had it fixed and engraved it with the coordinates of their home so Axl will always know where home is. So touching. During this mostly awful final season Neil Flynn's Mike Heck, per usual, has been one of the few bright spots.

THE TERROR, "We Are Gone", May 21, 2018, Actors: Jared Harris and more
The Scene: The ending
DarkUFO: End scene with Crozier with his inuit family.

WESTWORLD, "Akane no Mai", May 20, 2018, Actors: Thandie Newton, Rodrigo Santoro, Rinko Kikuchi and more, The Scenes: Maeve, Hector and Armistice meet their Japanese counterparts & The final scene
Justyna: First of all, the music on the show has been wonderful so far, but this is probably one of my favorite choices for a scene yet. When Maeve, Hector and Armistice enter the Japanese town they slowly start to realize that the people around them are actually their Japanese counterparts who follow a very similar story to the one they did back in Westworld. All the little details coming together to create a new version of the old sequence were beautifully done. It's hard not to appreciate all the work the cast & crew did when working on this episode. Such a memorable entrance for the characters and the introduction to a new (yet familiar) world. Loved seeing all the callbacks, especially set to "Paint It, Black" by Ramin Djawadi. The genre mashup alone makes this scene one to remember, but I also loved all the characters' reactions as they watch (and get involved in) the story. Kudos to cast & crew for another great episode!
Kollin: Paint It, Black scene. A perfect example of how much music can elevate a scene. This is a callback to the season 1, episode 1 robbery, only with Japanese samurai in place of their cowboy counterparts. This was a nice trip down memory lane, and it was as fun as the first time around.
Milo: Hector, Maeve and Armistice come face to face with their Samurai counterparts for the first time. As a big fan of Akira Kurosawa's Samurai movies, it was really cool seeing the Samurai world unfold before our eyes, especially spotting the similarities between that world and that of the one they'd left behind. Talk about an awesome genre mashup that reused Paint it Black in a great callback to the first season.
Laura B: It might be true that this most beautifully shot episode might have been more of a reflection than anything, except for Teddy and Maeve reveals, but I'm a sucker for these kinds of juxtapositions, let alone Japanese Cinema!
DarkUFO: The final scene with the Japanese Warriors killing each other on Maeve's command.

YOU ME HER, "You Be You And I'll Be Me", May 22, 2018, Actors: Greg Poehler, Rachel Blanchard, Priscilla Faia, The Scene: The commitment ceremony
Jamie: This scene was so beautiful. For Jack, Emma & Izzy to come together after their struggles this season. It felt like a series finale, hope that's not the case.