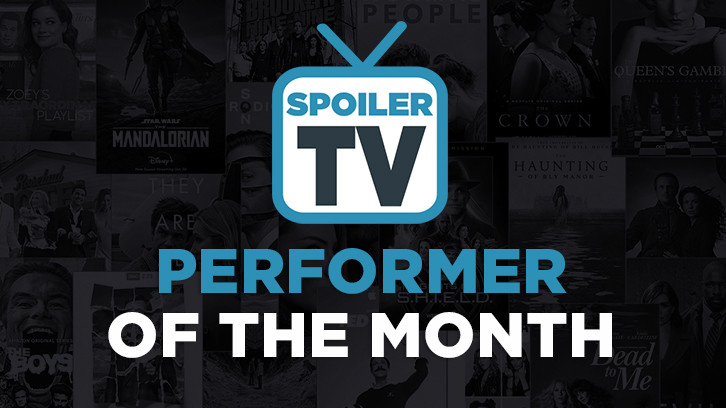 April was a month full of season finales and the final build-up to upcoming season finales. There were a lot of funny, sad, heartfelt, emotional, all-encompassing performances in April. Performers were delivering unbelievable performances with so much brilliance that it will be hard to narrow it down to a small group of ten to compete for the April title of SpoilerTV's Reader's Choice Most Outstanding Performer of April. But, alas, we must partake in this tough task, so be sure to place your nominations. It should be very interesting to see who gets nominated and who ultimately wins this month.

Before you take off to nominating please read the new rules very carefully.

2017 Staff's Choice Performer of the Year: Tatiana Maslany
2017 Reader's Choice Performer of the Year: Sam Heughan

January Winners:
Reader's Choice: Camilla Luddington (Jo Wilson) - Grey's Anatomy
Staff Choice: Justina Machado (Penelope Alvarez) - One Day At A Time

February Winners:
Reader's Choice: Tala Ashe (Zari Tomaz) - Legends of Tomorrow
Staff Choice: Mandy Moore (Rebecca Pearson) - This Is Us

March Winners:
Reader's Choice: Sarah Drew (April Kepner) - Grey's Anatomy
Staff Choice: Iain De Caestecker (Leo Fitz) - Agents of SHIELD

Please note that a performer can now only win once per year and a show can only be represented by two winners per year. No exceptions will be made for any performer or show, so please use thoughtful consideration when making your nominations. You will have to fill out the submission form for each nominee you submit. You can submit the document up to 5 times, but each entry must be for a different performer or all of your other nominations will be disqualified. The Top 5 most nominated actresses and Top 5 actors will be placed in the poll next week to determine the Reader's Choice Performer of February.

Take note that because two performers have already won for Grey's Anatomy this year the other performers on the show are ineligible for the rest of the year.They will all become eligible again at the start of the 2019 cycle of POTM.

After you place your nominations take a moment to use the comments section to discuss your nominees with others. Episode number for the nominees is critically important, so discuss with others why you think a performer deserves to be recognized for a specific performance within a single episode.

Nominations will run until May 7th at 6 pm ET. The poll will post on May 8th at 6 pm ET.

Last month it became obvious that the best format for entering the episode number is season number then episode number. So you can either enter the episode number as 101 or 1.01. Either will work on the form and both will be accepted.