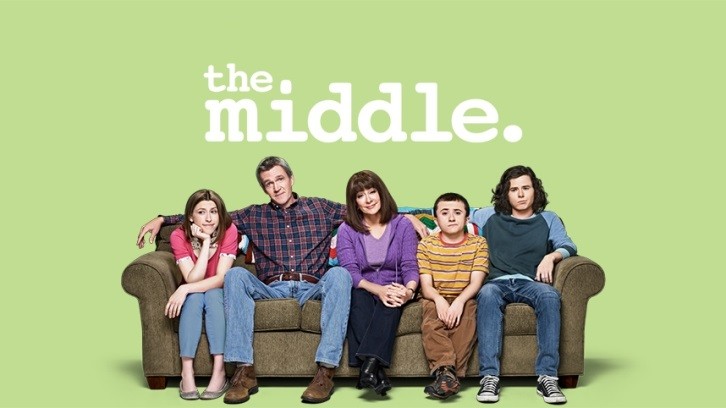 The Middle returned with a new episode this week, "Thank You For Not Kissing". I had some mixed feelings about this episode, and I'm curious to see how other fans felt about it.

There were three stories in this episode, but I'll start with the one about Brick since it's the reason why the episode was titled, "Thank You For Not Kissing". Frankie and Mike get called to Brick's school, a place that they are very familiar with. But this time Brick is in trouble for a different reason: he's been making out with Cindy all over school including during the prayer vigil. Mike and Frankie are confused and shocked by this news (I was, too.) They're informed that if it happens again Brick will be suspended from school for three days.

Mike and Frankie do not want Brick suspended since this will mean he'll be at home with them so Mike has a talk with him. He tells Brick that he should have respect for other people at the school and not make out with Cindy. He also says that he should have respect for women. It was actually a nice speech from Mike, but I just don't know why the writers thought we needed an episode revolving around Brick making out with Cindy.


The saga continues with Cindy showing up and complaining to Mike about Brick's sudden lack of interest. She blames Mike and basically said since his relationship with Frankie has fizzled out he doesn't want Brick to have any romance, either. Mike actually considers what Cindy said and tries to be romantic with Frankie. He sneaks up on her when she's washing dishes, but she wasn't impressed. Then Mike tells Brick to kiss Cindy after all. And enjoy it.
At the end of the episode Frankie comes home to flowers and music. Mike actually made the effort to do something nice for her. Then she runs to the sink to shave her legs. I laughed. Cindy wasn't completely right- Mike and Frankie's relationship hasn't fizzled out yet.
One of the other stories this week was Axl's inability to write a thank you note. I could relate a lot more to this story because I hate writing thank you notes. At the beginning of the episode Frankie finds a bag under Axl's bed filled with unfinished thank you notes. He's never finished a single one in his life. Frankie makes him finish all of them and mail them out. He tries to get out of it by sending a group text, but Frankie finds out about it, and she is livid. She says that as long as Axl lives at her house rent free he will write those notes on paper.
Axl complains to Brick about how he's bad at writing as Brick finds Axl's unfinished note to Aunt Edie. Brick comments that Aunt Edie would have appreciated the note. Axl feels bad and decides to actually write all the notes. After he mails them he gets a note from Uncle Ralph saying it was nice to hear from him. He also included two dollars. Frankie says that Axl will have to write a thank you note for the money.
I have to admit I did find Axl's story funny. I also wonder if kids still write thank you notes or do they just send texts?
The last story of the week was Sue's. Sue tells Brad all about her plan to give Sean the snow globe and tell him how she feels. Brad thinks this is a great idea. But her plans change when she sees Sean hugging another woman. Brad decides that Sue needs to dress and act more sophisticated. Brad quizzes on her on different topics to see how she reacts. I cracked up when Sue had half a face full of makeup and she kept gasping about how much she loves dolphins and rainbows.
She finally gives up and says that either Sean likes her or she doesn't. Exactly! The reason Sean's liked Sue for all these years is because of how cute and bubbly she is and how much she loves everything. He doesn't want her to change!
When Sue gets to Sean's place he's just found out that he was accepted into a program in Ghana. He's leaving in a month and will be gone the whole summer. I almost screamed from frustration when I heard this. Haven't we had enough? Why can't the writers just give us Sean and Sue together? I just hope Sue still tells Sean how she feels even though he's leaving.
Favorite Quotes:
"You turned off the tv when a basketball game is on. Is Mom dead?" - Brick
"Brad's teaching me how to dress." - Sue
"Dad's teaching me how to kiss in the woods." - Brick
How did you feel about this episode? Were you upset about Sue and Sean? Did you care about Brick making out with Cindy? Leave a comment and let me know.