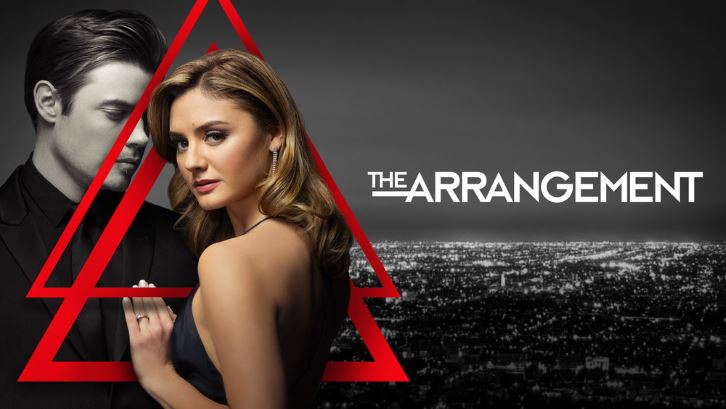 After a fast paced start to the season, "The Sessions" and "Scene 23" of The Arrangement stopped to catch its breath. While slower paced episodes are not necessarily problematic, per se, both episodes had their faults. The standout scenes from the two would definitely be the scenes between Megan and Terence. The chemistry between Christine Evangelista and Michael Vartan was off the charts, and I was sort of sad to everything resolved in one episode. It was this weirdly intoxicating game of cat and mouse, and I was on the edge of my seat the entire time. Besides their explosive interactions, there wasn't much else of note. Kyle continues to doubt himself as a director and shut Megan out, which is both predictable and frustrating. Would it kill him to open up to his fiancée? Elsewhere, Deann's affair with Mason comes to a confusing end, leading to the introduction of Mason's son. As for where that storyline's going I have no idea. It was just one ineffective twist and turn after another. Viewers were also "treated" to the reappearance of Hope, who may or may not be coming back. So without further ado, let's dive in.


The Kill Plan
's testing numbers.
The Kill Plan
. Everyone wants to make sure Kyle is all right, as
The Kill Plan
didn't test well with audiences. On the red carpet, Kyle stresses he made the movie for the fans. While Megan tries to put a positive spin on the film, Terence says this is new territory, as Kyle has never had a film lose money before. Trying to make the best of the situation, or maybe ignoring reality, Kyle decides to do the whole talk show circuit to promote
The Kill Plan
, believing if the film's promoted the right way, then maybe they can save the movie somehow. While Kyle tells Deann he'll figure out a way to make it all work that clearly isn't the case when he's onset the next day, blowing off both a crew member and Xavier who need his help. He was so focused on trying to salvage
The Kill Plan
that he risked the quality of
Technicolor Highway
. However, it seems like the film can't be saved as along with another batch of bad reviews, people are trashing
The Kill Plan
online. Megan wants to make sure Kyle is all right, but he brushes off her concerns once again. Megan tells Kyle he doesn't have to pretend with her, just wanting him to be real with her. She tells him they're getting married, which means supporting each other through the good and bad, ups and downs. Instead of comforting Kyle, Megan's words just make him angrier. It takes him like another twenty minutes until he can admit that Megan was right: The bad reviews and trash talk online were completely humiliating. And why didn't he just come out and say it? Well, Kyle said he has voices in his head telling him he's a failure, and now everyone knows, but mostly he's scared of Megan thinking he's a failure. So while it's great that Kyle finally opened up to Megan, he needed to have this conversation with her the morning after their fight on "The Sessions" and not after a more
Fifty Shades of Grey
than
The Notebook
sex scene on set. At the end of the episode, Kyle says Megan was right: They should be sharing what they're going through. It's getting repetitive to keep watching this couple take one step forward, then two steps back. Like either start communicating or see a therapist.
Solar City
lead can put her in contact with people who have had bad experiences with IHM. When Hope asks why, Megan doesn't elaborate, but eventually Hope agrees to reach out to her actor friend to see if said friend's boyfriend would be willing to talk. After getting a text from Hope confirming the meetup with Hope's friend's boyfriend, Megan goes to meet her former friend. While they wait, the two easily fall back into their former roles of best friends until Megan learns the guy isn't coming. Obviously, Megan's upset, but Hope said she just wanted a chance to patch things up with Megan. While wanting to make up with Megan is admirable, Hope shouldn't have lied to Megan yet again. Hope may have finally made it in Hollywood, but she's still her same old self. So after the failed meetup, I wasn't expecting anything else to happen, but the real shocker came at the end of "Scene 23" when Zach, also known as Kyle's assistant, revealed he was the one who was supposed to meet Megan. Apparently Zach has some serious dirt on IHM, but he tells Megan they need to be careful as IHM and Terence are always listening. Upon learning this, however, Megan tells Zach she has no idea what he's talking about. Given everything that IHM and Terence has put Megan through, it wasn't really that surprising that she rebuffed Zach's efforts. For all she knows, this could be another trap set by Terence. As much as Megan and viewers learned about him in "The Sessions," he is still a very dangerous and powerful man, who wouldn't think twice about testing her loyalties, in the name of protecting Kyle.
good friend
grieving lover, Deann is understandably heartbroken, to the point where Megan finds her crying on the bathroom at
The Kill Plan
premiere. So naturally Deann attends Mason's funeral and tells Wes, played by
Glee
's Jacob Artist, how sorry she is for his loss. While Deann is at a loss to express how much Mason meant to her, Wes has a pretty good idea, as there was a picture of Deann on their living room mantle. Knowing how much Mason loved Wes, a character who viewers previously learned has struggled with addiction, Deann takes it upon to look out for him. She gives him her card and tells him to reach out if he needs anything. Whether it was Deann's kind words or Wes's desire to meet Kyle West, he takes Deann up on her offer and spends a day on set of
Technicolor Highway
. While the movie set wasn't what he expected, it felt like a family, something he's been lacking since his mother died. So he then takes Deann's invitation to visit anytime as a cue to kiss his late mother's lover, which is completely inappropriate. Thankfully, Deann pushes him away, telling Wes this will never happen. I mean, how incestuous would a May-September affair with your late lover's son be? Despite the transgression, Deann let's Wes know it's all right; there's no script for how to deal with death, but kissing your late mother's lover should probably be a given. Instead of sending Wes back to Napa like a normal person, Deann gets Wes a job on
Technicolor Highway
, which will most likely end up blowing up in her face. I mean, what does Deann even really know about Wes? All we know is he has struggled with addiction in the past, and while that doesn't mean he'll relapse again, losing his mother isn't the best thing for someone's sobriety. Does giving him a job in a high-stress environment really help anyone?
It's a dangerous line Deann is walking. Like I get that loosing Mason is hard for Deann, and she wants to be there for Mason's son, but it's not exactly the best idea to have him be a production assistant on the set of a film here you work.
Some stray thoughts:
- Both "The Sessions" and "Scene 23" mention Megan's dad. Who wants to start taking bets on when her father is going to first appear. My guess is before the end of the season.
- Is anyone else getting the impression that Terence and Shaun may hookup in the near future? There were several moments over the past two episodes where I got a serious vibe from them that their relationship may be more than strictly platonic. If the show decides to go there, that would certainly be an interesting development what with Shaun working with Megan to bring down IHM and Terence and Deann trying to have a baby.
- Speaking of having a baby, does Terence really think having a child with Deann will magically solve all their problems? I get that he wants to leave something behind, but his and Deann's relationship issues will still be there, even if she does get pregnant.
- I really loved that Deann somewhat confided in Megan about what was going on. Viewers don't really get a chance to see them interact, but it's clear they care about each other. I love their relationship and would love to see more of it.
- Shaun was completely right to tell Megan she needed to take a step back. By helping Megan, she is putting her job and ability to practice law on the line for Megan. While Megan feels like Shaun is choosing IHM and Terence over her, she should remember just how much Shaun has to lose. As horrible as IHM and Terence are, Shaun doesn't need to be collateral damage in Megan's revenge plan.
So hit the comments below to let me know your thoughts. What were your thoughts on Megan and Terence's intense sessions? Why is Kyle incapable of letting Megan in? Have we seen the last of Hope? What do you think about the incestuous Deann/Mason/Wes love triangle?