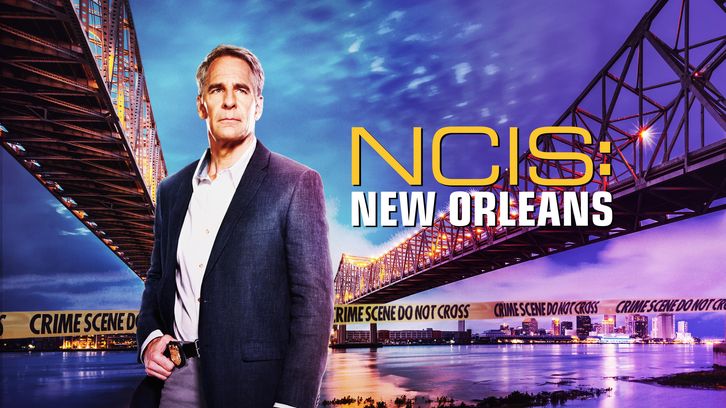 NCIS: New Orleans - High Stakes - Review: "Percy, It's Been a Pleasure"
4.19 - "High Stakes"
Directed by Unlisted
Written by Unlisted
Reviewed by Kelly Anne Blount

The episode begins with a group of cyclists riding through the city. Uh oh! There's a man driving a truck with barrels of liquid and he's on his phone. As cyclists fly through the air, the barrels crash to the ground, revealing a dead body shoved in one of them.

Back at HQ, LaSalle grills Gregorio about Percy leaving. They want her to do what's best for her, but they don't want Percy to go. Me either.

Pride heads downstairs. He's excited for Laurel to come home. They're going apartment shopping this weekend.

During a team meeting, Pride tells them that they need to give Percy space and all of the time she needs to decide if she's going to take the position the FBI offered her.

There are lots of Roll Tide® lines and I'm here for it all day long!

The team gets notification of a dead body. Gregorio and LaSalle tell Pride that they'll head down to the scene so he can spend time with his daughter.

At the scene, Sebastian gives everyone the down low on the crash and body. Loretta tells them that the victim died due to a gunshot wound to the back of the head. Due to the type of bullet used, they think the victim, Yeoman Bennet, may have been murdered by a professional.

Wait, what? Percy just showed up to the scene and told everyone that she turned down the FBI job. The team seems really happy, but cautious. Me too, because I know this is her last episode.

LaSalle gives out directives, including one for Percy to join him, reuniting City Mouse and Country Mouse once again. Aw. This is going to be short-lived and I hate it.


Laurel and Pride make the spare bed. She's staying with him until she finds a place. Pride has also made phone calls about potential jobs for his daughter. She seems to be holding something back and Pride is on to her.
LaSalle and Percy head back to HQ. They tell Pride that Yeoman Bennet was a poker player. He was invited to a private high stakes game and never came back. Due to the way he was killed, they tell him they think it was a professional hit.
The team go over surveillance footage and find someone Patton refers to as "The Dragon Lady," talking to Yeoman Bennet and leading him away from the Treasure Chest casino. They decide they need to send someone undercover to get a special invite to the secretive high stakes poker game that led to Yeoman Bennet getting killed. Patton drops a little nugget of information that Percy is a great poker player. Pride says they can get 10k and let her head to the casino to try and draw out "The Dragon Lady." LaSalle is worried, due to the fact that the last person the mysterious "Dragon Lady" led out ended up dead.
Percy and LaSalle head to the casino. Percy is kicking butt and taking names. Ah, Gregorio is there too. LaSalle is worried about her upping the ante, but quickly realizes that whatever Percy is doing is working, because "The Dragon Lady," is heading over their way.
AH! Percy goes all in on trip Jacks. The guy calls her and wins on a flush. "The Dragon Lady" walks away. Percy feels responsible.
The next morning, LaSalle heads over to HQ. Percy is taking the loss hard. Pride's daughter is there and she's acting strange. He's totally on to her. Because, he's Dwayne Pride. Duh!
As Laurel leaves, Percy shows up. She apologizes for losing and letting everyone down. Pride asks her if the reason she decided to stay is because she was afraid she was letting everyone down. She says that wasn't the reason. Pride is the best. He says, "Come on, let's go fix it."
Ooh! LaSalle has news! "The Dragon Lady" is actually a regular citizen during the day and her Dragon Lady persona at night. Thank goodness for the DMV and their fingerprint records! Pride tells LaSalle and Percy to go arrest her. Sebastian and Loretta have found another victim that died the same way as Yeoman Bennet.
Pride steps out to take a phone call from one of Laurel's professors. Interesting! Loretta wants to know what's going on. Turns out Laurel turned down an internship offer from the New York Philharmonic. Laurel hasn't shared any of this with Pride. I wonder if she's worried about being away from her dad for another extended period of time?
LaSalle and Percy bring "The Dragon Lady" in for questioning. She says that she never killed anyone. She's scared. They get her to open up. She says that Kurt Young is in charge of the game now. He forced her to do things. She never thought he'd kill anyone. Turns out Kurt targeted Yeoman Bennet because he worked at the Navy Research Lab. She tells them that Kurt is taking orders from someone else high up.
Now that Yeoman Bennet is dead, Kurt told "The Dragon Lady" to bring him someone else who works at the Navy Research Lab, where they do everything from testing rockets to space exploration. Kurt tells her that if she doesn't bring someone like that to the next game, he's going to hurt her little boy.
Percy wants to join the game. The team is nervous about it. Pride decides it's the right call, if it's what Percy wants to do.
LaSalle and Percy show up to the poker game looking fierce! They briefly talk about the FBI job that Percy turned down. She says that she didn't want to break up the team. LaSalle doesn't seem to be at peace with her decision, but they don't have time to continue the conversation. They have arrived at the front door of the secret high stakes poker game. As they walk through the front door, Percy looks at LaSalle and says, "Don't worry, Country Mouse. I got this."
Percy is wearing a bug and winning big. Patton is trying to figure out what Kurt and the bad guys want access to the Navy Research Lab. Patton says that they have lots of classified projects and it's hard to figure out which one the bad guys want to take advantage of and why.
Percy is pushing for no limit poker. Yikes! LaSalle talks to "The Dragon Lady." She informs LaSalle that one of the guys at the table works for Kurt and he's a cheater.
Part of the deal is that Percy will lose and draw in Kurt's attention. It sounds like that is going to happen sooner than she thinks it will.
Laurel comes home and Pride excuses himself from the surveillance room with Patton. Pride, being the great dad that he is, asks Laurel what's going on and why she would turn down an internship that she worked so hard to get. Before she can answer, Patton calls Pride back into the room.
LaSalle, who's playing Percy's checkbook, pretends to be mad and stomps out. Kurt jumps to his feet and offers to cover Percy's bet. She takes it and sits back down. Uh oh! When Pride and Patton try to connect to LaSalle, they hear nothing but silence. What happened to LaSalle?
Uh oh! Percy puts on a show and pretends to be furious that she lost. She accuses the Kurt's guy of cheating. Kurt comes over, as does another man, Henry Chen. He informs Percy that she owes him now and that she has to come with him. NO! Henry Chen shows her his phone, which has footage of LaSalle tied up.
Percy goes with Kurt and Henry. They get into a SUV and drive off. Pride tells them that he's heading to the Navy Research Lab. Everyone is relying on Patton to identify Henry Chen. That way, they can hopefully figure out what he wants to do at the Navy Research Lab.
Percy pulls up to the research lab with Kurt and Henry in the car. She can get access in because she's a NCIS officer. Henry Chen says that if she doesn't get them in and/or if she alerts the guards that Henry is up to no good, he's as good as dead. He points a gun at Percy and tells her to keep driving.
Percy shows her badge to the Navy officer working the gate and says that she has two forensic experts with her. They let them in without any questions. Henry tells her to drive the speed limit, as they don't want any extra attention.
Gregorio and Sebastian have found LaSalle! He's being guarded by someone with a huge gun.
Patton has good news! He's identified Henry Chen. He and Kurt work for the MSS. They are bad news! Patton thinks that they want on the base because of a new satellite that's launching today. If they can bug it, they will know where every U.S. Navy ship and sub are at all times.
Pride gets to the Navy Research Lab and heads over to the satellite launch.
Percy stops the SUV. Henry threatens to kill her boyfriend. Percy explains that LaSalle isn't her boyfriend, but it's complicated. She then realizes that the whole reason she decided not to quit and take the job with the FBI is because she didn't want to let anyone down, but that was the wrong call. She knocks the gun out of Henry's hands and begins driving erratically down the road. That's sure to catch the guard's attention.
Pride, who's now right behind Percy, gives the order to get LaSalle out. Gregorio and Sebastian save LaSalle and "The Dragon Lady." LaSalle immediately wants to know if Percy is okay.
Percy rolls the SUV and Pride takes out Henry Chen. She immediately asks, "How's Christopher?" Aw! Darn it! Don't leave, Percy! City Mouse and Country Mouse deserve to be on the same team!
Percy admits that she hasn't been making the best decisions lately. We all know what that means… She's leaving to go to the FBI.
Back at HQ, Pride finds Laurel waiting in his living room. She says that she's used to waiting. Pride says, "Ouch!" She tells Pride that she's proud to be his daughter. Laurel is heading back to school. Only a few more classes and then she can graduate. Pride reassures her that he's fine. He wants her to take the internship, if she wants to. She doesn't have to worry about him and/or move down to take care of him. She tells him, "I love you, Daddy." He responds, "I love you too. More than you'll ever know."
After talking to Laurel, he runs into Percy in the courtyard. Pride tells her that the FBI will be "lucky to have you." She's surprised that he already knows. He's Pride, he knows everything. Pride tells her that, "Sometimes you have to give up something to get something." In an incredibly emotional moment, Pride tells her that the team is going to miss her.
The rest of the team is watching the conversation go down from the window. Percy comes in to talk to them. They are all really proud of her, even though they are devastated that she's leaving.
Pride announces that they all should head to the bar to celebrate Percy's new job.
Everyone but Percy and LaSalle leave the room. LaSalle says, "Can't help but to wonder, what might have been?" She says, "Me too." With tears in their eyes, LaSalle says, "I'll miss you, City Mouse." To which Percy responds, "I'll miss you too, Country Mouse."
The episode ends with Percy looking around headquarters and smiling as she heads out the door for the last time.
*******
My Thoughts:

Well… This was a difficult episode to watch and recap. I absolutely hate that Percy has left the show. I'm grateful that her character left the way she wanted to leave instead of being killed off. Hopefully she can come back for a guest appearance from time to time.

What did you think of Percy's exit? Were you upset that her relationship with LaSalle never went to the next level? Do you think her replacement will fit in okay?

Leave me a comment below with your thoughts!

Also, have you missed an episode or two? Need to catch up or just want to refresh your NCIS - New Orleans memory? You can access all of my SpoilerTV reviews and interviews by clicking on the following link: http://www.spoilertv.com/search/label/KA