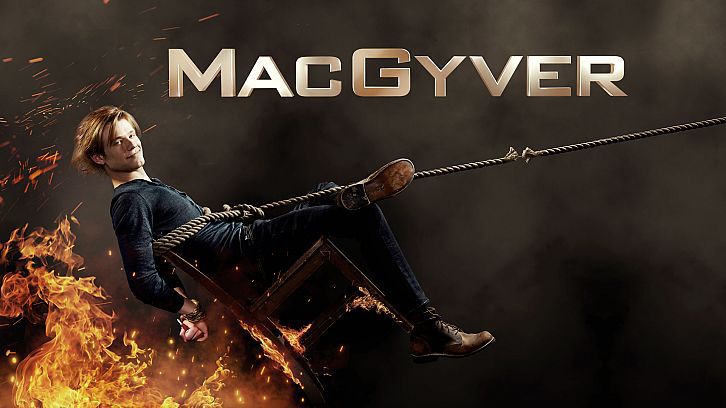 Forgot to add...There are spoilers in this review.

Episode 2.19
"Benjamin Franklin + Grey Duffle" - As Mac and the team investigate the suspicious death of Dawn's (Amy Smart) CIA supervisor, the evidence leads to a dirty CIA agent and a massive counterfeiting ring, on MACGYVER, which airs Friday nights 8:00-9:00 PM, ET/PT on the CBS Television Network.

I love the cold openings of MacGyver, and actually wish they'd make some of them into episodes. Episode 2.19 - "Benjamin Franklin + Grey Duffle" is no exception.


"He's afraid of heights...You're on a trampoline tied to a bunch of balloons. This is probably the end...Saving our lives the Jack Dalton way..."
Remember Pixar's awesome animated movie "UP", now think Jack, Mac, and Riley floating high up in the air on a trampoline with thousands of balloons above them 10,000 feet high and climbing. Oh, and by the way, Mac is terrified of heights. Jack Dalton to the rescue. This scene was awesome plus I love the movie "Up" too.
Did I also mention I love the tag lines they always put across the screen. I love it,
"Jack's Apartment"..."Location: Classified"
. Jack has a surprise visitor in his apartment, someone who was last in his apartment stole his TV, a very big TV by the way. The infamous Dawn from New Orleans. So I'll just say. I liked her dynamics in the team way better than Cage, who hopefully doesn't come back. I don't know, I just liked Dawn better for some reason, I think her chemistry with everyone was better somehow.
Dawn needs Jack's help. Someone killed her supervisor, Paul, at the CIA and it wasn't an accident. Plus she feels guilty cause her supervisor tried to tell her what was going on, but she told him not to say anything, thinking it would keep him and everyone else safe. Unfortunately, he must have already ruffled too many feathers.
I am probably in the minority, I liked Jack and Dawn working together in this episode. The two of them breaking into her dead boss's office, throwing a computer out of the window at a secure (or not so secure) CIA Field Office.
The animosity coming off Riley regarding Dawn is interesting to watch. Its half protect Jack from the conniving con-artist and half, oh no you don't my mom has dibs first. I get it, but then I didn't think Jack has as much chemistry with Riley's mom Diane as he does with Dawn.
Matty is pissed now, seeing the evidence that the fake passports exist and someone codename Echo has killed Paul to cover it up. She wants answers now.
I actually enjoy Matty so much more than Patricia Thornton.
The car scene between Jack and Dawn I thought was great. We now understand more of where Dawn was coming from, and more proof that Jack really is a great guy.
Okay, by far one of two great scenes of this episode involves Matty kicking ass. She walks through the halls of the CIA field office, and people run away, hide from her, have abject fear on their faces. And Matty loves it all as she walks with purpose into Julian's office, one of the Deputy Directors, interrupting a meeting, ignoring his assistant's "Excuse me you can't go in there without an appointment" montage. And just like that, she is able to clear a room. I LOVE this scene and I LOVE her kicking ass without lifting a finger.
Julian, one of the good guys. I guess we should have known better.
This time, Jack's cell phone is destroyed by a bullet, not one of MacGyver's crazy plans. Jack and Dawn are under fire in Nebraska, and why should they have all the fun you ask? Don't worry cause soon it's Mac and Bozer taking fire as well.
The gang survives another day, discover lots and lots of money, some fake and some real, and now they are off to Lima Peru.
Ah, how much money did they really find? Think some well deserving orphans might need some.
Oh, I almost forgot about Jill. I love Jill too. She and Mac geek out, over something so gross I won't even mention it. Just know it's about money and germs. Yuck! Their geekiness was very cute.
The scene between Jack and Mac and Riley and Dawn on the plane was fun to watch. Mac asks Jack a question, and he gets noise and shoulder shrugs. It was too cute (sorry I'm a girl, it was cute). Dawn asks Riley, access to any movie ever made, and you're watching bags on a carousel. My thoughts exactly. These dynamics are what I enjoyed more than the team with Cage.
And Riley's threat to Dawn if she hurt Jack, with two keys, it was awesome and scary and awesome.
And Mac and Jack, so strange seeing the shoe on the other foot and Mac trying to protect Jack. This and the scenes with Matty definitely made this a great episode.
Mac needs a phone, and since Dawn owes Jack a TV, she has to give her's up. I think Jack needs to buy his cell phones in bulk and then buy phone stock.
The Lima Peru part of this episode and Matty interrogating the suspects aren't bad, just not my favorites.
Although when the gang gets arrested, that was fun to watch.
I so want Riley's hacking skills. She can hack into anything!
Or MacGyver's mad ass skills. Better yet, both!
I did enjoy this scene a lot, Mac and Jack fighting over the phone while talking to Matty.
Jack and Riley having the talk in the most not so great time or place is almost funny.
This is why you delete your call log! And, turn off your ringer if you're the bad guy, especially when Matty the Hun is right next to you!

So the car scene with former friend Julian and Matty was freakin awesome! The lighter! Reminds me of "Guarding Tess", except Matty kicks ass and flips the car. You go!
The hospital scene was great too, especially Bozer's faux pas.
The last scene I really liked, and I hope they bring back Dawn.
(Note - The pictures for this review don't always match the scene I was talking about, but are from this episode minus the one of Matty.)
Hope you liked this review. What did you think of this episode? Leave a comment.