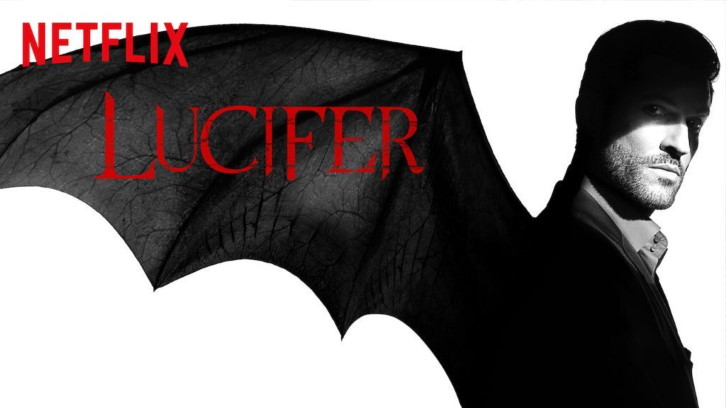 Tom Ellis' acting is insanely good. I forget how good he really is sometimes, because I just see this character of Lucifer and not his acting. I paid attention to it this week. Not because it made me, for any negative reasons, but because he just blew me away to the point I had to rewatch that opening scene with Tom Welling and just revel in how brilliant Ellis really is.

Chloe admits to Ella she and Pierce broke up. Ella is Team Chloe's Happiness, so she's the one who goes marching into Pierce's office, questioning the breakup, and making him see he needs to win Chloe back. I know eventually she'll be Team Deckerstar, but watching her talk Pierce into attempting a second chance with Chloe is not what this viewer wants to see.

But then there's Dan. Hearing Dan say, "Personally, I'm with you, buddy. Screw that guy," to Lucifer is the best. I want Dan rooting for Deckerstar; I want him happy when that hook-up finally happens for good. Season one and Season two Dan would not be thrilled about Lucifer dating Chloe. But this Dan? I think he's almost there.
And when he spits out the lemon bar after finding out Pierce made them? Hilarious. But it needs to be noted Dan isn't acting like this for Lucifer's benefit, it's because Pierce hurt someone he still cares about. He's Team Chloe's Happiness right now. He just has a different way of showing that.


"Why do I feel like I should have stopped him this time?"
Thank GOD Linda finally made the decision to push Lucifer along. It's hard to buy her need to act professionally as his therapist when she used to sleep with him. They've crossed lines from day one. She should have pushed him harder sooner.
Her scene at the end, asking him what he truly desires, has been a long time coming. It's a fantastic scene. This is the Linda Lucifer has needed for a while now. I'm glad she's finally pushing him to tell Chloe how he feels.
Poor Amenadiel has really been kept in the dark on a lot of things this season, but he's finally learned Pierce was behind the Sinnerman. Safe to say he did not see that coming.
After speaking with Lucifer, he now sees his final test as bringing Chloe and Lucifer together. He achieves that, he'll be restored in his father's eyes.
Because Charlotte's mind has been blown recently, he goes to her for help in achieving this. He needs to expose Pierce.
And for her own reasons, to avoid going to Hell, Charlotte agrees to help. Anything to get back in God's good graces.
My gut tells me Charlotte may not survive this season…
Maze is back to manipulating Chloe. Because now that Pierce has somewhat stopped I guess the writers felt someone had to step in. Maze does seem genuinely hurt by Trixie's reaction to seeing her, and Trixie isn't letting Maze off the hook so easy.
Whether it's free will, or something fate has always destined for her, Chloe cares about Lucifer. And seeing her at his place, sitting at the table with that hopeful little smile on her face, it's clear she would drop Pierce in an instant if she just knew, once and for all, how Lucifer feels about her.
She is completely ready for him to open up, to ask her to be with him. To just say the words.
They almost have a real conversation about their feelings. But Lucifer doesn't know how to speak those words, and Chloe isn't able to let go completely and demand a real answer from him.
He can't even call her Chloe. He's still keeping that distance between them by calling her "Detective".
We know why, thanks to the killer's confession before he was arrested, the scene paralleling Chloe and Lucifer's current issues. We know Lucifer won't say the words to Chloe in case she doesn't love him back. He will always have that fear, knowing how Chloe came to be.
We know how badly Chloe desperately needs him to say the words to her.
Lucifer is finally realizing this.
But with Pierce proposing to Chloe, and Chloe saying yes, is he too late?