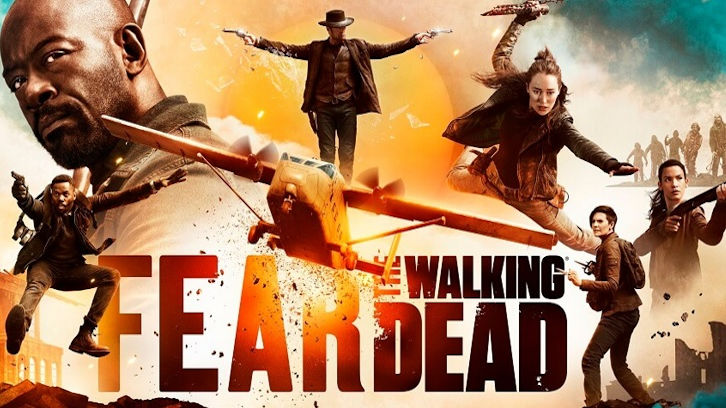 Don´t fear the ones who are actually dead and walking, fear the ones who died inside and are still walking the Earth. FTWD`s main topic over the last two seasons was exactly this, how far can we fall and lose ourselves and can we come back from the abyss. Fear The Walking Dead returned from its lengthy hiatus with major cast additions and two solid outings, the second much better than the first one.


What´s Your Story
To begin this review I have to say I am not a Morgan fan or haven`t seen the latest season of The Walking Dead. So I can only judge on what I saw in this outing. And while Morgan was sometimes tedious with his whole "I don`t wanna kill people" policy I did admire it at times and found the way he conducted himself honorable and admirable. It is easy to say I would kill for my personal survival but looking at it straightforward from this perspective it must be heartbreaking to take a life. So Morgan walk of self-discovery in the premiere was a mixed bag to say at least. I enjoyed the introduction of Garret Dillahunt`s and Maggie Grace`s characters. John and Althea are well-layered characters and the writing for them was on point while the scenes they`ve shared with Morgan were enjoyable to watch. The whole plot of them getting attacked and have to kill and survive has been seen so many times and done in so many different ways that it really didn`t excite me. Still, I do think Althea and John are good additions and look forward to seeing them interact with the rest of the FTWD world.
The main issue I had with this episode is the fact that it didn`t felt a Fear The Walking Dead episode, it was a TWD copy and I didn`t appreciate that. While the two shows come from the same producers and share DNA, FTWD always had a different tone, a different approach to storytelling and eliminating all their previous leads from the premiere wasn´t the smartest choice in my opinion.
One thing I didn`t expect was this time jump. As I perceived it I thought we would see Morgan`s time before he joined TWD in a regular role and how he gets to that place. The final scene intrigued me for sure, what happened to the Clarkes? And why isn`t Maddison with them? Eventually, the premiere set up some intriguing questions and I am excited to see the story reveal itself to this point on.
Another Day In The Diamond
The second episode of season 4 was essentially the FTWD I love and enjoy. The characters I love featured in stories which are suited to the characters and with a normal progression of the story. This week we were introduced to The Vultures, the big bad wolves this season around, and Naomi, played by the phenomenal Jenna Elfman.
And while we are missing a major chunk of story and considering I am majorly peeved that the writers once again jumped the gun with the Stadium shelter story, what we saw of the Clarke gang was very enjoyable. The situation at the farm from last season deeply affected the characters and pushed them towards taming the beast within them. The Clarkes are changed people, they stopped jumping the gun and found some inner peace. And while that is slightly annoying it felt honest. The characters really gave their all to this peace and the community they`ve build up.
The Naomi plot was a good way to introduce us to the new ways of the Clarkes. It was nice to see them interact in peace and calamity they did deserve this. I was surprised to see Lucianna back, not a major fan of her character but I generally didn`t mind her so far. It was good to see her as a larger character and not just as Nick`s girlfriend. Speaking of Nick, the damage and mental issues he is facing are such a juicy plot. Frank Dillane will kill this storyline so I hope for strong material from the writers side. We didn`t get much of Alycia and Victor which wasn`t a bad thing as the episode didn`t feel forced at all. The natural progression of the storyline was good and it once again gave Kim Dickens space to shine. Madison, her interaction and fight for Naomi was great and showed how much she changed and how much she wants this life she is currently living. Naomi so far is an interesting character, excited to see what will happen to her further down the line and if she is as shady as I expect. Funny thing is, this is probably the first time I`ve witnessed Jenna in a dramatic role, mostly comedies, and rom-coms, excited to see her in this more edgier role.
Last but not least a round of applause for Kevin Zeggers and his performance in this episode. He is probably everything I wanted Negan to be but a lot better. A toned down villain whose confidence freezes the blood going through your veins. The speech he gave almost opened the cage where the Clarkès inner beasts are living in. I can`t wait to see which moves each party will make in the war and this Vulture storyline seems to be something to look forward too. Also very nice move to connect Althena to the plot.
And while I`m not certain as for how this season will shape up with Morgan being in a timeline at least a year away and with us in need of flashbacks to explain how the Clarke gang got the stadium. That is a wrap, guys. Your turn now. So what are your thoughts on the first two outings of FTWD`s 4th season? Feel free to share your thoughts in the comment section down below.