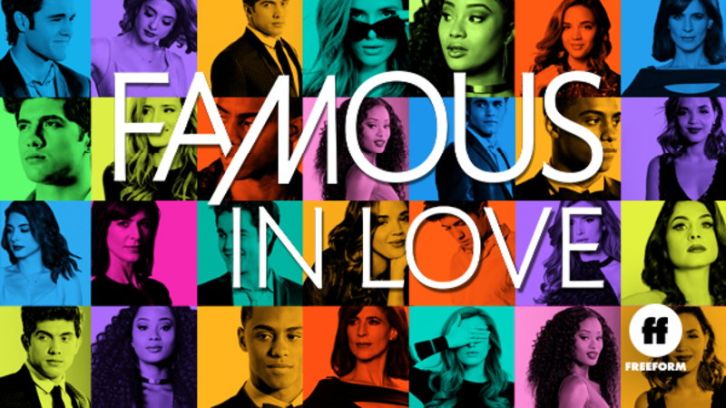 This review of "La La Locked" is going to read very strangely so take this as a warning. I watched the episode, and at the twentieth minute, something weird happened. I hope other viewers noticed this as well, if not then I must have been having a stroke. The tone and the pacing changed and it felt like I was watching a different episode.


So let's dig into
"La La Locked"
…
We catch the Famous in Love kids and their parents trying to deal with the events of the night before. Jordan took a girl home from Alexis's party. We open with a sexy shower scene that he was hoping to join. Much to his surprise and with his pants down; it's Harper in the shower and not the one-night wonder he took home with him.
Wait a minute, so does Jordan still live with Rainer or in Rainer's apartment/home?
Rainer shows up, and the two have a brief "I am concerned about you" conversation which is interrupted by Harper. Social media is buzzing with word that Rainer is out of rehab. Rainer chooses to redeem himself by volunteering to clean the beach. Rainer might be young, but his mother raised him in Hollywood, so he knows how to play the game.
Nina and Allan wake up from their night together, and she suggests helping him pick a ring to propose to his fiancé. Honestly, this information was very random because I don't remember if Allan was seeing someone, in my defense again it's been a long time since season one. This entire conversation is awkward, and I don't know what Nina has planned, but I am ready to see her cause havoc to Allan's relationship. They try to talk to Rainer to get back to filming "Locked," but he is still adamant that he is done with the project. Harper who overheard Allan and Nina talking to Rainer on the beach reminds him of his celebrity power and how he can use it to his advantage. The conversation ends as they start eating each other's faces.
Jake is still shooting his movie, and there is a scene that Paige kisses her acting partner which makes Jake uncomfortable. I mentioned in my review of "The Players" that these two are still in the honeymoon phase and it's cute. We all know that is not going to last long because; Rainer is currently obsessing over Paige and driving himself crazy by looking at her pictures. Joanie is in overdrive nudging Paige ready herself to go head to head in a publicity fight with Rainer. I like Joanie, she has learned the game and is here to win. Poor Jake is being set up for heartbreak because his movie has not wrapped and Paige needs to get back to her other contractual obligation aka "Locked."
Jordan on the other side is flirting with Marisol (Janis Valdez) who is the director of the Kids center where he is volunteering to get himself points for an Oscar nod. Maybe it's just me that got that vibe from their interaction, but I think I am right. She shuts him down with the usual spiel about "celebrities are not to be trusted" The two of them have good chemistry so I could see this working if the writing is well done.
Allan visits Nina to inform her about that they are unable to renew the insurance for the movie, but she already knows from the phone call she was on. They talk about Rainer, and she's hinting at wanting to put him back to work if Allan thought Rainer was okay. He is not on board with this plan but tells her to reach out if she needed anything. Rainer shows up while she is drinking her sorrows away and agrees to continue with "Locked." Before she could get too excited, he tells her she's fired once they wrap. We are only on episode two guys, we all know Nina is not going to go down without a fight, an ugly one too.
We meet Sergei who is a stylist to the celebrities like Luke Hemsworth. Joanie wants Paige to work with a stylist because they are about to go on a PR war and she cannot have her looking like a drab. Jakes insecurities are starting to boil over since he can see that Paige's life is about to get a lot more complicated. He abruptly decides that re-casting Paige in his movie is the only option he has because of her unavailability and other commitments. They both choose to have Cassie take up Paige's part and re-cast her role instead. Jake wants to cast Vera, the waitress from the diner (insert eye-roll). Who didn't see this coming at this point I should write this script.
What was that morning scene with Jake naked in bed with Cassie and Paige fully dressed? The ladies didn't know either what that was?
Ida and Alexis are filming her reality show, and Ida plays the recording from the hidden camera. She wants to shoot Alexis's fake reaction to the video of Tangey telling her about Jordan and Nina. Alexis refuses to have that filmed because Tangey is her best friend and she does not want to betray her only friend. Alexis is acting awkward when she meets up with Tangey because of all the false guilt she feels for sharing the video with Ida. Alexis is a manipulative woman but also very obvious but boy, do they make Tangey seem dumb and naïve all the time. In her cute loving smile, she assures Alexis that nothing will ever come between them and they are friends for life. Only a razor to cut themselves and mix their blood for a permanent bond was missing in this scene.
Alexis heads home and finds Ida waiting for her; I guess she has a key since she's her manager. I am telling you the boundary crossing in this show is outrageous but it is Hollywood. She gives a bogus heart-wrenching performance of what Tangey means to her and why she wouldn't want their sisterhood ruined. No one watching this believes her right? She promises to obtain better footage for Ida to use that would not jeopardize her friendship. She takes her crew to the "Locked" set and enrages Nina so that she could film her. She is kicked out but getting an angry Nina on camera was the plan after all. I told you she is a conniving little lady. If you have watched Unreal, then you were laughing during this scene if you didn't laugh, please quickly run and watch Unreal and you will know what I am talking about...
It's the day of the press conference that Nina put together for the cast of "Locked," and there's a lot of tension. Paige confides in Jordan about Rainer shutting her off, and he advises her to think of Jake instead during her scenes with Rainer. Jordan confuses me, sometimes, he is sweet, and I want to believe it, then I remind myself how shitty everyone is on this show. Paige tries to confront Rainer after the press conference, but he gives her the cold shoulder. This scene was hard to watch because of all the mean things Rainer was saying. If this is him hurt because she chose Jake, then she made the right decision. Rainer heads home and frantically starts looking for a drink, but Jordan interrupts him. Here we go again with the lovely friend Jordan choosing not to go out, but babysit Rainer so that he does fall off the wagon. I hope they redeem Jordan with this kind of growth because I need one less manipulative person on this show.
Jake in his quest to find Vera realizes that he is letting his insecurities push Paige away. He has loved her for too long to let this slip away so quickly. He asks her out on a dinner date, and it's the cutest thing ever.
The episode ended with Alexis filming herself pretending to be devastated by Nina's attack. She claims in her video that this all happened because she confronted Nina about her relationship with Jordan. She also adds for extra flavor that Tangey is the one that told her about it. There you go, her little sisterhood act crumbles as she throws her supposedly best friend under the bus. This video if released is undoubtedly going to cause trouble for Nina especially the little bombshell about how long she had been sleeping with Jordan.
"La La Locked"
was a confusing episode I must say, the editing felt off and the pacing changed in the middle from slow to fast, there was no consistency. What was the reason for the styling scene? It added nothing to the episode, if its only purpose was to show us that Jake was insecure then it should have been edited out. I am interested to see though how everything unfolds after that ending; hopefully, there is a little progress with the story because right now it feels like it's all over the place.
What did you guys think about episode two? Did you feel how discombobulated the episode was or am I just exaggerating?
Don't forget to watch Famous In Love on Freeform Wednesdays at 8PM ET.