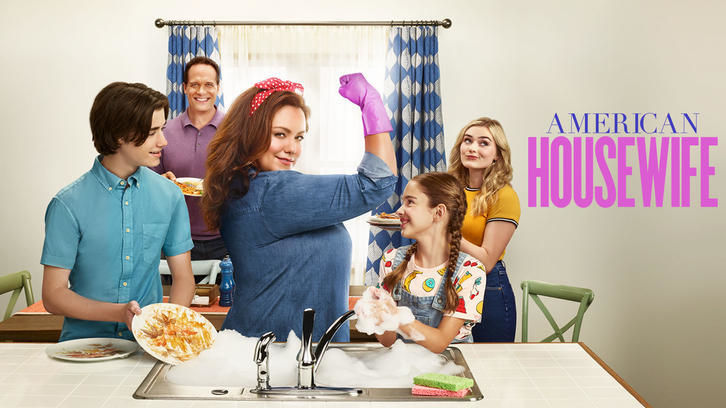 Sometimes the hardest thing to do is to let go. On this week's American Housewife, Katie and Greg seriously struggle with that concept!

Things start off with an angry Katie having to hitchhike home with Anna-Kat and Franklin. Taylor took the car out again and didn't fill the gas up. She says it's because she doesn't have any money.

So, Katie takes things into her own hands in regards to both her of daughters. She tells Taylor to get a job and starts leaving notes around the house that say, you guessed it, "Get a job." And Anna-Kat? Katie's desperate to get rid of her weird-as-hell BFF Franklin. (This kid breaks into the Pledge of Allegiance during Flashdance sing-a-longs, ya'll.) Greg, meanwhile, finds out Oliver has to complete a persuasive essay for Earth Day and as chairman of the recycling committee gets way too excited to help him.


At school the next day, Katie is able to pull the Anderson twins, the two most popular kids in Anna-Kat's grade into her carpool. She's one step closer to replacing Anna-Kat's weirdo BFF! We next cut to Katie meeting Angela and Doris at the restaurant for Second Breakfast. As she tells them about her success, Taylor appears. She's gotten a job alright - right there at Katie's favorite hangout!

Realizing that the one place she can go to get away from her kids has now been invaded by her oldest, Katie tells Greg that Taylor working at the restaurant is gonna have to come to an end. Greg points out that Taylor did just what Katie told her to do, so she doesn't really have any room to complain. Not getting the support she wanted, Katie shows Greg that his own parenting plan backfired. Oliver did his paper on recycling - on why it's all a sham! And he got an "A" on it!

The next day, Katie takes Anna-Kat and the Anderson twins to school before realizing she forgot to pick up Franklin. When Franklin's mom shows up mad that her son was left waiting, Katie sees a chance to permanently get rid of Franklin and plays up to his mom that she's terribly forgetful, so she can expect Franklin to be left behind a lot. Mission accomplished - Franklin will be leaving the carpool!

Greg, who's having a bit of an existential crisis over his failure to impart his earth-saving values onto his son, goes to Oliver's teacher and tries to bribe her with a $7 Starbucks gift card to lower his grade. His teacher isn't exactly impressed, and explains to Greg that Oliver's essay was so convincing, that she's decided to no longer recycle as well!


At the restaurant, Katie continues to be annoyed by Taylor's presence. When Taylor brings her a croissant instead of a muffin, Katie throws a fit and Taylor tries to kick her out and then gets fired for not agreeing with the customer.
At home, the kids gang up on Greg and Katie for not letting them make their own decisions. Taylor's mad that Katie got her fired, Oliver knows that Greg tried to get his grade lowered, and Anna-Kat's caught on to the fact that Katie's trying to get rid of Franklin. Although Greg and Katie both seem to think the other has screwed up more than themselves, they eventually realize they're going to have to make it up to all their kids. Katie gets Franklin back in the carpool for Anna-Kat and apologizes to Taylor and tells her she's proven responsible enough to go to a concert in New York with Trip. And Greg apologizes to Oliver, even throwing away a recyclable bottle!
Random Thoughts:
-Anna-Kat and Franklin changing Punch Buggy to Punch Porsche "because in Westport there's more of those" was too funny!
-Oliver, I'd like to whack you over the head with a recycling bin, you little turd!
-Best line goes to Greg when the kids confront him and Katie. "Katie, our kids appear to have unionized. We've got a problem."
What did you think of Katie and Greg's attempts to meddle in their kids' lives? Did they go overboard? Let me know below!