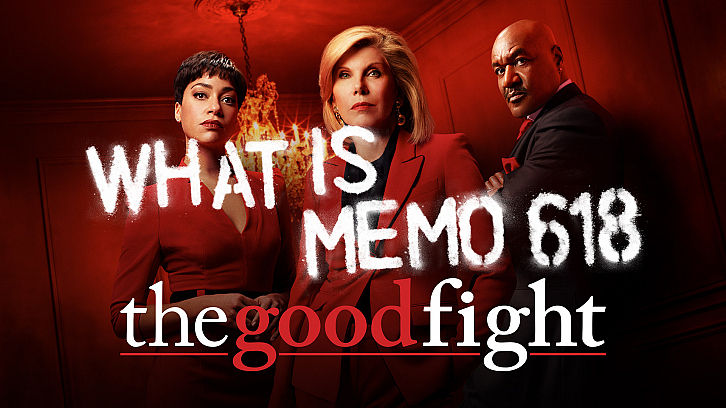 This week on The Good Fight, poor internet connection in the office means mixed messages are sent for multiple people, a party is thrown at the office after last week's chemical scare, Lucca enlists outside help in her case from a familiar face, and Liz gets personally involved in a teacher's termination at her son's school.

Mamie Gummer guest stars this week as a member of the PTA and the defense party in Liz's case. For viewers who have not watched The Good Wife this case allows them a deeper insight into Liz's personal life. Her son is shown to have ADHD, and with this teacher being the only one who can properly connect with her son, his dismissal deeply resonates with her. Obviously she wants to see him reinstated and tries to find whatever possible excuse she can to prove that he was wrongfully terminated.

The party, whilst a little premature for my liking, allows The Good Fight to bring back some guest stars; namely Corey Cott and Zachary Booth (the financial bankers from season one), who may be able to give a little bit of direction to Maia and Marissa for Liz's case.


'Day 429'
also sees the return of Elsbeth, who is definitely one of the best recurring characters that
The Good Fight
has to offer. Carrie Preston is always absolutely brilliant in this role and it's great to have her back.
Lucca recruits her for a personal case of her own and as always we get to see Elsbeth's quirkiness flourish. It's obvious the client underestimates her, but as we've come to expect from her, she always manages to make her case in an interesting and unorthodox way. Christian Borle also guest stars as opposing counsel in the deposition in Lucca's case.
In this episode,
The Good Fight
takes a different approach than normal and almost splits the episode into two halves for each case rather than the usual situation of jumping between storylines. It's an interesting approach, but if you're not invested in a plot for any reason then it might not work for you. The personal nature of each case allows a deeper exploration of the personal lives of both Liz and Lucca, and may uncover some new information about the both of them.
The Good Fight airs Sundays on CBS All Access. Do you think the show would benefit from sectioning plots? Do you like when cases are personal for lawyers? Let me know in the comments.