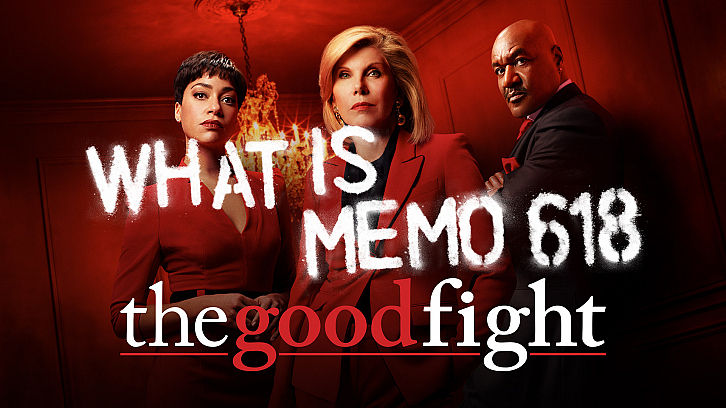 It's now day 422 of the Trump presidency and for the first time this season the Trump stuff was taken out of the opening credits. I guess we're breaking away from that, at least for now. Also, for the first time this season we start with a case of the week. In this week's episode, Christine Lahti returns as attorney Andrea Stevens who is defending a reality show against a former contestant who is suing them for allowing her to be sexually violated on the show. Sounds like this week's case is a takeoff of The Bachelor controversy, if anyone knows about that. Two contestants got drunk and he allegedly violated her while the show didn't not just stop it but may have encouraged it. Yikes. Diane and Adrian are defending the young woman, Melanie. Now, this one is interesting and complicated because both Melanie and the other contestants were drinking and she doesn't even remember what happened. The lines of consent are going to be muddled, it sounds like. She says she wants four and a half million from the show, and not the guy, Blake, who actually did the violating. She believes that Blake is a victim too and the show is the real villain. However, she has a problem in that the contract states that the show is not responsible for anything that happens on the show. Bit weird.

Adrian and Andrea (Yeah, say that five times fast) discuss settlement. Andrea lowballs them at 80 grand, Adrian laughs at her because the contract is ridiculous and they will fight it. Not only that, but they want the footage of the attack itself. Andrea says it's proprietary, Adrian says it's not. Let's see what the judge says, shall we?
Hazmat guys come in to help Maia and Marissa, and Marissa spends it not fretting about her situation but just flirting with one of the guys. But fret she didn't need to do because the hazmat guys discover the power is just baking powder. False alarm. Later, Maia and Marissa talk to hazmat guy again and Maya cures her boredom by acting as wingwoman to Marissa by inviting him out for drinks.
Maia and Marissa are having drinks at a bar. Quite a few drinks, actually. Drew, hazmat guy, shows up. But he's not there for Marissa, he's there for Maia, or so Marissa believes. But Maia solves that problem by telling him she's gay. A bartender ... Is that the same one from the first episode? I can't remember. I'll look it up and let you know at the end of this review. Anyway, he offers them something stronger than those drinks. I thought this was going to lead somewhere, but it actually gets dropped for the rest of the episode. Weird. However, we do discover Drew is interested in Marissa because they end up hooking up at the end of the episode.
Jay talks to Diane's client. He doesn't seem to have any ill will toward Diane, only his ex-wife. He definitely seems off, but is he off enough to have done this?
Jay joins Marissa at the office while she's going through the tapes. He's got printed papers from multiple clients' offices so he can do this actually cool thing which is to check to see if these printed papers match the letter. Apparently, printers always leave a unique pattern of hidden dots, so if the dots on these papers match the ones on the letter, they've most likely got their guy. However, neither paper matches. Marissa gives him an idea to check the printers from their own office. He does, and it's a match. The letter was printed out from their very own office.
Jay has found the culprit. Turns out it was an associate who was feeling overworked and wanted a day to get caught up. He was afraid he'd be fired if he didn't. Welp, apparently he wasn't afraid of going to prison, because that's exactly what happens.
That's it for episode 3. I liked seeing more Marissa, but I'm kind of disappointed in Diane's storyline. It's basically just her freaking out about death and then getting drugged up. It's not something I'm all that interested in and wished she and Christine Baranski had more to do.