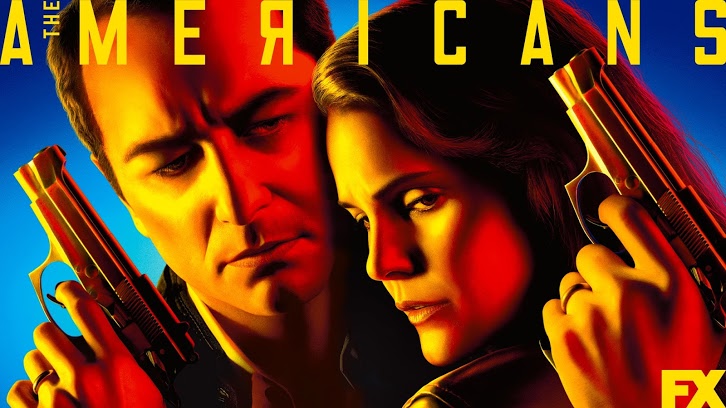 Music's role in video production — in any form — cannot be over-emphasised. When chosen correctly, it is the glue that holds it together; it brings out emotion.

Peter Gabriel's work appears often in The Americans, from "Games Without Frontiers" to "Lay Your Hands On Me". In the sixth season premiere, he is featured again, this time with "We Do What We're Told (Milgram's 37)". In a sense, you could argue it is too prescient, too on-the-nose, trying too much to scream in your face wanting you to understand the subtext. And yet there's something oddly gripping about it, particularly in an episode that sees the show jump ahead three years from when we last saw it but where it looks like Philip has travelled ten years into the past and Elizabeth 30 into the future.

While this may be the best moment to remind us that Elizabeth does what she's told, it could have applied to any stage over the past five seasons and been accurate. But it feels especially appropriate for introspection as she is given a suicide pill in case she is arrested, such is the gravity of what she now knows. And the music element is truly notable when in contrast to what plays with Philip later in the hour, with Mel McDaniel's "Louisiana Saturday Night" accompanying him and his Dupon Circle Travel employees in the dance bar. Never have we seen him as full of life as he is throughout this hour.

Because Elizabeth is struggling. Really struggling. Struggling in a way that makes Philip's uncertainty look like a party. Her previous lowest moment, in season four's "The Magic of David Copperfield V", has nothing on this, although there is a similarly heated argument involving our central couple. Only this time Philip doesn't want to duel, just divulge Oleg's approach, and she shuts him down angrily, harshly.

For all the troubles they've had, mostly in the first season, these two have been husband and wife rather than simply being married for quite some time; last season's actual ceremony made for a nice confirmation and renewal of that. When we last saw them three years ago, they were at the height of their love for one another.


But that was three years ago. To see their relationship now is haunting and saddening, because something that Elizabeth suggested has given Philip a new lease of life, but given her a living nightmare. Director Chris Long uses a beautiful shot in the teaser of her standing against a metal fence, and to see into her baggy, empty eyes is to see a woman at the end of her tether.

And so we come back to Peter Gabriel. The song is written around Stanley Milgram's social psychology experiment from the 1960s, in which he asked his participants, who were acting as 'teachers', to shock 'learners' when they made mistakes, gradually increasing the shock level. The 'learner' was actually part of the experiment and the shocks weren't real, but often reached what would have been fatal levels.

Is there much difference between that and Elizabeth right now? She has always done this because she loves her country, and that patriotism has never wavered. And yet it's hard not to draw parallels — Milgram's test subjects were pushed to horrifying levels, ultimately obedient when a legitimate shock would have killed a person. There was no end to how far they'd go when told, and there seems to be no end for Elizabeth either.

There's a very slight smugness about Philip when he reminds her that he suggested the work would finally get to her. It isn't intentional; it's simply part and parcel of making a valid point such as that. But you can see how glad Philip is to be out, and seeing his wife in this state only makes that clearer. It's why the time jump works so well — there is no need to lumber through his 'recovery' when we can simply be presented with this image: a ghostly Elizabeth arguing with a beaming Philip.

It's made all the more concerning by Paige's progress. As she tells her carefully constructed lie to Navy officer Hanley, it's clear how far she's come since first being tasked with keeping tabs on Pastor Tim. She's good at this, and for good reason. But she has also shed the doubt and fear she once had for this line of work, instead seemingly embracing it.


Her attitude change — Paige is practically giddy after watching some Russian television with her mom and Claudia — is scary as a viewer. For Philip, who was always adamant it would destroy her, there's probably a combination of fear and excitement; he knows first-hand what this job can do, but he also knows the Centre would use her somehow and at least she enjoys this.

But what "Dead Hand" doesn't need to state is that Elizabeth is the most concerned for her daughter. Her facade of being okay is at its height in front of Paige, letting her broken side show through only when alone and with Philip or Claudia. Because if Paige knew just how truly awful Elizabeth's life was, she may well just opt for a life on college campus sneaking boys in at night.

Elizabeth's outburst is a marker that reminds us of how little there is left of this wonderful show. Her heart has been in it from the start but with her in such a dire condition, it's hard not to see her do something reckless. Remember, the last time she was even remotely this strained, she murdered one of her marks.

It's smart, then, that Philip will likely take up Oleg's task and keep tabs on her, because he is the only one with a clear head right now, and he knows just how dark a path she is on.

Notes:
• Oleg's return — complete with beard, wife, and son — was joyous, as was Arkady's (Lev Gorn). Costa Ronin remains a strong performer with a tear-heavy goodbye to wife Elina and son Sasha, and I enjoyed his scenes with Gorn and Matthew Rhys, too. I really hope he doesn't die.
• The thought of Margo Martindale sneaking boys into her dorm at night is incredible. I'll let Deadpool have the last word on that one. Also, Martindale is in the opening credits for, I think, the first time on the show.
• I didn't really mention Dead Hand above, but it will be the crux of this season and Elizabeth's knowledge of it puts her in more danger than ever before, only this time the danger comes from Mother Russia via herself.
• It was good to have a reminder of just how amusing I find it that Stan's kitchen is the exact same as the Jennings' kitchen.
• Speaking of Stan, he married Renee (Laurie Holden), although that probably doesn't put fully to bed any lingering suspicions of her being a KGB agent.
• The premiere was dedicated to Ning Li, who worked in the camera department in seasons two to four and who sadly passed away in November.

What did everyone think of "Dead Hand"? What are you hoping for in the final season? Leave a comment with your thoughts!