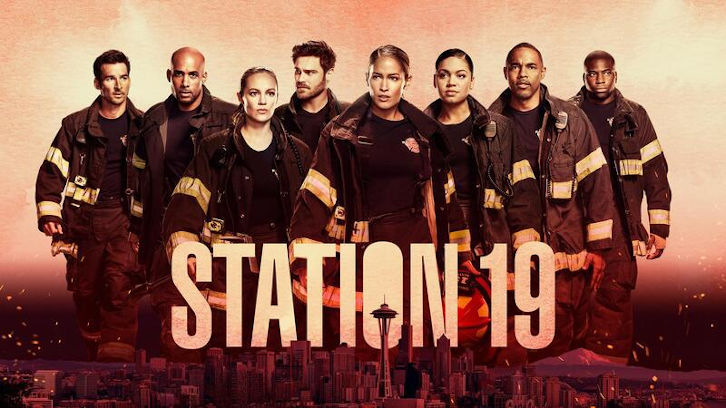 Picking up just a few moments after last weeks episode, Station 19 delivered another interring and solid episode.

Miller and Warren have rescued JJ, the woman who believed that her fire alarm was broken when actually it was picking up smoke from a fire in the attic of her building. So, with Andy still in charge for another hour, the team rushes out to the call. The team rush up to the rood whilst Miller continues to evacuate the floors of the building. On the roof, Andy calls for Maya and Vic to cut a hole in the roof and Warren to watch the pipes. Now, we need to talk about Warren. He is still on a high after the events of the blue fire from a few hours ago and continues to talk about the OR. When Andy orders him to watch the pipes, he is obviously annoyed and confused. Personally, this makes me think that one, he is still a bit indecisive about what he wants to do and two, his overexcitement when getting to a call could get him hurt in the future.

A moment after the hole is cut and flame pops up and Andy patiently waits for the fire to die down, but it doesn't seem to be. Jack begins to get annoyed and says that they need to cut bigger holes, he begins to rev his chainsaw showing he is ready. The Chief grow impatient as Andy ignores her calls about an update. Andy finally gives in and tells everyone to being cutting. A huge flame burst through (not going to lie, I loved this, it was pretty cool) and Warren tells Andy that the pipes have grown (the roof actually caved but good try). Everyone quickly rushes off the rood because as Andy said it would, the roof collapses. Andy and Jack, once all is over, being to fight in front of the Chief about the whole heat hole timing situation and she isn't impressed.
Finally, Andy's shift is over, and the girls decide to relax on Andy's porch. Whilst they sit and talk on the porch the shows first bisexual character is revealed. Maya recommended that they all need engage in some self-care and for Maya that means lots of sex with "a series of ladies and gents." Introducing the bisexuality in a joke made me almost miss it however I'm excited to see where this goes.

The next day, Jack is at the station early to Andy's surprise; he seems to really want this. Jack gives Andy another reason to be annoyed with him when she finds out that he has gave her father a job so that they can all keep an eye on him. Just as Andy beings to rant the alarm rings and they rush to their next call.

This time it is a medical call. A young girl rushes to meet them, she is obviously frantic and terrified. When the team reaches the garden all we see is a see of bodies. They quickly learn that the girl poured liquid nitrogen into the pool because it looked cool and now the entire pool, including her brother, has been asphyxiated. The firefighters work to bring back the children one by one when suddenly we hear a splash. Jack has disappeared into the pool. Moments pass and finally he swims up to the top holding another young girl. After some CPR the girl comes back, and Andy looks at Jack with admiration. Not going to lie, I'm still not a fan of Jack's but this is definitely beginning to change my mind.

Back at the station Jack apologises for the pool incident and Frankel is impressed with the fact that he is capable of admitting he is wrong. The Chief takes a dig at Andy by saying how hard it was for her to climb the ranks and not having it handed to her by her dad. Ouch. Andy hears all this and after her earlier conversation with Montgomery who told her she isn't ready Andy is obviously pretty down about everything. I'm still hoping for Andy to be Captain, as much experience as Jack may have, I believe that Andy suits the role better and is a better leader.

At the end of the episode Ryan comes to talk to Andy alone. Ryan wants to know if Andy thinks he just a kid. Andy says they're cool and Ryan warns her that he is not the kid next door anymore. Hello, sexual tension. Currently I'm team Andy and Ryan, sorry Jack.

Let me know what you thought of the episode in the comments below!