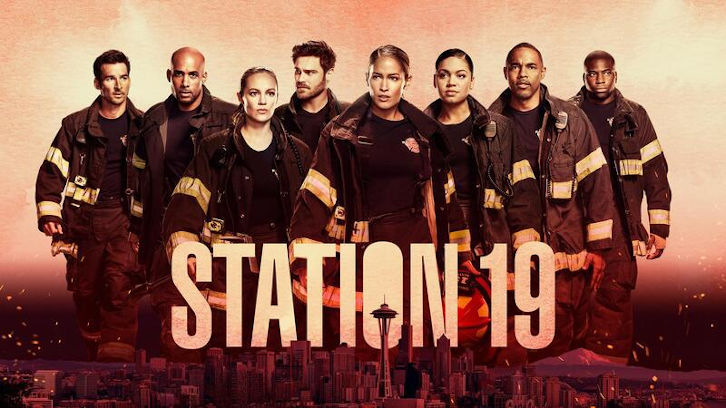 Now, Station 19 is no Grey's Anatomy, but it isn't much different from its mothership. Station 19 began to a fairly strong start which could keep them running for seasons to come.

Focusing around a group of firefighters the show follows it main female lead Andy Herrera (Jaina Lee Ortiz) who basically grew up in a fire station. She is a very passionate, determined and confident fire fighter who also happens to be the daughter of the Captain (Miguel Sandoval). In the station she is joined by Jack Gibson (Grey Damon), Maya Bishop (Danielle Savre), Dean Miller (Okieriete Onaodowan), Travis Montgomery (Jay Hayden), Victoria Hughes (Barrett Doss), and the station's newest addition, rookie Ben Warren (Jason George), who joined them from Grey Sloan. The team happen to often run into Ryan Tanner (Alberto Frezza), a cop from the Seattle PD.
The first half of the double premier began just like Grey's Anatomy with a voice over from Andy as Andy and Maya rushed to the rescue of Tiffany whose apartment set in fire from a laptop charger. At the scene they are met by the rest of the team including the Captain and Jack Gibson. Straight away his overconfidence shines through which puts me off his character. Back at the station Ben is still trying to establish that he no longer is the "new guy". As the team sit down to dinner we get to really see the strong bond they have which I already love.

After an old story which is very hated by Andy is shared by her father she leaves the table and goes into the supply closet in which she is met by Jack who quickly makes her forget the story through a make-out session. However, it doesn't last long when after groping more than just his abs Andy finds an engagement ring. Her face filled with horror and shock says it all. Just as things began to get very awkward Andy is saved by an alarm and runs out to get to another apartment fire.

At the scene, Ryan is already helping by escorting people out into a safe place, but his car is parked in front of the hydrant, so Andy decided to move his police car… with a fire truck. Here we find out that Andy and Ryan go way back, Maya informs Ben that Andy and Ryan were each other's prom dates. Upstairs, Jack loses track of the Captain and by the time he is found he is unconscious, not breathing and doesn't have a pulse. Just seconds after Andy manages to get her fathers pulse back, Andy, Jack and Maya leap out of the window and onto air cushions just as the room exploded- a true superhero moment.

The team then heads over to our beloved Grey Sloan hospital. Bailey begins to take care of Andy's dad as Andy gets her anger out on Jack who also blames himself for what happened. After hearing that Andy's dad is in the hospital Meredith rushes to find her and senses that she won't be able to keep her brave face on for any longer. So, she rushes her into a supply closet to have a breakdown alone. After a minute Meredith says "Okay, that's enough. Put your game face on." This moment really reminded me of the good old days with Meredith and Cristina being each other's person. I'm currently loving the friendship between Andy and Meredith. This also makes me feel as though this spin off is much more similar to Grey's than Private Practice was.
Later, Bailey and Meredith report to the team and inform them that the Captain has pulled through however Mer asks to speak to Andy alone. Turns out, the Captain has Stage 2 cancer and has been doing a great job of hiding it from his daughter. Andy barely has time to be annoyed at him because he quickly tells her that he is stepping down immediately and putting Jack, his lieutenant, in charge until a new Captain is found. That evening, Tanner goes over to Andy's house to check on her. Things quickly escalate and before we know it Andy is kissing Ryan. Seeing that she has been drinking, Ryan does the right thing by pulling back and not taking it any further but Andy, who assures him she isn't drunk, doesn't take no for an answer. The next day, Andy's person Maya assures her that she did nothing wrong by sleeping with Ryan and suggest that maybe she should forget about the guys and focus on getting what she wants- become the captain.

As the first episode comes to an end Ben vows to become fluent in "fire nerd" and he eventually gets called by his name instead on "new guy", Andy informs everyone of the Captain's condition and Andy's and Jack's hope to succeed him.

The next episode beings with Andy being warned by her father about the battalion chief but Andy isn't bothered. However as soon as the Chief enters the station she states that Andy and Jack are the least interesting thing on her schedule, immediately showing that maybe Andy should be worried. She tells the two that they will each take a shot in leading the station and that months later a decision will be made. Up first was Andy.

The teams first call of the day to is to a school and what are the odds? – Its Ben and Bailey's son, Tuck's school. Turns out someone pulled the alarm and that person was Tuck because it was the fastest way he could get Ben and any other help he could get to help Ava, the principle's teenage daughter who was in labour in the bathroom. Outside, Andy struggles with the principle assuming that Jack was the guy in charge. Her day only gets worse when Ben called for supplies from the aid car but because it was a false alarm, she had already sent it away. However, with the help of Vic, Ava delivers her baby in the amniotic sac. By miracle the new born pulled through just fine and finally the principle learned about her daughter's pregnancy.

Back at the station Miller and Montgomery get called to a home for seniors to help a resident. Once they free him, Travis comments about the man's loneliness, he himself shares that his husband was also a firefighter and died in the line of duty. Later that night, the firefighters are called to an accident involving a car and an overturned tanker. Whilst Dean and Travis work to extract the driver, Ben and Vic treat the tanker driver. But the situation quickly escalates. Around the tank an ethanol fire, which is invisible to the naked eye, has started. Only when they switch off their headlights they see how bad the situation is. Travis and Dean quickly manage to get out however Ben and Vic are in a much worse situation and quickly become trapped behind the flames which quickly begin to affect them. It becomes so hot that the soles of Vic's shoes begin to melt. With the hazmat team still five minutes away the team begin to panic about what they should do. I have to admit this was scary, I didn't think they could kill of any main characters in the series premier, but I couldn't help but think it could be possible. Desperate to save them, Andy had the fire truck driven through the blue flames and it worked! They rescue the driver, Ben and Vic.
As the episode draws to and end Ben is on a high from the adrenaline and brags about nearly dying but Vic has a much different reaction which Ben does notice. He follows Vic and talks to her. She explains to him that that is the closest she has ever been to death but before she can continue, Tuck shows up for a tour. But before he can even begin the tour the alarm rings and Tuck reassures his dad, "This is your job- you gotta go." I'm getting a vibe here that Vic may develop a crush for Ben and because this is shondland and I'm worried about what that could mean for Ben and Bailey.

Overall, I think that Station 19 had a strong start. The two episodes were interesting, full of action and shed a lot of light onto the characters. I already love Andy's character and I can already tell I don't like Jack. I love the fact that one of the main characters in the show, Travis, is gay from the very beginning; this is something many shows lack. The characters also have very strong relationships with each other which is important to keep the show running smoothly with different storylines involving them. I love the beginning of the friendship between Ben and Vic. I currently don't like the relationship between Andy and Jack, personally I don't see the chemistry. The show has a lot to work on, including getting rid of the short clips before the break which show the upcoming scenes in the episode. I found them annoying and distracting, if I am to be honest, they spoiled many important parts of the episodes which I thought should have been left as surprises for the audience.

Let me know what you thought of the episode in comments below!