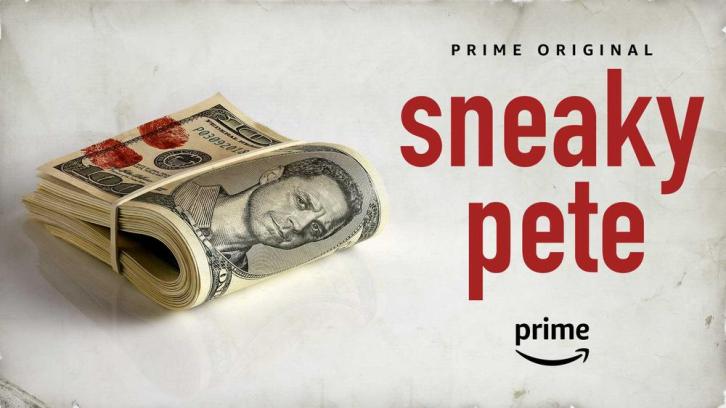 Sneaky Pete season 2 is not good.

This is a hard thing for me to write, given that I pretty much loved the entirety of the show's debut season. Yes, much of it was familiar, but the premise was knowingly silly, the actors were uniformly excellent, and the people behind the show (led by Justified showrunner Graham Yost), clearly understood how to make their story work across a heavily serialized season of television. In the new season however, while those first two things can still be said, the third one cannot.

Really, the main problem the new season has is that if feels like two completely different shows, one far more interesting than the other, and neither even nearly as interesting as the one in season one. The season sees our protagonist Marius (the delightful Giovanni Ribisi) stuck in a tough spot when he realizes that Pete, the man he is currently impersonating, stole $11 million from some dangerous people, and now those people naturally think he has that money. Meanwhile, the rest of Pete's family, Audrey (Margo Martindale), Otto (Peter Gerety), Julia (Marin Ireland), Taylor (Shane McRae), and Carly (Libe Barer) are each stuck in the fallout of the show's first season (much of the details of which I recommend you refresh yourself on, or else you'll start the season completely at a loss).

The Marius half of the season is mostly pretty entertaining, especially when he, you know, is being a con man and pulls off a con. It's in moments like that when the show finds sparks of life, and it starts firing on all cylinders when Marius (all too rarely) comes roaring back into the life of Pete's family, in order to lure them (usually Julia) into playing a minor role in some con. So, the Marius material is mostly fine, though it can't come close to competing with the Bryan Cranston (whose character is never once referenced in the six episodes of the new season I've watched) arc from last year.

While a slight dip in quality is to be expected when a show no longer has Bryan Cranston in the cast, the unrelenting slog that is the other half of the season is not at all forgivable. While the first season also occasionally felt like two different shows - the Marius/Cranston show and the Bernhardt family drama - Yost and co. that time did a pretty excellent job of every once in a while making everything feel like a larger whole. Now though, with Marius mostly adrift from the rest of the main cast, the Bernhardts are left to their own devices, and the results are...egh.

Despite the terrific cast that Yost has at his disposal (how many shows would kill to have Martindale and Gerety?), he and his writers can't seem to find a way to make those characters interesting, making me realise that perhaps the only reason I enjoyed them last year was because of the performances and because of how much fun it was to see them simply react to Marius.

Sneaky Pete is a show fond of the style of storytelling that has been popularized in recent years on television by the likes of Breaking Bad and its many knock-offs; that of the characters trying to dig themselves out of a hole, and after each solution three more problems arise. In Sneaky Pete's second season this can mainly be seen in everything related to the Bernhardts: Julia has been forced into laundering money for a local drug dealer, Otto has to remove traces of the fact that last season he hired a hitman to kill him (Otto spends much of the season's first half trying to move said hitman's car), and Audrey is trying to cover up the death of the corrupt cop from last season's finale.

This style of storytelling can be incredibly effective - and Yost has demonstrated previously an ability to use it well - but it generally only works when it provides a sense of forward momentum. This isn't the case here though. Instead, the show feels like it's going backwards, lingering on plot lines that aren't engaging and should have been disposed of at the end of last season. It also doesn't help that none of the Bernhardts feel even nearly as well-drawn as they should, even though their actors can sometimes fool you into thinking otherwise.

This season may well be a lost cause (though maybe it improves dramatically in its final stretch of episodes; I didn't care enough to find out), but the show as a whole is not. Because when Sneaky Pete is good, it's really good. And every episode has at least one thing to like, whether it's a well-constructed con or Marius interacting with a member of Pete's family and drawing them into his schemes. This show has too much promise, and Yost has built up too much good will, for me to give up on it just yet.

Grade: C

Sneaky Pete season 2 premieres tomorrow, March 9th, on Amazon Prime.