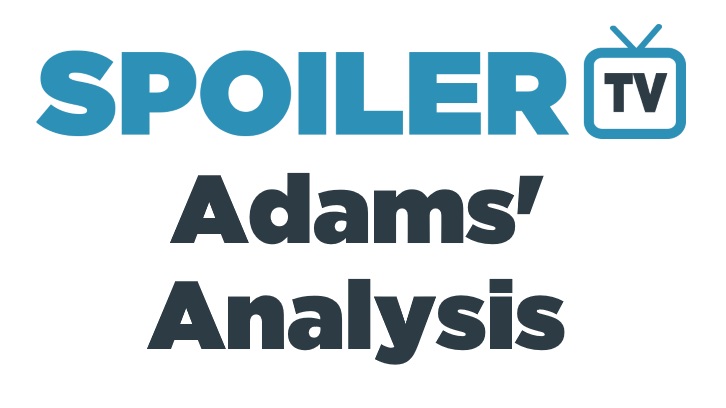 When it comes to commercials, there can be something of a split in opinion. A lot of television viewers would love little more than to skip all the commercials in the shows they watch, yet more than seven million tuned into CBS's "Super Bowl Greatest Commercials 2018" at the end of January. Like it or not, they are an essential cog in the television machine. Or, at least, for the broadcast and cable networks. Subscription services, both premium cable and streaming sites, make their money through paying customers.

In the case of the major premium cable networks, the concept of no ads isn't new. It is the advent of Netflix and Amazon (*) that have raised the debate in recent years.

(*) Hulu offer two plans, one with "limited commercials" and another that is ad-free, at $11.99 - $4 more than the limited option. They're in the game, certainly, but are still hesitant to shift into only subscription fees.

Ratings trends among the broadcast networks over the last five years indicate that the way we watch television is drastically changing. No longer are people constrained to a one-time viewing of their favourite show on the night it airs; DVRs, official websites, streaming services all provide viewers opportunities to skip the live showing and catch up when it's convenient for them. The big four - ABC, CBS, Fox, NBC - all dropped at least 29% between 2006-07 and 2015-16 in the ratings. Only two scripted series (Hawaii Five-0 and Jane the Virgin) across all five broadcast networks avoided a ratings decline in 2016-17 from the previous year. Scandal dropped 34% year-on-year. Does that mean a third of its audience simply stopped watching? Of course not. They're simply finding other ways to watch.

Broadcast television relies heavily on ad revenue; it's the reason that decisions on renewals are so focused on the numbers that pay the bills. Yes, in recent times, there has been a slight uptick in decisions made for extraneous reasons - Timeless's somewhat inexplicable salvation in the wake of a fan outcry (*) stands out - but generally, the aim has been to air shows that bring in the most viewers on a given night. More viewers means more promotion reach, which means the more money companies must pay to have ad time during that show.

(*) This is the reason given by creators Eric Kripke and Shawn Ryan; it's at your discretion whether you believe that NBC changed their minds purely on the basis that a few people on Twitter said they were unhappy with its cancellation. As we all know, sending tweets makes money magically appear.

All of this makes Fox's aim to cut down to two minutes of commercials per hour from 2020 a curious one. For those who have no interest in how the industry works and simply just want to watch their shows, this comes as nothing but good news. But the reality of the decision and the impacts it could have represent an important conversation in the world of television. With new methods of viewing in mind, the ultimate endpoint is, presumably, that all television networks turn into ad-free services, which is a consumer-friendly way of saying "subscription".

To appreciate the impacts we first need to gauge exactly how seismic a shift this is. The Wall Street Journal, which broke the story, reported that in 2017 the average amount of ad time on broadcast television was 13 minutes, and on cable, it was 16 minutes. That is a monumental drop - from 26 commercials of 30 seconds' length per hour to four. With this comes two issues.

The first is how the shows themselves respond. A broadcast drama is typically around 43 minutes long if commercials are removed, with comedies clocking in at around 22 minutes. If there are far fewer breaks, the airtime needs to be filled with other content, which will almost certainly lead to longer episodes. As I wrote in January, long episodes present their own problems and there's a good chance this move could dilute the quality.

The second, and most important, is the financial element. Basic supply and demand economics come into play here. If Fox charge, say, $5,000 for a 30 second commercial, they make $130,000 an hour total from those 26 commercials. To then offset the reduction in the number of slots, the price is jacked up to $32,500 - a 550% increase. These numbers are entirely hypothetical, of course, but the point remains that advertisers will be facing a much steeper price.

Here's where Fox could be the revolutionary or see their gamble collapse in a ball of flames. Part of why major change, in any context, takes time is because it tends to be one group moving and the remaining pack keeping up the status quo, leaving the revolutionaries to fight an uphill battle. The other broadcast networks keeping their ad time and its cost the same means advertisers are much more likely to go to them than chance their arm with Fox. Let's revisit the example, and say that it was for a drama with a 1.1 rating in the 18-49 demographic. NBC have a drama, at the same time on the same night, with a 1.5 rating in the 18-49 demographic. Both networks want to charge the company $32,500 for an ad slot. It doesn't take a rocket scientist to see that NBC are probably going to get the business, and this is why the fee charged for slots depends on the show and its performance.

Now, I'm far from an economics expert, but it would seem apparent that Fox will have to take a hit financially in order for this venture to have any legs whatsoever. Part of the argument supporting Fox here is that the bigger slots they have, namely during Empire, will become more competitive and as a result, the price charged can be higher. But it will be interesting, should this plan be implemented, to see Fox's revenue in the first six to 12 months after doing so, because it's difficult to see this being of any benefit to them - unless, of course, their rivals follow suit.

"Creating a sustainable model for ad-supported storytelling will require us all to move," Ed Davis, officer for ad sales at Fox Networks Group told the Journal. Sustainable ad-supported programming is, without doubt, one of the biggest challenges the industry faces right now, but this decision, on its own, doesn't feel like the solution.

It would be admirable if Fox struggles to begin with but persists with the idea in the name of altering broadcast television for the better. But that's likely not much more than a pipe dream, because money talks. We'd be wise to anticipate some silence.