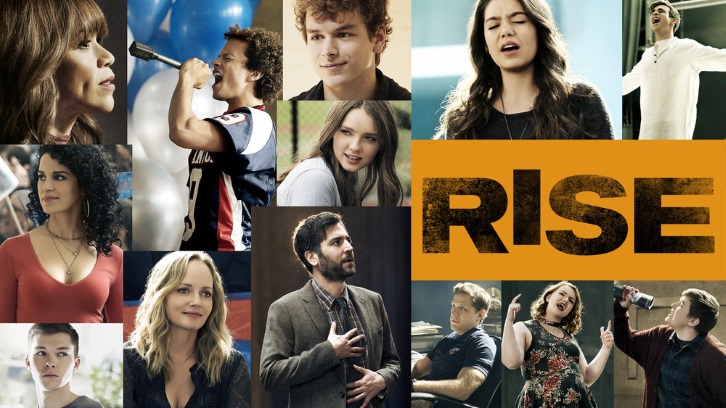 Note: This is going to be a spoiler-heavy review of the pilot. If you haven't seen the show yet and want a spoiler-free preview, check out Gina's Advance Promo here.

Rise 1.01 "Pilot" - Review:
Directed by Mike Cahill & Written by Jason Katims


Rise
is an interesting new gamble by NBC. It's a soap opera/musical drama, often falling heavily into the soapy drama at times. Intended as a replacement for
This is Us
in the network's midseason line-up, it's certainly going to have a lofty reputation to live up to going in. It has an mix of relatively well-known talents and newcomers in its cast and is loosely based on the book
Drama High
by Michael Sokolove which in turn is based on real-life events, blending in a musical element to the series in an attempt to help make it stand out from the rest of the crowd, which will no doubt draw comparisons with
Glee
in the process.
Speaking of
Glee
, fans of that show will find themselves right at home in
Rise
. It's an interesting, all-inclusive, us-vs-them tale of the underdog vs the world, and introduces multiple characters that make up its ensemble in the show's pilot that all have their own story to tell. There's a lot to cover in the pilot which breezes through its various introductions of characters even if it risks feeling a little too familiar in places compared to what has been done before.
How I Met Your Mother
) plays Lou Mazzuchelli, a dejected teacher who's trying to get his pupils to care about classic literature and seizes the chance to take up a position at the school's underfunded theatre department. He's on two thousand less per year than Rosie Perez's (
Do the Right Thing
)'s Tracey Wolfe who is initially resentful of him taking up the role as she was already in advanced stages of a
Grease
production. The glamour of being in charge of the theatre department is quickly replaced by the reality of poor props, a limited cast to pick from and constant budget cuts in favour of the school's pride and joy, the football team. Lou's son is less than keen on the idea, but his daughters are very much in favour of it, as we get a cool
Hamilton
sequence featuring the use of a song from the Broadway Hit, which is no surprise when you learn that Jeffrey Seller is involved, who has worked on several musicals in the past including
Hamilton
. It's cool to see reference to
Hamilton
thrown in especially when we learn that it was thrown up as one of the potential choices for the play, although for obvious reasons, Lou looks elsewhere, deciding on
Spring Awakening
, a controversial play that is frowned on by the people in charge of the school for its freedom of expression. A side note here though might be worth bringing up with the
Hamilton
connections is that if
Hamilton
creator Lin-Manuel Miranda exists in this world, does that mean there's also an Auli'i Cravalho too given that both of them worked on
Moana
or did the titular part go to someone else? It'd be fun to see the show try to address that.
The cast for
Rise
is a bit of a mixed bag. Casting someone as well established in a particular role as Josh Radnor may be offputting for fans of
How I Met Your Mother
, but given that I've never seen the series, nor
Glee
for that matter, I didn't have any preconceived notions going in about the performances or what the show was going to be like. Radnor isn't quite as convincing as he could have been however, but outside of him, there's plenty of potential there.
Moana
star Auli'i Cravalho is easily the most notable of the younger cast, and she is definitely capable of bringing a powerful stage presence to the series with a talented singing voice that displays how good she can be. Cravalho's character Lillette Suarez is part of the central romance of the
Rise
, and it'll be interesting to see how her chemistry develops with Damon J. Gillespie's Robbie Thorne over the next few weeks, as there definitely is a spark there - a spark that is only set to ignite when they are paired together as leads in the musical. Lillette is someone who hasn't grown up in the best of conditions having plenty of drama with her mom - who has just had a scandalous affair with the football Coach Strickland, whilst Robbie finds himself highly sought after by both the theatre group and the sports field due to his talent in both the football and theatre departments.
The decision to appoint Robbie and Lillette as the leads in the play by Lou is an odd one, at least from the perspective of anyone else in the production given their lack of experience in a leading role. Whilst the troupe doesn't seem that too bothered about the play switch, Amy Forsyth's Gwen, who normally leads, puts in a good performance of
Mama Who Bore Me
that looks a surefire bet for her leadership bid until Lilette comes along. To make matters worse, Gwen herself is the daughter of Strickland - which further adds to the tension between the two.
One of the main things that musical dramas have to get right in order to work is the songs, which are of course a key player in
Rise
. And the songs are good, but it's here we begin to run into a problem, because at times, they're almost too good for a school in a situation like this. But I don't think anyone who watches the show will mind that much - it's not the most down-to-earth series anyway judging by its pilot, opting to bring in pretty much every stereotypical high school trope under one roof. Whilst this leads to plenty of drama, it also at times leads into a more soap-opera-y feel which the show seems quite happy to embrace. But that doesn't mean
Rise
can't shy away from tackling hard-hitting issues right out of the gate, which it is very keen to do.
Rise
does get a bit repetitive at times in how it handles Lou. It makes too big of a deal of his inexperience in the role as the leader of the troupe, and goes out of its way to push him into situations where he feels out of place time and time again. Hopefully this will be toned down going forward - it would be too unrealistic to see him master his new role completely of course, but there's too much there at the moment. However, one thing that's also worth mentioning here while we're talking about Lou is
Rise's
straight-washing of the true story that it's based on. Lou Mazzuchelli's inspiration came from Lou Volpe, the former drama teacher of Pennsylvania's Harry S. Truman High, who was a closeted gay man - which the show has decided to essentially ignore here. For a show priding itself on its inclusivity it's kind of a shame that they would take this route.
The many supporting characters in
Rise
are ripe for plenty of drama. Rarmian Newton is one of the standouts as Maashous Evers, a lighting tech living above the theatre where he eavesdrops on Lou's planned pitch of
Spring Awakening
, addressing that the realities of a show about 'repressed teenagers in 19th-century Germany' doesn't exactly scream a smash hit. Lou ends up taking Masshous home in a move that is bound to create drama with his family as they adjust to the new reality of their life. His son - is again left frustrated by this decision. Maashous does also play a part in suggesting Lou to cast Michael Hallowell (Ellie Desautels), a trans boy as Moritz in the play. Just like Masshous, Michael's storyline is one of the well-handled ones too, and most of the kids get off to a strong start here in terms of their portrayals. Most of the adults meanwhile, are fairly bland and generic at this point and need some depth, but I did enjoy Miss Wolfe's role here and she is no doubt going to be a force to be reckoned with depending on how big her role is going forward. The decision to focus on the kids was a good move though, and it's no surprise that the show is at its strongest when it's spending time with them.
Rise
at the start of the episode but by the end, when the group head out to a midnight sing-along to burn all the props of the rejected
Pirates of Penzance
play, I was won over (although I wouldn't have minded seeing a show about the
Pirates of Penzance
instead). It was a really well done scene that brought most of the main characters together in an effective way that benefited from the inclusion of one of the best songs that I've heard from the cast so far,
I Believe
. There are lots of questions to answer like how the show will manage all its various storylines and balance them, as pace is potentially going to be an issue here, but for now, the show is off to a flawed but promising start. It may wear its influences from the likes of
Friday Night Lights
,
Dead Poets Society
and others on its sleeve, but I'm optimistic that the show will make leaps to establish its own identity in the episodes to come.
What Did You Think of Rise's pilot? Did you enjoy the episode or were left underwhelmed? Are you planning on continuing with the series? Let me know in the comments below and be sure to check out episode two on NBC next Tuesday at 9pm where it premieres at its regular timeslot.