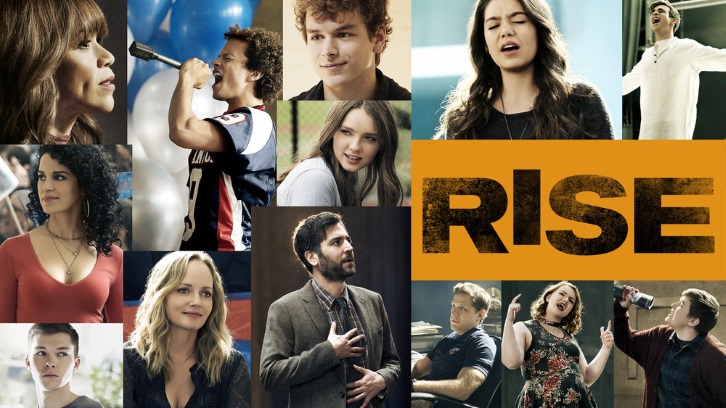 Rise
Pilot
Episode 1.01

Airs on NBC Tuesday, March 13, 2018 - 10:00 pm Eastern / 9:00 pm Central

From the opening scene of this new show, the mood is set, and it does not disappoint.

This show so reminds me of what I loved about "Friday Night Lights", which is the first comparison I made. Not surprisingly, the Executive Producers are Jason Katims, who was executive producer and showrunner of "Friday Night Lights" and "Parenthood," and Jeffrey Seller, who was producer of "Hamilton".

This ensemble cast stars Josh Radnor, Rosie Perez, Auli'i Cravlho, Amy Forsyth, Damon J. Gillespie, Shirley Rumierk, Joe Tippett, Ted Sutherland, Rarmian Newton, Taylor Richardson, Marley Shelton, and Casey W. Johnson. With recurring cast stars Ellie Desautels, Shannon Purser, Stephanie J. Block, Mark Tallman, Diallo Riddle, and Sean Grandillo.

I mistakenly forgot to add Amy Forsyth to the ensemble cast list. My apologies.


Okay, so now that we got the technical stuff out of the way, here is my preview...
From the opening scene till the end I fell in love with this show and this cast.
This show has heart from the opening credits. Bruised and battered like the town they live in, it still has a heart that beats. Sorry for all the metaphors, but as you watch and get pulled into their world, you will understand what this show is all about. It's simply a slice of American society, tired but still fighting.
Lou Mazzuchelli is an English Teacher at the local high school in Pennsylvania. He pitches himself as the new Head of the Theater program. Not your typical choice, he is given the chance, and so begins this new series.
Some of the drama comes out this decision to chose Lou, instead of the drama-loving, passionate Tracey Wolfe. Their interaction is full of life and angst, and I enjoyed it a lot.
The outsider vibe is not that Lou Mazzuchelli is a newcomer to town, but that he simply has a different vision of what Theater can bring back to their tired town. This is done organically and the strife that ensues balances out some of the music and teenage angst.
Lou's home life seems ideal, yet the interaction with his oldest is what keeps this from your typical family drama of who is considered the black sheep of the family. I found it refreshing and real.
The teenagers of this show are just as important. The best friends, football players, theater nerds, theater stars, unlikely stars - this mix keeps everything refreshing and keeps you sucked into the story.
Not your typical story-lines, you get to experience one teenage character who is more mature and responsible then her mother, another one has a mother dying, and another has parents who have expectations that don't ring true to who he is at the core of his being.
The music and signing are just as great as the rest of this show. It reminds me of the great parts of "Glee".
This is a preview, and so without giving too much away, I hope these pictures will help you understand what I couldn't just come out and say.
I enjoyed this episode so much, I know I will keep watching. I hope you take the chance and keep coming back for more. I know I will.
Let me know what you think.