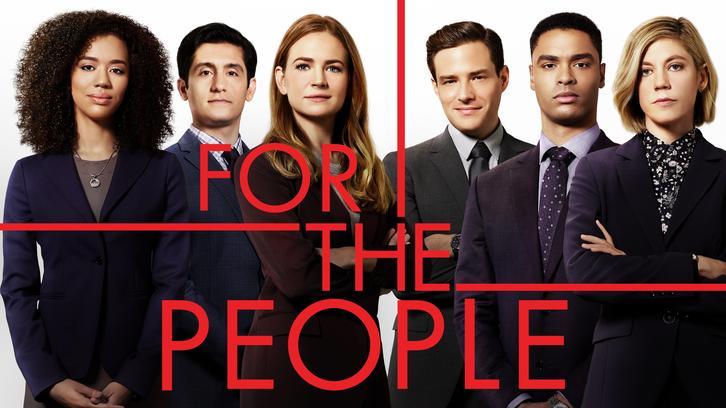 "We're not here to fix the system."

"For the People hails from Shondaland's Shonda Rhimes and Betsy Beers and has been called the legal version of veteran Grey's Anatomy. Set in the Southern District of New York (SDNY) Federal Court, aka "The Mother Court," the legal drama follows brand new lawyers working for both the defense and the prosecution as they handle the most high profile and high stakes cases in the country - all as their personal lives intersect."

"Samantha Who? co-creator Don Todd is returning to ABC Studios with a two-year overall deal. Under the pact, Todd has been tapped as executive producer/showrunner on the new ABC legal drama series, For The People, from ABC Studios and Shonda Rhimes' studio-based Shondaland. Todd will be working alongside creator/executive producer Paul William Davies.
Todd is coming off an overall deal at 20th TV where he served as executive producer/co-showrunner alongside creator Dan Fogelman on last season's breakout series, NBC drama This Is Us. Under the 20th TV pact, he also did stints as executive producer on Fox's Second Chance and as consulting producer on Sleepy Hollow."


For those of you interested in the differences between the original Pilot and the one re-shot with the casting changes I have a few things to say about that as well. First, I want you guys to know pretty much every complaint is fixed within the first few episodes, but I left some of my thoughts in because some of you might feel the same way I did when I first saw the Pilot. One of the changes I disliked about the reshoot is that they gave less time to the other members of the group, which is only a flaw in the Pilot, so if you get past that it's all good. From the Pilot alone you'd think it's not about an ensemble cast and but about two friends working their asses off, which is not bad, but the way the whole cast works together is just too good to miss. Having said that, I loved the chemistry between the two new leads, I could definitely see them as a new version of Grey's twisted sisters, and I'm SO down for that. Thankfully that is fixed in the next few episodes and everyone gets a chance in the spotlight. And there are so many characters to love. I, for one, I'm already in love with a few and I can't wait to see more of them.
As for the rest of the young team, Wesam Keesh (Awkward) is Jay Simmons, he might be intended as the comic relief, but I don't think he is, he can be a character you can empathize with, and he's perfectly functional to the team. Kate Littlejohn (Susannah Flood) has had only a few small roles here and there, but I think this might be her break out role, she's one of my favorite characters already, she's tough, she's bright, she's particular, but she might be one of the most loyal and good friends to have. Especially her relationship with the awesome Leonard Knox (Regé-Jean Page), he has not done a lot yet either, but he might just become a fan favorite, he's a good lawyer, cocky and cutthroat but secretly sweet. The fact that he's easy on the eyes has no input in my opinion of him (...) I don't think so. Nope.
Later, it will continue to show the ins and outs of the justice system, the injustices, the hard job of defending someone guilty of despicable acts, the politics behind it all. As for the personal relationships, everything not related to romance adds a lot to the show, but the justice system seems to be the main focus, and it makes for some very interesting debates. And damn, do they do it well, they make you get both sides, and like the attorneys on both sides, and those conflicting emotions seems like something really important to have.
"Are we worthy?."

Catch the premiere of For the People on Tuesday, March 13th at 10:00-11:00 PM. Are you excited about this? Let me know in the comments.