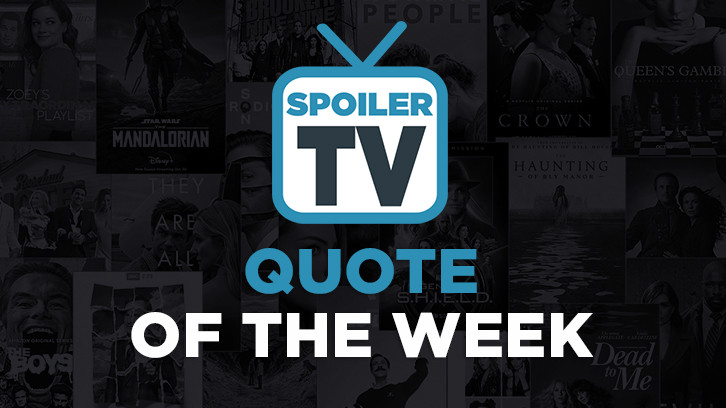 A weekly feature highlighting the best quotes on TV as picked by the Spoiler TV team. We'd love to hear your picks too so please sound off in the comments below.



The Alienist -
1. Kreizler: "John, if I don't get away and you do, I need you to give someone a message." John: "You'll have to deliver that message yourself, because I have no intention of either of us dying today."
2. John: "I told you. Love resides in the heart." Kreizler: "Nonsense, It's still physiology. My brain reacts to qualities in her that I lack in myself - kindness, warmth, courage." John: "Humility." Kreizler: "That too." John: "No one deserves it more."
3. Marcus: "Do you think we'll see any buffalo in North Dakota?" Lucius: "If they haven't all been killed." Marcus: "What about Indians?" Lucius: "If they haven't all been killed." (Dahne)
Channel Zero -
1. Zoe: "Let's leave here and find a nice place to live with no cannibals!"
2. Zoe: "You were so afraid of losing your mind and then you just went and gave it away!" (Claire Serowinski)
The Flash -
1. Barry: Run, Iris, run! (Naomi Anna)
Grey's Anatomy -
1. Jo:
"I always thought there was something wrong with me, and I always wanted to run, until I met you. You're so screwed up that you make me make sense. You and me, we just fit. And I don't wanna leave you, Alex. I want a great, big, giant career, but I don't wanna go anywhere without you. You are my home, and you are my heart. Alex Karev, will you marry me?" (Jimmy Ryan)
How to Get Away with Murder -
1. Jorges: "I loved Laurel more than myself. I built her a future where she could have anything, be anything. Try doing that and then having some monster steal her from you." Annalise: "I know exactly how that feels." Jorges: "You don't." Annalise: "You took Wes from me. And for what? Was it for the money? Huh, please tell me it wasn't just for the money. You know you can't be a good father and kill the love of your daughter's life...and lock her in the psych ward, hold her grandson for ransom because that's all I see you doing. And this story, that you're doing it out of love...you love you. Not even your ex-wife, your daughter, or that little boy alone in the hospital." Jorges: "You have no idea what I'm willing to do for my family." Annalise: "I don't care about you and neither does your daughter. It's too late. You've lost her. She's gone. And by taking her son away from her, you're putting her through the same pain that you say you feel right now. So be a good father for once and sign the damn paper...and let her go."
2. Annalise: "We are not going to deport a gay man back to Pakistan. That's not who we are." Michaela: "Of course it is." Annalise: "Do you want to destroy an innocent life? Do you know what that means, not just for Simon but for you?" Michaela: "I more than understand guilt at this point." Annalise: "Talk to me if you start drinking a bottle of vodka a night and fantasizing about ways to off yourself." Michaela: "I'm trying to save us." Annalise: "Save yourself is what I'm telling you, 'cause the path you're on nearly killed me and you're not me."
3. Connor: "Her dad's not wrong. We are kind of cult-y." (Dahne)
iZombie -
1. Liv: "All I know is he has these piercing emerald eyes and the smooth, velvety lips of a sex angel. That's not exactly something you can Google, is it?" Peyton: "Not if you don't want to see stuff you can't unsee."
2. Ravi: "One guy's whack is another's scratch."
3. Clive: "Liv, I know you're on flighty, romantic brain, but I need you to focus. You cannot see Allan outside of this case. I think he may be our guy." Liv: "But I'm 100% sure he's innocent." Clive: "Based on what?" Liv: "The fact that he may be my future soulmate." Clive: "He may be a future inmate, Liv."
NCIS: Los Angeles -
1. Hidoko: "I need to wash my hands...in holy water."
2. JC: "Hey, in the spirit of cooperation and full disclosure, just so that there's no surprises - if we find your girl and it turns out we can't get her out alive, then I have my orders to neutralize the threat." Sam: "I'm sorry?" JC: "Not my first choice. Just in the interest of national security." Callen: "You lay a finger on Hetty, I will kill you." JC: "Hmm." Sam: "We both will." Callen: "Several times over." JC: "This is what I get for sharing? I mean you guys are so closed off. I mean it's hard to talk to you guys." Sam: "I'm trying not to, but I can't guarantee you I'm not going to kill him." Callen: "Don't let me stop you."
3. Nell: "Eric, you are a man of many mysteries...most of which belong in Weird Tales." (Dahne)
Timeless -
1. Rufus: "Aahh ,frigging clockblocker!" (Because Malcolm Barrett's shout out to the fans was perfection.)
2. Emma: "Someone who's willing to die fighting against us will never fight for us."
3. Lucy: "I've lost everything." Wyatt: "You haven't lost me." (Bex W)
4. Wyatt: "Somebody wanna tell me how that guy became a billionaire? I mean he can't do anything."
5. Rufus: "Can you just admit that sometimes saving the world sucks?"
6. Rufus: "It's about pressure points." Christopher: "Pressure points?" Rufus: "Key moments in history to change the present. Mostly a bunch of crazy ideas on how to make a perfect world somewhere between Hunger Games and Handmaid's Tale." Christopher: "So why did they visit so many places?" Wyatt: "Sleeper cells." (Dahne)
When Calls the Heart -
1. Lee: "Well that lasted about 5 seconds." Abigail: "What are you smiling at?" Elizabeth: "We're a part of a community that cares." Jack: "Even if they care a little too much." Lee: "A little."
2. Jack: "I have to warn you though, what happened up there, it wasn't always pretty." Elizabeth: "Life isn't always pretty but being married is about sharing the good and the bad."
3. Elizabeth: "Thank you for telling me." Jack: "Thanks for being you." (Dahne)
Will and Grace -
1. Jack: "She acts like this is the first time we've seen cake all over her face." (Shirleena)
2. Grace: "He enabled Will's George Michael phase." Jack: "Ugh, wake me up before I gag, gag."
3. Tony: "Look, how can you complain about your free speech if you're not going to defend someone else's?"
4. Jack: "Let me get out my umbrella. It sounds like the forecast calls for hurtful comments." (Dahne)