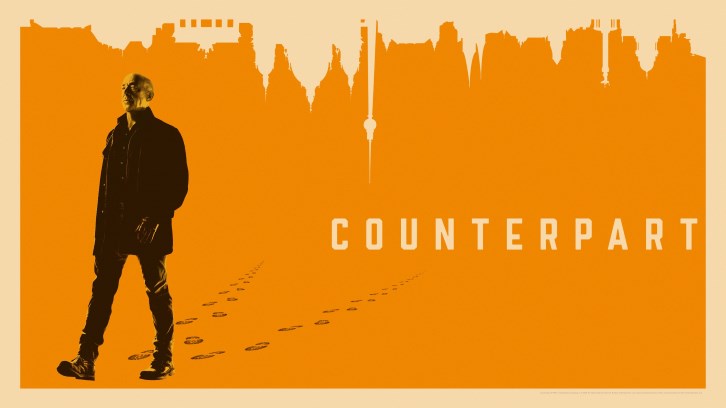 Counterpart 1.08 "Love the Lie" - Review:
Directed by Alik Sakharov & Written by Amy Berg

It's as if each episode of Counterpart just keeps getting better and better. Last week, I labelled The Sincerest Form of Flattery as the best episode so far to date, but barely one week later and it's already been topped by an incredibly gripping episode that brought Harold Prime back to Harold Alpha, Emily Alpha back out of her coma, and finally - Quayle was forced to make an impossible choice between his career and his wife.

Counterpart got off to an exciting start as we said goodbye to the scenes at the school in a rather brutal and uncompromising way. Ian, Emily and Harold Alpha (posing as Harold Prime), raid the school and we got to see a cool sequence of the teachers trying to cover up as much as they could before they were discovered. The ending result lead to the kids that they had been trying to train being poisoned before Ian's team could find them, in a pretty harrowing start to the episode that continued to take a bleaker turn. It's a shame to see the school setting closed off so early just as we were starting to get to know it, but on Counterpart, nothing stays the same for long and what we had learned about the school was definitely an interesting experience that helped provide a good look into the roles of the people who want to strike back at the Alpha Earth, as Ian's team stumble across countless of information that showcases just how much history they knew about it, far more than anyone realised. They'd been sending moles across for years, replacing their doubles and infiltrating high-ranking positions.

The episode showed how much Howard Silk Alpha had grown as a character, and what a way to show how much he'd changed by bringing him back into conflict with Howard Prime. Their confrontation where Howard Alpha passed across the message to Howard Prime was full of tension and really demonstrated the incredible acting talent of JK Simmons, who has really help elevate the show with his performances. The sheer amount of depth and uniqueness that he's able to bring to both roles really plays to the show's strengths. The exchange between both characters laid out what both sides want from each other - Harold Prime is annoyed at Howard Alpha for messing with his life, whilst Harold Alpha is annoyed at Harold Prime for hiding things from him such as the fact that Emily Prime had apparently died of cancer.

And then Harold Prime drops a big bombshell - exposing the fact that Emily Alpha was cheating, and Harold Alpha would have to be stupid to not recognise that Andre was having some sort of affair with her. Only this turned out to not be a big secret after all, as Harold Prime was only telling Harold Alpha what he already knew. Emily Alpha was no saint, and Harold Alpha accepts that. Harold Prime still decides to not reveal that Emily Alpha has in fact woken up from her coma after all - but is currently unresponsive.

Quayle and Clare got some key scenes in this episode too that set-up the upcoming two-part season finale, No Man's Land. Quayle was wrestling with what to do with Clare all through the episode, coming to terms that if he revealed that it was her who was the mole he'd lose all credibility and his career would be damaged completely. Clare reminds him that it's too late to stop whatever is planned and for better or worse, both of them are in it together with one shared mutual interest, protecting Spencer at all costs.

Aldrich is able to find out that Quayle is in over his head but due to their mutual trust and friendship, Aldrich is willing to protect Quayle if he reveals who the mole is. And this forces Quayle to make a chilling choice, protecting Clare by putting the blame on Harold Silk. Which one remains to be seen - presumably it's the Prime version, who is currently in the Alpha world. Quayle is aware of this, and as a result, he could very easily manipulate Aldrich into going after him. He's pretty shaken and devastated by this choice, but it's clear that he's not willing to risk himself or Spencer.

And now Harold will find him on the run and wanted by both sides, upping up the stakes even further. It was a very exciting ending twist indeed, one of the more exciting twists of the season so far. It brings an added sense of agency going into the last two episodes as despite the fact that Quayle knows the identity of the mole, nobody else does - apart from Clare herself. Harold is still very much at square one, even if Harold Alpha now has what was left behind at the school, but no suspects able to question.

Meanwhile, Baldwin is continuing to go after the targets on her list and is able to kill the first one in a rather ruthless manner. She's making progress, and her part in the next two episodes will be interesting to see what happens. Will we see a Harold/Baldwin team-up at some point? It would make sense, if their paths collide, given Harold's current position as public enemy number one. But for now their paths have been kept separate so it remains to be seen what direction the show will take us in.

Love the Lie increased the tension and brought further high stakes to the table in a very exciting episode that continues to cement this show's place as the best new series of 2018 so far.

What did you think of Love the Lie? Let me know in the comments below and check out the next episode of Counterpart tonight on Starz.