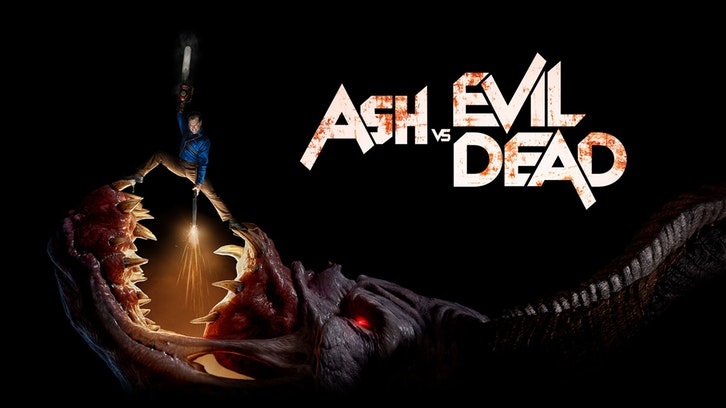 I have my answer about the purpose of Ruby's ritual with the Necronomicon last week. She's expecting a little Ash look alike. The baby is in such a hurry to arrive, it won't wait for her to pull over to the side of the road.


Alien
style. (I wonder if Lucy Lawless enjoys the prosthetics they put on her. It looks like fun to me.). A pair of hitchhikers stop to help and end up as baby food.
Pablo's pretty upset with Kelly for taking off to continue fighting the good fight. Or maybe he's just jealous that she came back with a hunk in tow. Kelly does point out that Dalton is only there because of the fight against evil.
Dalton was able to give us little bit more of Ruby's backstory. Although I don't think Kelly and Pablo have enough information to know that Ruby is the Demon Woman of Fire. Apparently Ruby is the one who cast the Dark Ones out of this world.
It looks like we're going to finally see Pablo's Brujo story play out. I'm excited. The problem is it's not entirely clear whether Dalton is as much of a danger to Pablo as evil is. I'm looking forward to finding out.
Ash tries to connect with his daughter and it is, as expected, a disaster. Hopefully, someone will think to clean out Sheryl's stuff.
I mean the dried rosebuds freaked me out. And Ash, no kid wants to hear drunken sex stories about their mother. Just a hint.
Brandy wanted to talk to a counselor after her ordeal. Normally, I would cheer the inclusion of such a thing. However, the counselor is Ruby. Which I expected the moment Ash mentioned the 'text thing'.
we
see Ruby, but Brandy sees someone else.
The big reveal in the counseling scene is that Ruby finds out that Ash has a child.
Not good considering she intends for her son to be the next prophesied one. She's not going after Brandy yet. Her first priority is preventing Ash having any more babies.
Having been reminded of the purpose of semen, Ash has basically the same idea. Last week he pointed out that he used condoms, but apparently he was a frequent visitor to the local sperm bank. He wants to know if anyone ever used his donations.
It's proprietary information he's able to buy with a 30% coupon for Ashy Slashy's. When Ash spots the copy of Booty magazine, kept for his father back in the day, he decides to make another donation.
The big shocker is that Ash actually put 2 and 2 together and figured out that Evil is after his offspring. He throws down the gauntlet. He will not allow Evil to hurt his daughter, or his balls.
This was another great episode. This episode was, for me, one of the better episodes of the series. I like having specific goals in mind. It should prevent episodes that exist purely for the mayhem.
What did you think about the episode?