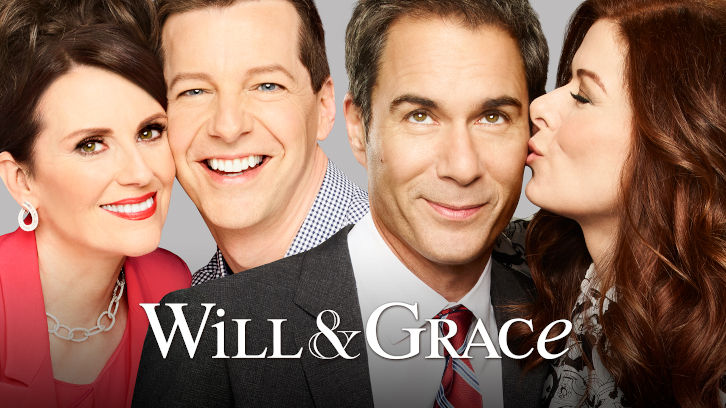 Will & Grace returned from their 2-month hiatus with 3 strong-ish outings, it certainly got better with each new episode. Packed with amazing guest stars Will & Grace made this lukewarm January a lot more tolerable. That is for sure.

Friends & Lovers


The only thing that really worked in this episode was Nick Offerman. He lived his role of the "Bad Boy of Bread". He was inappropriately written and his devilish smile could make the coldest of serial killers feel empathy. His interactions with both Will and Grace felt intense and was hilarious at the same time.
It was obvious Will and Grace wouldn't be able to handle this like adults, I mean who would. They are freakishly close and sharing a man was really the cherry on top of their relationship. Jackson enjoying and being okay with this mess was simply hilarious. Him licking their hands together was hilarious.
Will and Grace acting all normal and trying to live up to Jackson's standards worked well and brought the worst out of the two, meaning the funniest for us. I cracked up a lot during their table scene. Them barely getting down or up had a great flare to it.
The song stuck in Jack's and Karen's head was an okay plot. I loved the Riverdale nod and Jack flipping out of his panties while thinking the show was canceled but outside of that scene and meeting Jackson in the Hospital, it really didn't work. They slapped each other so often that it really has to be a special occasion now for it to make me break out in laughs.
There's Something About Larry
This episode was a great blast from the past as the return from Larry, Joe and Val spiced up things for our darling quartet. I was glad they were exploring the expected work tension between the two leads. They played really well with their characters traits with Grace being laid back and cool while Will's neediness spiked under the pressure they faced.
Throwing Larry into their tense and wicked mix was a smart move. I certainly didn't expect for Larry to express love for Will.
The misunderstanding between Larry and Will lead up to a great scene between the two friends. Them talking pass each other with completely different meanings was hilarious. Amazing work from the writers in this one and both Eric and Tim delivered those lines perfectly. I really hope we'll see Larry back in future outings.
I love Molly Shannon and the return was a nice surprise for me. I haven't seen a promo or read the press release so seeing her glued to Karen's car after Jack hit her was an amazing revelation. But to be clear no matter how much I love Molly, hearing her orgasmic sounds cause of her injuries no matter how funny wasn't something I needed to hear.
Val's little mind games with Karen were hilarious. Molly and Megan worked perfectly together and their scenes were a blast. The final showdown between Karen, Jack, and Val was really great and we need more of Val, if not now than next season when the show returns for season 10.
I really loved all the contemporary jokes. Karen referring to her boobs as white walkers, Jasc dissing Fox News. Still, the highlight of this episode was Grace scene with Jake after he revealed her Val returned. Grace overreacting and having keys to Val's apartment was a hilarious homage to Val's previous craziness. I'm just sad for people who have no clue about who Val is cause they would understand why this felt so right on so many levels.
The Wedding
This was a really hard episode for me, I'm a big fan of Will and Vince and them putting an end to their relationship was quite depressing. When they announced Bobby was back for the revival, I was really hoping they would reignite the fire. And while I enjoyed this love drama free season so far, I wished we would celebrate their reconciliation after his appearance.
Will going full cray cray was expected and so hilarious. I did enjoy the moment between Will and Grace, where she talks him out of the wedding was really sweet and heartfelt. Grace buffering herself between Vince and Will, to avoid Will asking Vince for the breakup reasons worked so well.
Of course, it was inevitable for things to escalate and my heart broke when Vince flipped out and broke Will. Will was at his worst though, he really nitpicked over any tolerable level.
The toasts really got out of control and made me laugh really hard. The love between Will & Grace is just precious, she standing by his side during this dark and awkward hour is just another example why their overly awkward relationship should be your #FriendshipGoal
The final scene between Vince and Will made things slightly better for this little shipper. The chemistry was all over the place and them calling each other their Ex-husband was a very sweet end to this beautiful love story.
Jack hooking up with the husband of Vince's friend was hilarious. As said throughout the season, Sean Hayes is killing it this season. Jack delivers week after week and him hooking up with officer Drew was the perfect story. Ryan Pinkston is a sweetheart and killed this role, his clingy obsessive character played very well of Sean's Jack and I enjoyed all the awkwardness that rose as their story progressed.
Karen's scavenger hunt was a great distraction from the main plot and Megan freaking owned it. I do hope she gets more character-centric stories down the line. She shines really bright
I hope you've enjoyed these swift recaps/reviews and sorry for the delay. So what were your thoughts on the 3 January episodes of Will & Grace? Do you share the same enthusiasm as I or did you cringe through them? Will & Grace return February 1st at 9pm on NBC, don't forget to tune in.