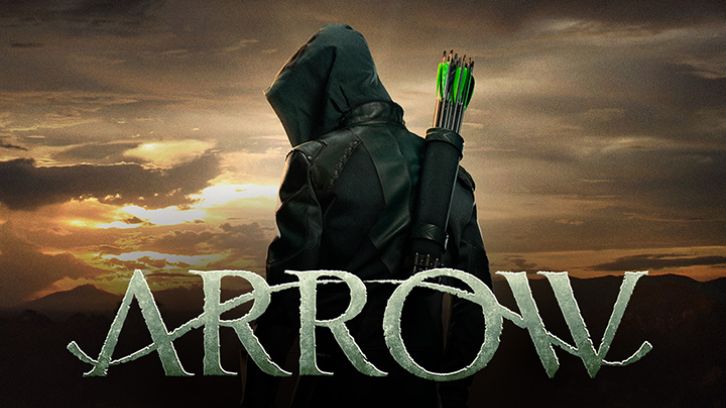 My apologies on falling behind with my
Arrow
reviews. This will be a double review of "Divided" "We Fall" – which seem like a natural fit as a double review when you put the titles together! "Divided" was written by the team of Ben Sokolowski and Emilio Ortega Aldrich and was directed by the always wonderful James Bamford. "We Fall" was written by the team of Speed Weed and Spiro Skentzos and was directed by Wendey Stanzler – who is also a terrific director. I have to admit that I am so over this team divided crap. I see no way that this endears anyone to the new team members who really aren't that popular anyway, are they? Let's take a brief look at each episode in turn.
In "Divided," Oliver (Stephen Amell) begins the episode determined not work with the others because he can't trust them. By the end of the episode, he's willing to try, and they petulantly turn him down to form their own team – complete with their own new lair that Curtis (Echo Kellum) has created out of the former Helix headquarters. Given that they were Cayden James' (Michael Emerson) allies does this seem like a good idea to anyone? Rene (Rick Gonzalez) is not happy about betraying Oliver and enlists Curtis to hack into the digitized record and delete it so that he can recant, yet he and Curtis are particularly insulting after Oliver's apology. At least Felicity (Emily Bett Rickards) finally realizes that their lair is bugged!
More bad ideas? Dinah (Juliana Harkavy) clearly falling for Vincent (Johann Urb) again. And really? How can he simply walk around police headquarters and not be recognized? Are we really convinced by the explanation in the next episode that he's working undercover after he knocks Dinah out? Really, the Vigilante is just badly written – he's bad, no good, no bad…
It was fun to have the Huntress pop up – even if only as a mention as Jerry Bertinelli's (Louis Ferreira) niece. Having him not want to be "in the life" and only doing it for family seemed a bit of a stretch, considering most of his family is dead or on the run, but it allows him to be the ally of the enemy of his enemy when James wants the docks. Pretty obvious that he would end up dead.
It was great to see Willa Holland (Thea) back! I like that they are teaming her back up with Quentin (Paul Blackthorne). Naturally, Rene had to leave City Hall to make room for her again – not that she's taking his place as Quentin's assistant, she'll be back in the higher pressure position of Chief of Staff.
When Thea catches Quentin with a photo album – she first thinks it's a bottle. But he's traded one bad obsession for another: saving Black Siren (Katie Cassidy) from herself. Thea tells him that he's like a father to her and could get killed going down this road. Of course, by the end of the episode, she's on board to help him. After all, Malcolm seemed utterly unredeemable and ended up sacrificing his life to save her. Holland and Blackthorne both deliver good performances – I'm liking their chemistry together.
I also liked the sweet scene between Oliver and Thea. He's happy to have her back in any capacity, but she feels badly when she's just not in a place where she can help him in the field.
There were two big fight scenes in the episode. In the first, Oliver goes in alone and discovers the extent of James' posse. I loved the trick arrow that pinned and silenced Black Siren. As an aside, I am liking the chemistry between Emerson and Cassidy, though I really feel like Emerson is quite aware that he's slumming here. In the end, Oliver agrees to share information with the others to help keep them safe.
The other big fight is really a big fight and everyone gets in on the action. There are some great individual moments in this fight – as you'd expect from a Bamford directed battle royale. However, there were also a lot of rather unexpected sloppy parts – times when characters so obviously weren't connecting for instance. This has to be the result of something that is just too ambitious for the time allotted to filming, and likely also a result of Bamford wearing two – or more – hats. Maybe keep the big fights for the episodes he's not directing?
Nice to see Curtis actually helping with the chip for Diggle (David Ramsey) even if he is his super-petulant self when he drops off the one that actually works. It will be good to see Diggle back in the field!
In "We Fall," James finally gets serious about rolling out his revenge plan by weaponizing anything connected to the Internet. Conveniently killing off Frank Pike (Adrian Holmes) and opening up his position so that Quentin can finally take back his position with SCPD. But really? Gathering people in "safe zones" so that they are easier to all attack in one place? Not really a smart plan was it….
We do get treated to a little familial bliss between Oliver, Felicity, and William (Jack Moore). How much did you love Oliver and William having target practice with the toy bow and arrows? I loved him wanting Felicity to check his homework! I actually did like the William storyline here – especially, that we get to see that he's inherited his Dad's superhero gene!
Loved him saving everyone on the school bus – even going back for Donnie (Ty Consiglio), the bully. I think they could have played up that giving him a bit more insight into what Oliver does. However, it was great that Oliver finally told William the truth and that William is – sensibly! – able to realize that he was really afraid of being left all alone – but now he has Felicity! AW!
I really liked finally getting to see William in the lair. And of course, having more information has to help him feel better. It's a nice scene between Rickards and Moore.
Maybe one of my biggest problems with the spinoff team is the increase in having to listen to Curtis's annoying banter bleeding into the other two. Vigilante now contacts them through Curtis' T-Ball and we get the ridiculous notion that he is undercover to get James. And Curtis keeping secrets from his own team? Stupid. Dinah agrees not to work with him when the other members of the team say no. After he saves Rene's life, it would seem they all do trust him. But do we? The show is too unpredictable to call it – and by unpredictable, I mean they don't stick to their own clues and seem to change storylines as it suits them rather than for logic. Anybody else also suspect Elena of not being on the up and up?
It was fun to see the
Lost
reference when James comes to Oliver as Ben Gayle – Emerson's aliases on that show. He wants Oliver to deposit $10 million in a bank account every night. Really? Who could possibly have that much money? I'm also so over everyone coming after Oliver because of a lost family member. Oliver can prove he didn't kill James' son when James gives him the date – it's the same day that Oliver was in Hub City recruiting Dinah. So why not just tell him that? Of course, maybe his son died because Oliver wasn't in Star City to save him?
I thought the climactic fight in this one better than the last episode – but did Curtis need to be a dick when he showed up? Great to see Diggle back in the field. I also liked Dinah screaming the subway car to a stop. But again, did not like that the one team isn't really sharing their information.
I'm totally over Curtis – and Rene and Dinah – taking petulant shots at Oliver. Any ground the show had gained in at least winning me over to Rene has pretty much been lost. Curtis and Dinah are just annoying – both are so self-righteous, and Dinah at least has no right to be. And while it's great to have this army of villains, it also means most of them are simply wasted. What did you think of the two episodes? Are you liking the army of villains? How are you feeling about the teams splitting off? Let me know you thoughts in the comments below!