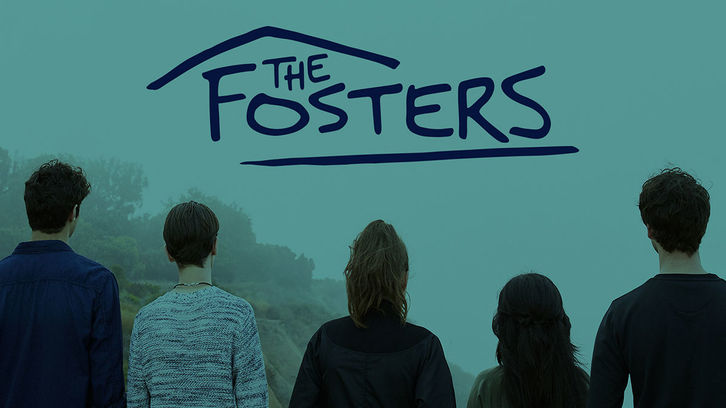 This week on The Fosters, the immigration storyline is front and centre once again as ICE step up their targeting of undocumented youngsters.


As shown in the slight cliffhanger ending last week, Callie has been being followed by an ICE agent, and one of the first things that
Scars
does is offer an explanation as to why he was following her; he feels remorse for Ximena's treatment and wants to give Callie the heads up on an ICE raid of a high school. Callie quickly offers this information to Mariana, Ximena and Aaron who decide that they need to put a stop to what ICE is going to do at the high school altogether. It's an ambitious plan and once again Callie is doing something brave but ultimately too much for her, but it's absolutely commendable and I understand why the four of them want to do something. The immigration storyline is a really strong one and the writers are tackling it immensely well. Callie gets a call from Michael about the raid that morning, but during the chaos Aaron is pushed into an ICE agent and is subsequently arrested for obstruction of justice. Alongside the conversation about DACA/immigration that
The Fosters
is having, there is also the conversation of trans issues that the show has been having ever since the introduction of Cole in season one.
Scars
highlights the greater risk that trans men and women have when they are detained and imprisoned, and both of these elements in one episode is absolutely terrifying and eye-opening. Stef offers advice to Aaron as he is processed and transferred, which leads to Aaron disclosing that he is in fact a trans man to total strangers, something which is incredibly brave. He's put in solitary for an undisclosed amount of time and then released, after which a reunion with Callie leads to a kiss. It's clear that Aaron wants the two of them to get back together but Callie isn't ready. It's really good that Callie is taking time for herself because she has a lot going on in her life right now, but is there more to her not wanting to get back with Aaron than she's making out?
After last week's conversation with Noah, during a livestream with Taylor and Declan, Jude isn't nearly as flirtatious, which doesn't fly well with Declan. Declan explains that if he doesn't flirt with him, they won't get presents from their fans and Imminent Power will end up dropping them. Jude, believing this, debates with himself on how he's going to talk to Noah about the fact that he is going to have to flirt with Declan. He decides to get Taylor to talk to Noah for him as he thinks Noah won't listen to him, and it works, Noah lets him flirt with Declan as long as it's only an onscreen thing because he trusts him. In their next livestream, the flirting is back on and even heavier than before, and as Declan is leaving he gives Jude a hug that could be classed as a little too long to be platonic, and a butt grab that is definitely not platonic in the slightest. Taylor tries to warn Jude of his intentions, but Jude says he isn't interested so it isn't a problem. Declan is 100% trouble but it's definitely entertaining to watch when we've only seen Jude with nice guys so far. We probably all know how this is going to end.
Elsewhere, Callie continues working on her art portfolio by drawing a portrait of Aaron, Stef starts on medication for anxiety but still suffers from intense panic attacks which leads her to starting therapy sessions, and Brandon is at Grace's side during her treatments, where she names him as her healthcare agent in any instance when she cannot make her own decisions when he is outside of the room.
What was your favourite plot this episode? What did you think of Grace's decision (which she seems to have made without consulting Brandon)? Let me know in the comments.