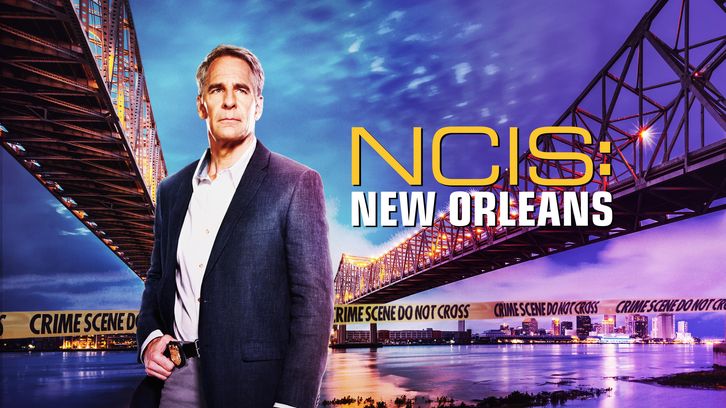 NCIS: New Orleans - Ties That Bind - Review: "Bittersweet"
4.13 - "Ties that Bind"
Directed by James Hayman
Written by Katherine Beattie and Ron McGee
Reviewed by Kelly Anne Blount

We start with some beautiful music and a possible drug deal. Someone is passing around small plastic bags. One of the guys in the bar follows the man handing out the goods into the alley. He says, "Didn't I tell you to stay out of my club?" It's too late though, the potential drug dealer ducks or is pulled into another building while the young man trying to stop him is shot multiple times by a hooded figure.

LaSalle and Percy are down at the port. A fisherman reeled in a body and called the police. The victim was Navy Master at Arms Theo Rollins, who worked at Belle Chasse.

Loretta and Sebastian think the body was dumped. They pull out a huge package of MDMA. It's worth several thousand dollars. Interesting, why did he have it on him?

The victim has a bracelet around his wrist, which lets the team know that he was at Delilah's Music Club, the night he was murdered. LaSalle says that Pride's mother used to sing there. Their families go way back.

LaSalle sends Percy to Belle Chasse and he heads to Delilah's with Pride. The club is now run by Felix Hill, Delilah's son. Her granddaughter, Josie, was the singing the night Theo was murdered.

Josie and Felix are devastated. Turns out Felix has been looking after Theo since he was sixteen years old. When Pride tells them that there were drugs on his body when he was found, they can't believe it. Felix and Josie explain that Theo didn't do drugs. Both Felix and Josie deny seeing Theo the night of the murder.

LaSalle thinks the Hills are lying, but why? Before they can brainstorm, Gregorio tells LaSalle that he missed a call from his stepmother. This is unusual, so he runs off to call her back.

Gregorio talks to Pride about the MDMA. She says there's a new drug in town called "yellow joy." NOPD haven't found the distributor yet, but it's hitting the market hard.

Percy comes back from Belle Chasse. She has a huge bag of yellow joy in her hand. Turns out that Theo was working undercover and buying the yellow joy, to use as evidence.

Patton points out that Theo was using a top secret military grade camera. He was monitoring Delilah's club, which may have gotten him killed.

Pride tells the team to dig deeper. He wants Patton to get his hands on the camera feed.

LaSalle comes into the room with a shocked look on his face. He tells the team that his father had passed away. LaSalle admits to Pride that he didn't answer his father's call that morning and that their last conversation was a fight. LaSalle is beating himself up over not answering the call. Pride is being kind and comforting. Percy and the team check in with LaSalle before he leaves. They all love him.

Pride tells them that they need to be there for LaSalle as well as for Theo. They need to find his killer, the sooner, the better.

Gregorio has some interesting news. The club was on the brink of foreclosure a few months ago. Without warning, the debts were wiped out with a large cash payment. Pride says that Felix has a new partner, Neil Clydell. That could be the reason for the cash.

Pride wants Percy and Gregorio to run a background check on Neil and to follow up with Loretta. They need hard evidence, not theories.

LaSalle heads home. He's greeted by Rose, his stepmother. She tells Christopher that they were all expecting it, but it was still a shock. Christopher is completely confused. Rose explains that his father had a heart condition. She thought that his father told Christopher the last time he was in town. LaSalle breaks the news that he didn't. Rose apologizes and tells LaSalle about his brother, who has had another "bad spell." He's checked in to a facility and she wants Christopher to break the bad news to him. Rose is overwhelmed and very sad. LaSalle says that he'll help with whatever she needs him to do.


LaSalle is greeted by Rachel Modine. They are old family friends and she was his father's attorney. She explains that she's his attorney now and that she looks forward to working on everything. He's super confused. She tells him that her father named LaSalle the executor of his estate. Rachel says that she's also in charge of LaSalle Enterprises. LaSalle isn't happy.
Loretta doesn't have any prints, but she was able to extract paint chips. Sebastian identifies it as lead based paint. Turns out that the paint is an exact match to the railing outside of Delilah's, where Sebastian went to collect samples. He also finds a slug that matches the bullets found inside of Theo. Sebastian says that Theo was killed outside of Delilah's Music Club.
Sebastian has the news feed from Felix's office. The footage leading up to Theo's murder doesn't contain any "smoking guns" but, there is footage from Pride and LaSalle informing them of Theo's passing and directly afterward that raises a few eyebrows.
Josie wants to know why Felix lied to them. She says that she saw her father and Theo arguing the day he died. Felix tells Josie that he told Theo to leave it alone, but he wouldn't. He says, "He just kept messing with it." Josie doesn't know what he's talking about. Felix says that, "He'll handle it," and that they do not need the police involved. Pride says that he'll go talk to Felix and he wants to go by himself.
Pride confronts Felix. He lays everything out on the table. Felix says that Theo was like a son to him and that he wouldn't listen. He warned him to leave things alone, but Theo refused. Pride wants to know why Felix won't talk. He warns him that he is the only person standing between Felix and the rest of the NCIS team. Felix says he can't say anything else or somebody else is going to get killed.
Pride says that he can help, but Felix isn't having it. Felix says that if he isn't going to arrest him, he's going to go in his house. Just as Felix opens his door, Pride pulls his arm and says, "Well, I guess I'm going to arrest you." Before Pride can get his handcuffs out, Felix's house explodes, sending them both crashing to the ground. Pride gets up, but things don't look as good for Felix.
Felix is in surgery, but they think he'll pull through. Gregorio, Percy, and Sebastian are at the crime scene, trying to figure out what and who caused the explosion.
Sebastian tells them how the house was rigged to explode. Percy tells the crew that the Dixie Mafia has been known to use the same technique. While most of the leadership is locked up, a lot of the soldiers are still on the streets and their main source of money is drug trafficking.
Rachel and LaSalle are going over his father's information. Christopher is feeling really overwhelmed. Rachel says that she'll help him every step of the way. He looks so out of place in his father's big fancy house.
Rachel breaks the news that the owning the company is a full-time job. She says that he needs to move home for six months to a year to take care of the company. Three hundred people are depending on him. Before he can say much, he gets a call from Percy, who tells him that Pride was hurt in an explosion.
Gregorio visits the hospital. She talks to Josie, Felix's daughter. She confronts Josie. Gregorio isn't having it. Neil Clydell interrupts their conversation and walks Josie outside to get some air.
Sebastian hasn't found any legal issues in Neil's background; however, the last two clubs that he ran burned to the ground as soon as drug trafficking investigations were opened at each location. Ahh! It turns out that Neil's father and grandfather were part of the Dixie Mafia.
Uh oh! Turns out that Josie has been dating Neil.
Gregorio and Percy head to Neil's house. Pride calls them and tells them to arrest Neil and bring him in. On the way in, they hear gunshots. When they enter the house, they find Neil dead on the floor. Josie is missing.
Pride thinks there was a third person in the house. Josie is missing and there were signs of a struggle. Pride wants her found immediately.
What? LaSalle just walked in the front door. That's not good! Pride points out, "You should be home." He puts Sebastian on the case to identify the third person in the house and he pulls LaSalle into the courtyard. Pride tells LaSalle that he needs to tell him what's going on if he wants to work on the case.
LaSalle is upset that his father never told him that he was sick. Pride offers him the father-like support that he's so good at giving. LaSalle asks him, "What am I supposed to do?" Pride encourages him to dig deep and handle things. Aw, Pride.
Sebastian has something. The fingerprints found in Neil's house belong to Sam Chambers, who is a known member of the Dixie Mafia. He changed his name to Sam Jansen a few months ago.
Sebastian thinks that Sam kidnapped Josie to burn down the club frame her. The cameras that Theo set up just turned on. The team races down to Delilah's to save Josie.
Pride approaches Sam, who lights a fire with an injured Josie on the floor of the office. Pride goes in to save her as the fire spreads.
Pride is trapped inside the club. Percy and Gregorio provide back up to LaSalle. They secure Sam while LaSalle heads back into the office to save Pride and Delilah.
Someone comes by with a fire extinguisher just in the nick of time. LaSalle helps Pride out while two other officers help Josie out of the building.
Felix wakes up with Pride at his side. He managed to save Felix's guitar. Josie told her father what happened at the club and Felix is grateful for Pride's team saving Josie's life.
Pride tells Felix, "You should have come to me."
Back at HQ, Percy asks LaSalle if he's going to join them at Delilah's to celebrate. He says he's too busy with funeral details. She asks him how he's doing. He opens up to her. Percy has his back, no matter what. I love them together. She says, "Come on, Country Mouse! That stuff (paperwork) will be here in the morning!" He gives in and tells her that he'll come with to Delilah's.
Just as Percy grabs her coat, Rachel shows up. Percy's smile instantly fades. She introduces herself to Rachel and forces a smile. Oh man! Poor, Percy!
LaSalle tells Rachel that he isn't moving back to Alabama. He says that he's going to run the family business from, "right here." Rachel isn't happy, but it looks like she's going to agree to continue to serve as the LaSalle's (family business) lawyer.
The rest of the crew head down to Delilah's to listen to Josie sing. She is incredible!
They enjoy several rounds of drinks and discuss LaSalle's new family lawyer. Percy wants to drop the subject and just enjoy their drinks.
The episode ends with Josie calling Pride on to the stage to join her, Felix, and their band. They all play together and end the night on a good note!
*******
My Thoughts:

This episode was great, but bittersweet. LaSalle losing his father was very emotional. I was hoping that he would play a bigger role in the series, like Tony's father. It was also bittersweet because we found out that Percy a.k.a. Shalita Grant is leaving the series. I really wanted a City Mouse and Country Mouse romance!

So, while I really enjoyed the episode, I'm feeling pretty bummed about it.

Maybe they'll bring Brody back?

Leave me a comment below with your thoughts!

Also, have you missed an episode or two? Need to catch up or just want to refresh your NCIS - New Orleans memory? You can access all of my SpoilerTV reviews and interviews by clicking on the following link: http://www.spoilertv.com/search/label/KA