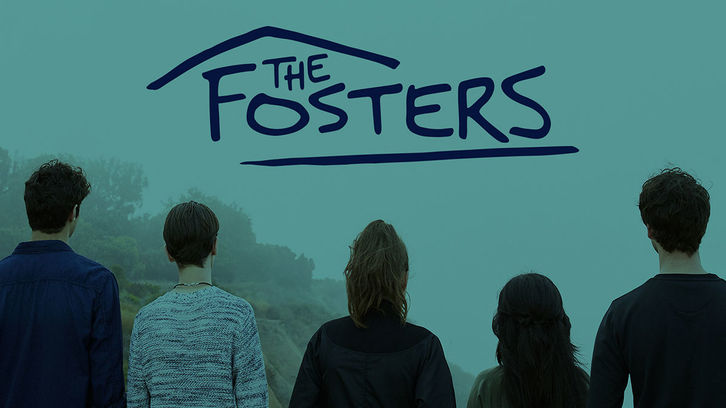 I want to say thank you to Abi for reviewing The Fosters last week when I was away on holiday. I have to say that this episode of The Fosters really got to me and I cried multiple times during the hour.

This week on The Fosters:
It is mother's day during this episode which means that Stef's mum is back. Her and Stef have a lot of unresolved issues but the main storyline is regarding Stef's anxiety and panic attacks. It turns out that her mum used to have them to which we find out after her mum manages to calm her down after having another panic attack.

Callie is struggling with feelings towards her mother and the necklace that she always wear after Ximena gave her a new necklace as a thank you for everything she's done for her. Callie has a dream about her mother and struggles with if she's ready to take the necklace off or not. She and Jude goes to visit their mothers grave where they run into Donald, with whom they have a conversation about their mother. At the end of the episode Callie decides it is time for her to take the necklace off, and that she can remember her mum without literally wearing her grief around her neck.

Mariana is hanging out with Logan who is upset that his mum kicked his dad out because he doesn't understand why. Mariana eventually find out that it is because Tess is a lesbian and she struggles with whether or not she should tell Logan the truth about his mother.


Brandon finds out that Grace appointed him her proxy, which means that he would be the one to make healthcare decisions on her behalf if she's unable to make them on her own. This upsets Grace's mum immensely but we later find out the reason why Grace didn't want her mum to be her proxy and that's because she knows that her mum will never forgive herself and Grace doesn't want to burden her mother with that.
Jesus has a new paraprofessional who is a woman who is very attractive. Some of the guys at school is teasing him about it so he wants to get a new one which Lena first agrees with but later on she changes her mind. She said that it would be sexist to change his para just because she is an attractive woman and that his mother's raised him to be better than that, to respect all women. Jesus writes an essay in this episode about what event/experience has had the greatest impact on his life which he dedicates to his mums during the brunch. I honestly cried so much during this scene because I thought it was so powerful in so many ways.
Favourite character:
I don't think I can actually pick someone this episode because I believe that this was such a powerful episode for so many people, but in regards to the actors, I have to give Teri Polo so much credit because she played Stef so incredibly good this episode. The scene with the panic attack with Stef and her mother made me cry so much and I just thought that Teri did such a wonderful job portraying what it actually feels and looks like when you have a panic attack.
Best/Favourite scene:
My favourite scene was definitely the last scene of the episode when the entire family had a dance party. It was just so nice to see everyone together, smiling, laughing and dancing. There were so many scenes in this episode that made me cry, but that scene made me cry of happiness, because it was just so stunningly shot and it felt like a perfect ending to a really emotional episode.
Best quote:
Jesus reading his essay about his mums:
"They gave us the one thing that we dreamed of but didn't dare to actually hope for, family. They made us feel safe, and for the first time in our young lives loved, so loved. They made us feel like we were worth something, that we mattered, that someone in the world wanted us. And I know that there is nothing that I can ever give back to them that can equal what they have given to me. But I want my two strong, beautiful, brilliant mums to know that they don't have to hope I'll be the man that they raised me to be, because that is the man that I want to be. And I'll always to my best to never let them down "
What did you think about this episode of The Fosters? Please, let me know your thoughts in the comments below.